This show will be designed to give my take on today's topics as broadly as that can be applied. There will be talk about politics, supernatural, crypto animals, comic stories and Van Life. I live a very varied life and will do many shows from the road. I want to be varied and not become predictable. I want truthful and not shocking.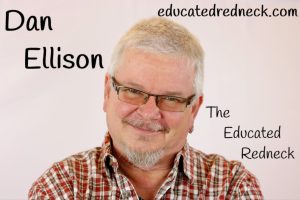 Dan began his life in a place that may be considered by many
to be the basis for much of his strange view of life; Parkersburg, WV.
After graduating high school, he moved to the state of Ohio to attend
college and received an electrical degree that, oddly enough,
contributes to his comedy plus he ain't no dummy. While it may have
taken him a while to start his comedic career, after stepping on stage
in December 1988 it didn't take him long to discover that this is what
he was meant to do for a living. Now, after over 1,000,000 miles and
performing in 44 states and in over 1,000 clubs across the United
States, he has gained a mountain of knowledge about life. Also he
discovered his love for ranting about his political beliefs after
numerous radio appearances on radio stations many he still does today.
He is currently hosting a M-F show I call "Laughing at the News" on
Rumble.com as TheEducatedRedneck. He wants to branch out and do a radio
show that is a mix of his comedy,travel and knowledge. He also wants to
bring on people he has met over the years and had many great
conversations with.
Let's face it he is getting old and needs a steady job.
Listen Live On Monday
9pm - 10:30 Pacific
12pm - 1:30 Eastern.