Investigators 'Have Not Ruled Out A Hate Crime' In Jewish Man's Death In California
Authored by Jill McLaughlin via The Epoch Times (emphasis ours)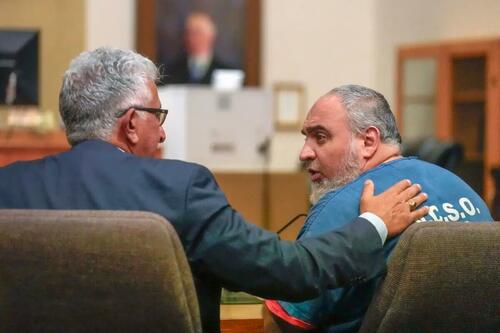 Authorities are continuing to investigate whether the man arrested for the death of Paul Kessler at a dual protest between Israel and Palestine supporters earlier this month will be charged with a hate crime, Ventura County District Attorney Erik Nasarenko announced Nov. 17.
"We have not ruled out a hate crime," Mr. Nasarenko said during a press conference Friday. "The investigation into an alleged hate crime is ongoing. There are still four search warrants that remain outstanding, the returns of which we are awaiting. But at this moment in time, we do not have the elements of a hate crime satisfied."
The Ventura County Sheriff's Office arrested Loay Alnaji, 50, a computer science professor at Moorpark College, Wednesday morning at his home in Moorpark.
He pleaded not guilty Friday in Ventura County Superior Court. His bail was reduced from $1 million to $50,000, and his attorney Ron Bamieh said he expected Mr. Alnaji to be out of jail within hours, according to the Ventura County Star.
Mr. Alnaji was charged with one felony count of involuntary manslaughter and one count of felony battery causing serious bodily injury. The District Attorney also added a special allegation of personally inflicted great bodily injury to each charge, which would add to his penalty or prison time if convicted.
"We did not file murder [charges] because there was no intent on the defendant's part to commit one," Mr. Nasarenko said Friday.
Authorities are continuing to investigate the incident and asking for the public's help to establish what happened during the altercation.
Law enforcement and the district attorney's office were able to piece together video and digital footage of the event to establish a clear sequence of events leading up to the confrontation. The new pieces of evidence and the technology used allowed the district attorney to file criminal charges.
Although the county has not charged Mr. Alnaji with a hate crime, authorities haven't ruled it out.
"What we are looking for in particular is whether or not the acts, the impact, the force, was accompanied by specific hate speech, specific statements or words, that demonstrate an antipathy, a hatred toward a specific group," Mr. Nasarenko said. "We don't have that at this point."
Detectives and the district attorney's office inspected more than 600 pieces of evidence and talked with more than 60 witnesses in the past two weeks. The investigation started hours after Mr. Kessler died in the early morning hours of Nov. 6 following an altercation at a protest in Thousand Oaks the day before.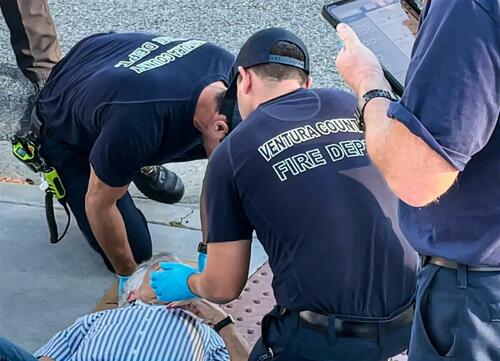 According to witness accounts from Nov. 5, Mr. Kessler was standing on the corner of Westlake and Thousand Oaks boulevards—a popular spot for protests—where about 75 to 100 pro-Palestinian demonstrators were rallying.
It was the third time the group had protested in the area since Oct. 7, when Israel was invaded by the terrorist group Hamas, which resulted in the killing of about 1,400 and the kidnapping of more than 200. Israel subsequently began bombing Gaza in retaliation.
Mr. Kessler, 69, of Thousand Oaks, was allegedly struck in the face during the altercation at the rally and fell on the ground, hitting his head on the pavement. He died early the next morning of a traumatic brain injury, according to the county's medical examiner.
"We want to continue to remember and honor Paul Kessler and the tragic loss of life that has occurred," Mr. Nasarendo said Friday.
The district attorney and Sheriff Jim Fryhoff met virtually with the Kessler family briefly on Wednesday, Mr. Nasarenko said.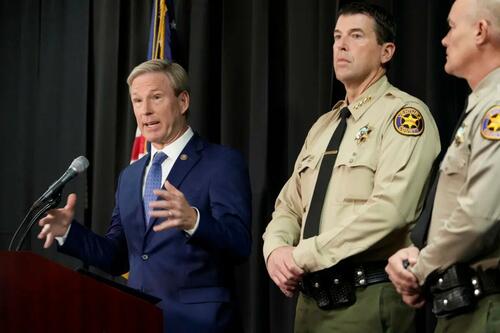 "They are mourning," he said. "They are grieving, and they are asking for privacy during this very difficult period."
Mr. Kessler worked in medical sales for many decades and taught sales and marketing at many satellite college campuses, according to Mr. Nasarenko. He leaves behind a wife of 43 years and a son, he added.
"We want to continue to remember and honor Paul Kessler and the tragic loss of life that has occurred," Mr. Nasarenko said Friday.
Tyler Durden
Sat, 11/18/2023 – 20:25