"Absolute Torture": Jan. 6 Inmates Put Renewed Spotlight On Use Of Solitary Confinement
Authored by Joseph M. Hanneman via The Epoch Times (emphasis ours),
John Strand, who received a 32-month federal prison sentence for serving as the security detail for the founder of America's Frontline Doctors at the U.S. Capitol on Jan. 6, is being held in long-term solitary confinement for doing a media interview, Dr. Simone Gold says.
Mr. Strand, 40, of Naples, Florida, testified on June 13 at a U.S. House field hearing on Jan. 6 issues shortly after being sentenced for convictions on five criminal counts, including felony obstruction of an official proceeding and four misdemeanors. He has appealed the convictions to the U.S. Court of Appeals for the District of Columbia Circuit.
"He was in two weeks, let out for five or six days, and then today will be nine more weeks," Dr. Gold said in a Nov. 9 interview with The Epoch Times. "It's unbelievable. Absolute torture."
Mr. Strand apparently violated prison rules for doing a broadcast interview with Real America's Voice host Grant Stinchfield. Dr. Gold said Mr. Strand did not realize he needed permission before speaking with the media from behind bars.
"They also are not giving him his mail. They are not allowing legal [counsel] visits," Dr. Gold said. "This is just what they do."
Another Jan. 6 inmate, InfoWars host Jonathon Owen Shroyer, is also in solitary confinement after his recent activity on social media.
Dr. Gold—an emergency medicine specialist from Los Angeles who founded America's Frontline Doctors during the COVID-19 pandemic—was sentenced in June 2022 to 60 days in jail under a plea deal on one Jan. 6 count of entering and remaining in a restricted building or grounds, a misdemeanor.
She and Mr. Strand were indicted together in February 2021. She was at the U.S. Capitol on Jan. 6 to speak at a permit-approved event on medical freedom and COVID-19.
Her case was unusual because, according to Dr. Gold, U.S. District Judge Christopher Cooper had asked her on a date when they were students at Stanford Law School in the early 1990s. She turned him down—something she said influenced the judge's sentencing decision in her case. Judge Cooper denied Dr. Gold's assertion—and also denied motions from her and Mr. Strand demanding he recuse himself from their cases.
Retaliation?
Rep. Matt Gaetz (R-Fla.) questioned U.S. Bureau of Prisons Director Colette Peters about Mr. Strand and Mr. Shroyer during a Nov. 7 hearing before the House Judiciary Subcommittee on Crime and Federal Government Surveillance.
"Does the Bureau of Prisons retaliate against people for constitutionally protected speech?" Mr. Gaetz asked Ms. Peters.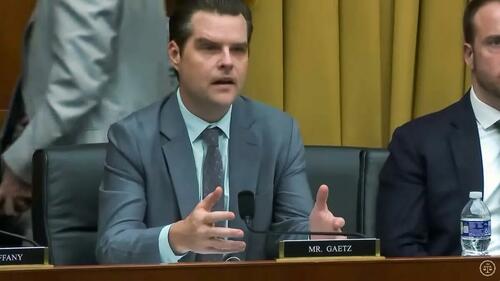 "I have been very clear that retaliation will not be stood for on my watch," Ms. Peters replied. "I'm confident that message has been delivered, and if anyone has engaged in retaliation, we will hold them accountable."
In a message posted on Nov. 7 to his social media account on X, Mr. Strand said he has been a victim of "abusive retaliation."
"I took an interview while incarcerated to explain the inhumane conditions of J6 prisoners like myself, and the U.S. Bureau of Prisons retaliated by putting me in solitary confinement," Mr. Strand was quoted as saying.
Social media use is also believed to be the reason that InfoWars host Shroyer, 34, of Austin, Texas, was put into solitary confinement twice at the Federal Correctional Institution Oakdale in Louisiana.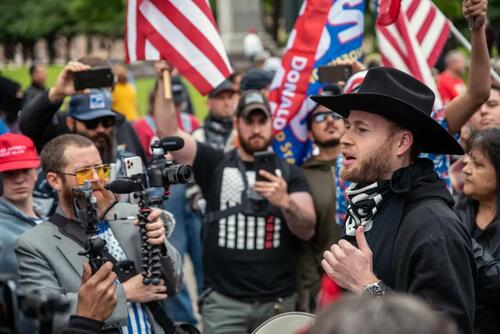 Mr. Shroyer is serving a 60-day sentence under a plea agreement on one misdemeanor charge of entering and remaining in a restricted building or grounds.
The Strand and Shroyer cases have again thrown the spotlight on the alleged use of solitary confinement to further target Jan. 6 pretrial detainees and those serving sentences.
According to U.S. Bureau of Prisons data, 10,842 of the 144,084 inmates in BOP custody are kept in special housing units, which can be protective custody or for misconduct, criminal behavior, or if they are transferring in or out of the prison. Thirty-one inmates have been held in protective custody for more than 30 days.
Defense attorney Joseph D. McBride, who has represented more than a dozen Jan. 6 defendants, condemned the use of solitary confinement.
"Solitary confinement is an inherently evil practice that should be banned absent a limited set of circumstances," Mr. McBride told The Epoch Times. "It is being used to degrade, abuse, torture, and psychologically break January 6 prisoners."
Mr. McBride accused the Biden administration of actively encouraging the abuse of Jan. 6 defendants to send a message that political dissent won't be tolerated. Affluent Republicans who are in a position to help, Mr. McBride said, "do not care at all about the suffering of these men."
In August 2021, Mr. McBride issued a report (pdf) that documented abuses against Jan. 6 pretrial detainees held at the District of Columbia jail.
"January Sixers are routinely denied the right to confer with their counsel, as well as obtain and maintain their legal paperwork," McBride wrote in the report, which was addressed to Amnesty International and the American Civil Liberties Union.
"They are also being beaten, sleep deprived, denied medical care, regular shower access, haircuts, shaves, and held in solitary confinement for long periods of time," Mr. McBride wrote. "This is unprecedented, unconstitutional, un-American, offensive to all standards of common decency, illegal, and wrong."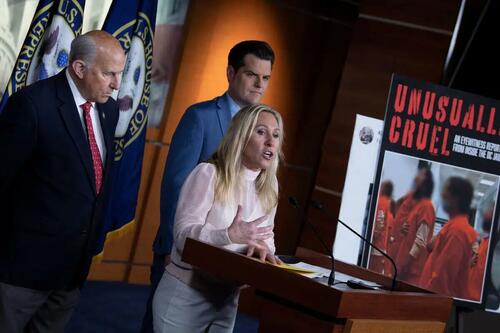 Four months after Mr. McBride issued his document, U.S. Rep. Marjorie Taylor Greene (R-Ga.) issued a report, "Unusually Cruel," (pdf) based largely on a site visit to the D.C. jail complex.
Ms. Greene and Rep. Louie Gohmert (R-Texas) were given a more than three-hour tour of the facility on Nov. 4, 2021. This was after Ms. Greene, Mr. Gaetz, Mr. Gohmert, and Rep. Paul Gosar (R-Ariz.) were twice denied access to the buildings to visit Jan. 6 detainees.
"The walls of the rooms had residue of human feces, bodily fluids, blood, dirt, and mold," the report said. "The community showers were recently scrubbed of black mold—some of which remained.
"The interior walls of the common area were also freshly painted," the report said. "According to the inmates, the U.S. Marshals had recently visited the area just days before, which caused a flurry of activity by guards to clean up the January 6 area while the U.S. Marshals were inspecting another area."
Mr. Gaetz said he plans to take up Ms. Peters's offer to arrange site visits at FCI Miami and FCI Oakdale.
"I would like to go with you," Ms. Greene posted Nov. 7 on X. "There are many reports coming out about human rights abuses against J6 defendants."
Tyler Durden
Sat, 11/11/2023 – 19:50