CVS Stores In DC Resort To Framed Photos Of Toilet Paper
While Washington DC Mayor Muriel Bowser tries to restore 'law and order' to the nation's Capitol, local CVS stores aren't waiting around – and have resorted to displaying photos of products on their shelves instead of the actual items themselves.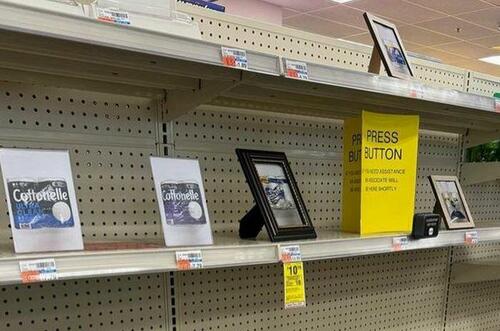 Several tweets have been circulating, showing empty shelves aside from the framed photographs of toilet paper and other items, the National Pulse reports.
This is from the CVS on H Street in Washington DC.

Due to the out-of-control theft, they have now put away almost all their items and just have photographs of what is in stock.

You press the button and the sales associate gets you what you need.

I was in Barcelona, Spain a few… pic.twitter.com/jOif99w77d

— Joey Mannarino (@JoeyMannarinoUS) October 27, 2023
Another DC CVS, in Columbia Heights, has placed items in locked cages.
Another CVS location in D.C.'s Columbia Heights has placed many items behind locked cages, the aisles of empty shelves decorated with profane graffiti. Crime in the American capital has reached crisis levels. Violent crime is up 41 percent over last year – the city has seen a 33 percent increase in homicides and a 70 percent increase in robberies. According to D.C.'s Metropolitan Police Department theft is up 21 percent, with 10,673 incidents reported so far in 2023. Motor vehicle theft has seen a 101 percent increase compared to 2022. -National Pulse
I checked out the Columbia Heights CVS for myself the other weekend. pic.twitter.com/1fMIlIrjV5

— John Fubka (@JohnFubka) October 26, 2023
Over the last month, DC's homicide rate hit its highest level in 20 years, while auto thefts have more than doubled over the past year.
"At a time when we're dealing with historically low staffing levels, these amendments seek to make some common-sense changes recognizing the operational concerns our officers see every day, while also supporting police accountability and public safety," said Mayor Muriel Bowser, who introduced legislation last week aimed at addressing crime trends, including organized retail thefts.
During a Congressional hearing on violence two weeks ago, House Republicans criticized a "soft" on crime approach.
"The crime we are seeing just a few blocks from this building is unprecedented," said Rep. Andy Biggs (R-AZ), who chairs the Subcommittee on Crime and Federal Government Surveillance. 
"The man who is in charge of prosecuting the criminals has abandoned his responsibilities, that's Matthew Graves," Biggs continued, referring to the US Attorney for DC.
For comparison, here is how other countries are able to live. https://t.co/5ANVszYlC2

— Joey Mannarino (@JoeyMannarinoUS) October 27, 2023
Tyler Durden
Sun, 10/29/2023 – 23:00