How Mike Johnson Became Speaker 'Through Prayer, Not Politics'
Authored by Mark Tapscott via The Epoch Times (emphasis ours),
Eyebrows were raised when newly elected Speaker of the House Mike Johnson (R-La.) in his first address from the chair reminded the assembled Democratic and Republican members of the House of Representatives that the God of the Bible raised up each one of them for a purpose.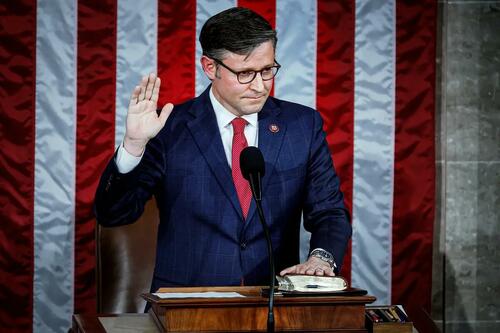 "I want to tell all my colleagues here what I told the Republicans in that room last night: I don't believe there are any coincidences in a matter like this. I believe that scripture, the Bible, is very clear that God is the one that raises up those in authority. He raised up each of you. All of us. And I believe that God has allowed and ordained each and every one of us to be here at this specific moment," the Louisiana Republican said.
"This is my belief. I believe that each one of us has a huge responsibility today to use the gifts God has given us to serve the extraordinary people of this great nation, and they deserve it."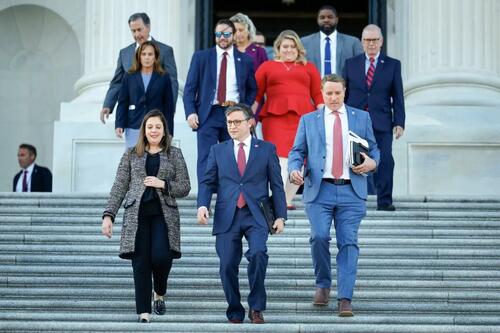 Those who know Mr. Johnson, a devout conservative Southern Baptist, however, weren't surprised by his allusion to verses in the Bible such as Daniel 2:21 that say the Creator raises up and deposes of political leaders: "He changes times and seasons; he removes kings and sets up kings; he gives wisdom to the wise and knowledge to those who have understanding."
A former Louisiana state representative who is now serving in his fourth term in Congress, Mr. Johnson, 51, and his wife, Kelly, have four children. Before his remarkable rise to the speakership, Mr. Johnson had served as chairman of the Republican Study Committee (RSC), which describes itself as "the intellectual arsenal of conservatism in the House." In addition, he was elected in January 2021 to a second term as vice-chairman of the House Republican Conference and he was a deputy whip under then-Speaker Kevin McCarthy (R-Calif.).
Prior to his political career, Mr. Johnson was the first member of his family to graduate from college, with a bachelor's in business administration from Louisiana State University (LSU) in 1995 and a law degree from LSU's Paul M. Herbert Law Center in 1998. He was elected president of the Christian Legal Society at LSU and subsequently became a successful constitutional law litigator.
Following the speakership decision, Kelly Shackelford, president, CEO, and chief counsel for the Plano, Texas-based First Liberty Institute (FLI), said of his former FLI litigator, "Mike is a fantastic constitutional attorney and passionate advocate for religious liberty." Mr. Johnson also spent time as senior counsel for the Alliance Defending Freedom, which—like FLI—is a public interest law firm devoted to defending First Amendment religious freedoms.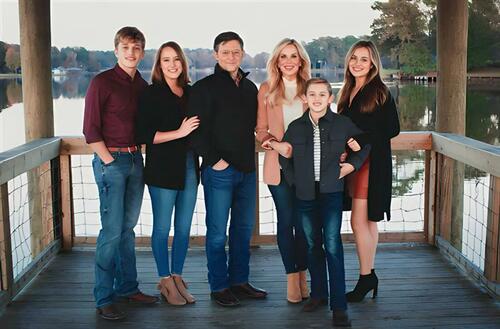 The Man Is 'Not Bashful'
Asked by The Epoch Times if he was surprised by Mr. Johnson's reference to God's role in raising up political leaders, Family Research Council President Tony Perkins chuckled, saying: "Not at all, that's Mike. He's not bashful."
The Louisiana Republican's campaign for the speakership was "through prayer, not politics," Mr. Perkins said. He has known Mr. Johnson for 25 years as a student, a state legislative colleague, and pro-family, pro-life advocate.
Something certainly seemed miraculous about Johnson's sudden and unexpected emergence from the chaos and disruption that gripped the House Republican Conference in the wake of successive failures by Majority Leader Steve Scalise (R-La.), Whip Tom Emmer (R-Minn.), and House Judiciary Committee Chairman Jim Jordan (R-Ohio) to secure enough Republican votes to become Speaker.
Mr. Johnson opposed the ouster of former Speaker Kevin McCarthy (R-Calif.), then lined up as a loyal supporter of Mr. Scalise, Mr. Jordan, and Mr. Emmer. He was mentioned in some news reports as a dark horse contender leading up to the Oct. 23 GOP Conference meeting that featured nine aspirants. Yet it was Rep. Byron Donalds (R-Fla.), going into that gathering, who seemed poised to move into a commanding position.
However, it was Mr. Johnson's sincerity, as well as his substantive and reasonable responses to the tough questions aimed at all of the contenders by House Republicans, that won them over, according to a knowledgeable congressional source who was present throughout the meeting.
"He consistently, and comparatively, when a lot of members were asking just an onslaught of questions—wonky, policy questions—gave substantive answers versus the other candidates, who essentially gave answers about their personality or their personal background outside of being legislators," the source told The Epoch Times.
"Johnson consistently came back to 'This is my track record as a legislator; let me point you to my seven-point plan; let me point you to my proposed schedule if I become speaker,' so that was really strong. And at the end of the day, Johnson really doesn't have any enemies, and that's in part due to his character and in part to his shorter time in Congress," the source continued.
The source further noted that "probably a third of his answers to the questions involved scripture references."
But Mr. Johnson is anything but the stereotypical Bible-thumping fundamentalist. When asked what was the key to Mr. Johnson's win, another senior congressional source who asked not to be named described it in two words: "No enemies."
Mr. Perkins agreed: "He's a brilliant guy, very smart, passionate. You saw classic Mike Johnson on the floor today. It's principled, but he has relationships on both sides of the aisle that are not policy or politically driven. He cares about people. People have conversations with him, he prays with his colleagues."
In addition to his faith, Mr. Johnson is a classic Reagan conservative with a distinctly populist accent. On his official website is listed the congressman's "Seven Core Principles of Conservatism," which include individual freedom, limited government, the rule of law, peace through strength, fiscal responsibility, free markets, and human dignity.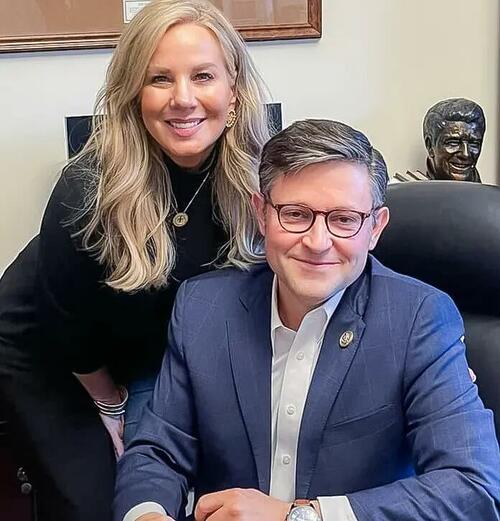 Of that latter principle, Mr. Johnson explains: "Because all men are created equal and in the image of God, every human life has inestimable dignity and value, and every person should be measured only by the content of their character. A just government protects life, honors marriage and family as the primary institutions of a healthy society, and embraces the vital cultural influences of religion and morality.
"Public policy should always encourage education and emphasize the virtue of hard work as a pathway out of-poverty, while public assistance programs should be reserved only for those who are truly in need. In America, everyone who plays by the rules should get a fair shot. By preserving these ideals, we will maintain the goodness of America that has been the secret to our greatness."
Read more here…
Tyler Durden
Fri, 10/27/2023 – 22:20