China's Birth Rate Plummets 10% To Lowest On Record
China's birthrate fell 10% last year to its lowest level on record, a significant drop in spite of extensive efforts by the CCP to encourage people to get busy.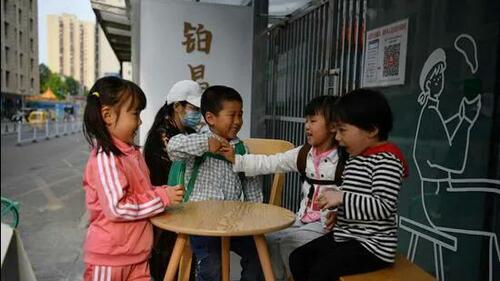 The country had just 9.56 million births in 2022, the lowest figure since they began keeping records in 1949, according to a report by the National Health Commission.
The high costs of child care and education, growing unemployment and job insecurity as well as gender discrimination have all helped to deter many young couples from having more than one child or even having children at all. -NBC News
China's population also fell for the first time in six decades, dropping to 1.41 billion people – a demographic shift that's caused officials to worry that the country will 'get old before it gets rich' – with a slowing economy and declining tax receipts amid increases in government debt due to soaring health and welfare costs.
According to the report, the demographic downturn is largely thanks to China's one-child policy imposed between 1980 and 2015. Nearly 40% of Chinese babies last year were the second child of a married couple, while 15% were from families with three or more children.
The sharp decline in births comes despite Beijing's efforts to increase child care and provide other financial incentives. In May, President Xi Jinping presided over a panel to study the topic.
Not just China
As we noted in June, Japan's birth rate has also plummeted to a record low for the seventh straight year, with the number of babies born falling below 800,000 this year, health ministry data showed on June 2.
The number of newborns in Japan fell to 770,747 this year, down 40,875 from the previous year and the lowest since the country began record-keeping in 1899, Kyodo News reported, citing health ministry data.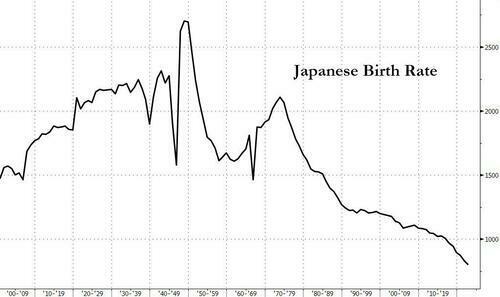 Japan's fertility rate—the average number of children born to a woman in her lifetime—fell from 1.30 in 2021 to 1.26 last year, equivalent to the previous low recorded in 2005. The number is far below the 2.07 rate necessary to sustain a stable population.
The decline in Japan's birth rate is attributed to people delaying parenthood due to the economic impact brought on by the COVID-19 pandemic, as well as the prevailing trend among couples to delay marriage, according to the report.
The US birthrate has also been in decline, falling slightly in 2022 compared to 2021, with roughly 3.7 million babies born nationwide. It still hasn't recovered to pre-pandemic levels according to the CDC.
And as Mike Shedlock noted two years ago.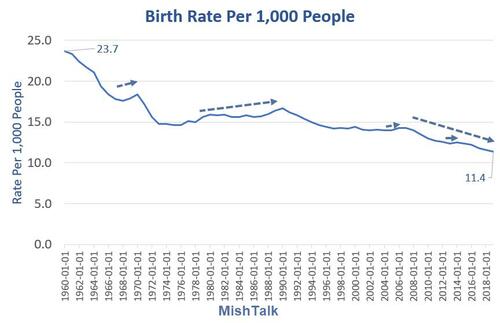 More via Mish Talk, worth a review:
The Pandemic Caused a Baby Bust, Not a Boom
Scientific American reports The Pandemic Caused a Baby Bust, Not a Boom
When the COVID pandemic led to widespread economic shutdowns and stay-at-home orders in the spring of 2020, many media outlets and pundits speculated this might lead to a baby boom. But it appears the opposite has happened: birth rates declined in many high-income countries amid the crisis, a new study shows.

Arnstein Aassve, a professor of social and political sciences at Bocconi University in Italy, and his colleagues looked at birth rates in 22 high-income countries, including the U.S., from 2016 through the beginning of 2021. They found that seven of these countries had statistically significant declines in birth rates in the final months of 2020 and first months of 2021, compared with the same period in previous years. Hungary, Italy, Spain and Portugal had some of the largest drops: reductions of 8.5, 9.1, 8.4 and 6.6 percent, respectively. The U.S. saw a decline of 3.8 percent, but this was not statistically significant—perhaps because the pandemic's effects were more spread out in the country and because the study only had U.S. data through December 2020, Aassve says. The findings were published on Monday in the Proceedings of the National Academy of Sciences USA.

Birth rates fluctuate seasonally within a year, and many of the countries in the study had experienced falling rates for years before the pandemic. But the declines that began nine months after the World Health Organization declared a public health emergency on January 30, 2020, were even more stark. "We are very confident that the effect for those countries is real," Aassve says. "Even though they might have had a bit of a mild downward trend [before], we're pretty sure about the fact that there was an impact of the pandemic."
Covid Accelerated the Existing Trend
Covid accelerated the already declining birth rates. 
Given the 16-year lag between births and the civilian noninstitutional population coupled with the aging of the workforce there will be fewer and fewer workers supporting retired workers on Social Security. 
Notice the relatively steep decline in the birth rate starting in 2008 and continuing through today. 
That impact will start showing up in 2024 and last a minimum of 12 years.
How long depends on whether the birth rate picks up after Covid. I highly doubt the birth rate will pick up.
Deflationary and Inflationary Impacts
Inflationary: Shortage of workers increases wage pressures
Deflationary: Fewer workers support an increasing number of retirees
Deflationary: Older workers need more assistance, buy fewer things, travel less. 
Deflationary: More government debt and deficits. Government spending has a negative impact on real GDP.
*  *  *
Time for another sexual revolution?
Tyler Durden
Fri, 10/13/2023 – 22:40