California Bans Student Suspensions For Defying Teachers, Disrupting Classes
Authored by Sophie Li via The Epoch Times (emphasis ours),
It will be illegal for California public schools to suspend students for disrupting class or defying teachers—known as willful defiance suspensions—starting July 1, 2024.
"With Governor Newsom's signing of SB 274, California is putting the needs of students first," bill author Sen. Nancy Skinner (D-Berkeley) said in a statement a day after the governor's signing Oct. 8. "No more kicking kids out of school for minor disruptions. Students belong in school where they can succeed."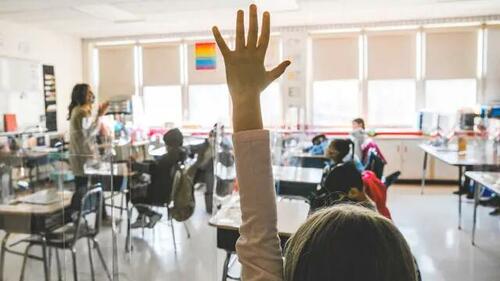 SB 274—an extension of the author's previous legislation from 2019 that banned willful defiance suspensions for TK–5 students permanently and for grades 6–8 until 2025—now broadens such policy to include all public-school grades from TK–12 across the state, with a sunset date of July 1, 2029.
Traditionally, willful defiance suspensions have been imposed on students for disrupting school activities, including wearing hats backward, nodding off in class, using bad language in school, or engaging in verbal disagreements with teachers, Ms. Skinner's office said in the statement.
Under the new law, teachers can remove a student from class for unruly behavior, but the youth would not be suspended from school. Instead, school administrators would be responsible for evaluating and implementing suitable in-school interventions or support for the student, according to the senator's office.
Additionally, the bill prohibits the suspension or expulsion of students due to tardiness or truancy.
"The punishment for missing school should not be to miss more school," Ms. Skinner said in an earlier press release after the bill passed the California Assembly and Senate.
According to Ms. Skinner, suspending students could potentially lead to them dropping out of school.
"Suspending students, no matter the age, doesn't improve student behavior, and it greatly increases the likelihood that the student will fail or drop out," she said in the Oct. 9 statement.
Additionally, the senator's office said that such suspensions have been "disproportionately directed at students of color, LGBTQ students, students who are homeless or in foster care, and those with disabilities."
According to Ms. Skinner's office, a 2018 report shows that such suspensions accounted for 21 percent of all suspensions involving black male students in middle schools in California and 26 percent in high schools.
However, opponents of the bill have said that it would create more chaos in schools.
Davina Keiser, a former teacher with four decades of teaching experience in the Long Beach Unified School District, told The Epoch Times in a previous interview that disruptive behavior was "detrimental to the learning of everybody else in the classroom."
"It's almost like a license for the rest of the kids to go ahead and misbehave," she said.
Ms. Keiser still works as a substitute teacher for the district and is the president of the education nonprofit Del Rey Education.
Lance Christensen, the vice president of the California Policy Center, an educational nonprofit that focuses on policy and government affairs, said that such bills could lead to a loss of teacher resources in the public education system.
"I've warned about the dire consequences of public school classes without discipline," Mr. Christensen wrote on X. "The governor just signed SB 274 which will exacerbate the havoc in our schools by stripping teachers & principals of tools to deal with 'willfully defiant' kids. Expect more teachers to resign."
Micaela Ricaforte contributed to this report.
Tyler Durden
Fri, 10/13/2023 – 22:20