Childcare Now Costs $1,031 More Than Public College Tuition, On Average, In The United States
The next time someone asks whether or not you think Joe Biden's "Inflation Reduction Act" is working, you can share with them a new research report showing that childcare is becoming more expensive than in-state college tuition in 28 out of 50 states.
In fact, on average in the United States, childcare now costs $1,031 more than public college tuition, according to a new report from NetCredit.
The report "researched the average annual fees paid for public and private college tuition and the average cost of childcare in each U.S. state" and then "calculated the difference in yearly fees paid for childcare and in-state college tuition". 
As part of their methodology, NetCredit then "compared these costs to local average salaries to find the affordability of childcare and in-state college tuition in every state."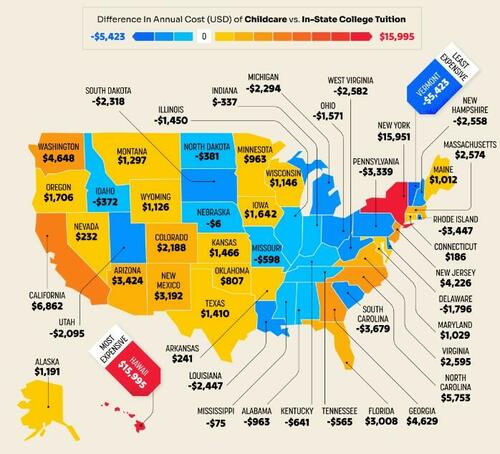 Among other findings in their research was that in Hawaii, annual childcare costs $15,995 more than a year of in-state public college tuition and that childcare is most affordable in Utah, where annual costs are equal to 7.87% of the average annual salary.
The report found that coastal states were the ones where childcare was most expensive and "much of the Midwest and eastern U.S. is priced in favor of childcare".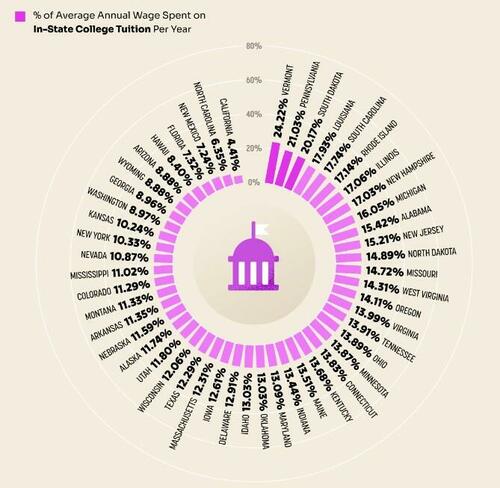 "Vermont and Pennsylvania are more affordable for childcare since they have the most expensive public college fees in our study," the report noted. 
Those receiving in-state tuition in Vermont spend 24.22% of their annual wage paying for it, the study found:
The average salary in both Vermont and Pennsylvania is around $55,450, putting these states among the top 20 for average wages in the U.S. But public college costs are so high in these states as to make investing in a college education significantly less affordable than elsewhere. "About 6% of UVM's budget is from the state, but in many states it's 25-40%," explains Richard Cate, vice president of finance at the University of Vermont. "Being a small rural state, we don't have big business to help fuel tax revenue," says Marie Johnson, director of student financial services.
Here is a glance at the highest annual childcare costs in the U.S., and their difference between in-state college tuition: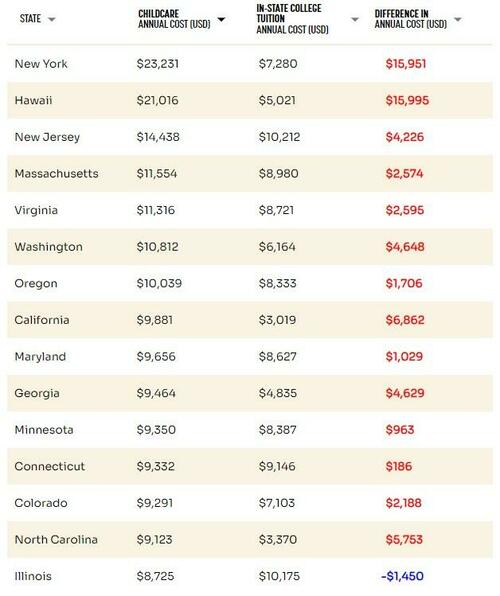 The study's full results can be found in the above table, which you can toggle at this link.
Tyler Durden
Sun, 09/10/2023 – 23:00