Conflicting Dates In Trump Trials Unfair, Must Be Resolved, Experts Say
Authored by Lawrence Wilson via The Epoch Times (emphasis ours),
The spiderweb of conflicting court dates in cases involving President Donald Trump places unfair pressure on defense lawyers and must be untangled, according to legal experts.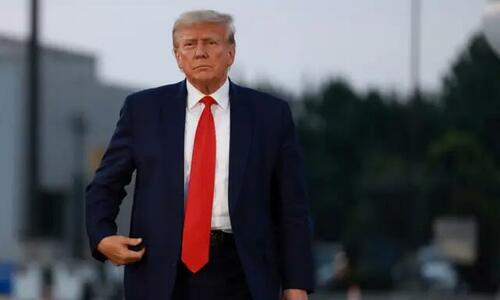 The former president is scheduled to appear in a pair of major trials, one in Washington and the other in Florida, beginning just 77 days apart. Those are just two of the seven, possibly eight, criminal and civil trials for which President Trump is scheduled during the 12 months prior to the 2024 presidential election, in which he is the leading Republican candidate.
Stacking the trials virtually on top of one another is unfair to the defendant, according to Kevin J. O'Brien, a New York-based trial lawyer and former assistant U.S. attorney who specializes in white-collar criminal cases.
"It's an awfully burdensome responsibility placed on the defense. And in fairness, it really shouldn't be placed upon them. It should have been the government's job and the courts' job to sort these things out and make sure there's reasonable time between cases," Mr. O'Brien told The Epoch Times.
President Trump has maintained his innocence and repeatedly said the criminal cases against him are politically motivated.
"Keep Indicting your Political Opponent, it makes no difference for what, or why. Keep him off the 'campaign trail' and in the courthouse instead. Don't think of his Rights, the Constitution, or Liberty. Sit back and WATCH AMERICA CRUMBLE!" President Trump wrote on the social media platform Truth Social on Sept. 1.
President Trump announced his campaign to return to the White House nine months ago. He has consistently led the field of more than a dozen challengers for the Republican nomination by some 40 percentage points.
In the end, one or more of the trials will have to be rescheduled in the interest of justice, Mr. O'Brien believes.
Spiraling Calendar
President Trump's legal troubles have snowballed since March when he was indicted in state court in New York on charges of falsifying business records related to payments made to Stormy Daniels before the 2016 presidential election. Judge Juan Merchan scheduled that trial for March 25.
In June, the former president was indicted in federal court in Florida on charges related to classified documents kept at his residence, Mar-a-Lago, Palm Beach. Additional charges were added in July. Judge Aileen Cannon initially set that trial to begin on Aug. 15 but agreed to delay it until May 20 at the request of the defense.
In August, President Trump was indicted in Washington, on federal charges for allegedly conspiring with six unnamed, unindicted co-conspirators to overturn the 2020 election results in events culminating on January 6, 2021.
Special Counsel Jack Smith, the prosecutor in the Florida and Washington cases, asked Judge Tanya Chutkan to schedule the Georgia case to begin Jan. 2. Judge Chutkan set the trial date for March 4.
Later in August, President Trump and 18 others were indicted in a Georgia state court on charges concerning an alleged conspiracy to overturn that state's 2020 presidential election results.
Two co-defendants in the Georgia case, former campaign lawyers Kenneth Chesebro and Sidney Powell, have asked that their trials begin on Oct. 23, citing their right to a speedy trial. President Trump has asked to sever his case from that of his co-defendants. Judge Scott McAfee has not ruled on either request.
In New York, President Trump is named in three civil lawsuits with trials scheduled to begin on Oct. 2, Jan. 25, and Jan. 29.
Complications for the Defense
Though the two federal criminal trials will begin 11 weeks apart, other court deadlines overlap, creating a nearly impossible challenge to mounting a defense.
"It is not a 'March 4' trial," Attorney William Shipley said, referring to the Washington trial.
"This schedule has the defense attorneys filing motions in December. They have 4 months to review millions of pages of discovery, do their own investigation of matters contained in that discovery—including interviewing witnesses (both [government] witnesses and others who were not part of [government] investigation)—and formulating their own defense plan," Mr. Shipley, who has represented a number of defendants in cases related to the events of January 6, wrote on the social media platform X on Aug. 30.
"This is at the same time there are pretrial proceedings already scheduled in the Florida case involving the documents."
The schedules for both trials list more than a dozen deadlines for filing motions or other documents. Many of those filings will require a response from the other party, creating the possibility of submitting hundreds of pages of legal documents to each court through the fall and early winter.
Speaking of Judge Chutkan's scheduling choice, Mr. Shipley wrote, "What she has done indirectly is derail the FL case—a tactical move to reduce the influence of decisions by the judge in that case that might cause problems for SCO Smith."
The proposed trial schedules simply cannot be met, according to Mr. O'Brien. Court cases tend to lengthen as attorneys wrangle over pre-trial questions. And life itself is too complicated to bank on the clockwork precision required to manage even one trial on schedule, let alone eight.
"I've been in big cases before. Scheduling dates have a habit of slipping. Issues come up. Discovery disputes, motions, appeals, lawyers who get sick, witnesses who are unavailable, fights over every issue under the sun—all these things can wreak havoc and even the best-laid plans," Mr. O'Brien said.
"Even in the Washington trial lasts until the end of April, it's still unfair. That's not nearly enough time to get ready for the second trial," Mr. O'Brien added. "[The Florida trial] is going to have to be pushed back many, many months to make it a fair process."
Solutions
Judge Cannon could try to resolve the scheduling conflict between the two federal criminal cases by ordering Mr. Smith to state his rationale for requesting a date for the Washington trial that conflicts with the Florida case, according to Mr. Shipley.
"She could issue an [order to show cause] to the government asking for them to explain why they sought a schedule in that case that interfered with the schedule she already issued in her case. When the [government] doesn't have a good answer, she could cite [the Department of Justice] for contempt," Mr. Shipley wrote.
"What might happen after that would be anyone's guess."
The more likely resolution, according to Mr. O'Brien, is that the judges in the two federal criminal cases will confer to arrange a compromise on the schedules.
"I suspect this process is just starting. There's going to be jawboning and discussions behind the scenes with at least the two federal judges. Who knows how it's going to go, but I think the push is going to be made for the January 6 case to go first," he said, because the case involves the Constitution and the transfer of presidential power.
That appears to be Mr. Smith's intention, evidenced by his requesting an early trial date and by streamlining the case to include only President Trump and not his alleged co-conspirators.
However, judges, not prosecutors, schedule trials. So the resolution will likely come after a consultation between Judges Cannon and Chutkan, Mr. O'Brien said, and there's no telling what each might do.
"[Judge Cannon] has shown that she is willing to buck the norms, to put it mildly, in making decisions involving this case," Mr. O'Brien said.
In 2022, prior to President Trump's indictment, Judge Cannon appointed a third party to review documents seized by the FBI from Mar-a-Lago. The 11th U.S. Court of Appeals reversed that order and dismissed a lawsuit filed by President Trump to shield documents from federal investigators.
Manhattan District Attorney Alvin Bragg, who is prosecuting the criminal case against President Trump in New York, has said that he will defer to the wishes of Judge Merchan regarding the Mar. 25 trial.
"Ultimately, the judge sets the schedule, and we will follow the court's lead, but we'll take a broad look at what justice requires," Mr. Bragg said in a July 25 radio interview with WNYC.
Tyler Durden
Sun, 09/03/2023 – 21:30