US Knew Saudis Were Slaughtering African Migrants At Border But Kept Quiet
Authored by Dave DeCamp via AntiWar.com,
The Biden administration has been aware since last year that Saudi border guards were slaughtering African migrants on Saudi Arabia's border with Yemen but kept quiet about the killings, The New York Times reported on Saturday.
Sources told the Times that American diplomats were made aware of the news last fall, around the time the US was publicly condemning Riyadh for agreeing to OPEC+ oil production cuts. The administration did not make any public comments about the reported killings.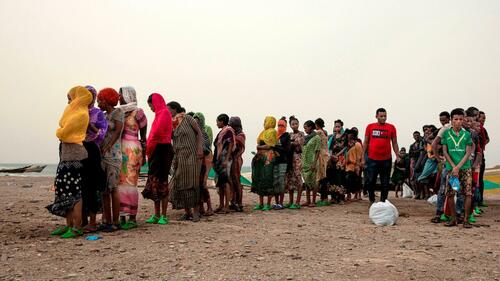 The administration received more details about the atrocities in December 2022 when the UN presented information about Saudi forces shooting, shelling, and abusing Ethiopian migrants at the border, but the US still kept quiet.
After Human Rights Watch released a report last week that said Saudi border guards killed hundreds — possibly thousands — of Ethiopian migrants between March 2022 and June 2023, the Biden administration insisted that it "raised concerns" with Riyadh about the report. For their part, Riyadh denied the allegations.
Last month, the Mixed Migration Center (MMC) released a similar report that said Saudi border forces killed at least 800 Ethiopian migrants, and over 1,700 were injured. The Saudi guards used mortar shells and small arms to attack the Ethiopians. There were also reports of rape and torture.
According to The Washington Post, Saudi border guards are trained by the US as part of military cooperation between the two nations. The mass slaughter of civilians by US-backed Saudi forces is nothing new, as Riyadh frequently targeted civilians in its war in Yemen using US-made bombs and aircraft. In January 2022, Saudi airstrikes hit a migrant detention center in Sadaa, Yemen, killing at least 91 civilians and injuring 236 more.
Since last fall, when President Biden vowed "consequences" for Riyadh over the oil cuts, his administration has backed off on its criticism of the kingdom as it seeks to clinch a Saudi-Israeli normalization deal.
Saudi authorities are spending billions on sports-washing to improve their image.

But out of public view, Saudi border guards have killed at least hundreds of Ethiopian migrants and asylum seekers, including women and children, who tried to cross the Yemen-Saudi border. pic.twitter.com/1XmJavfxWI

— Human Rights Watch (@hrw) August 21, 2023
Saudi Arabia is demanding new security guarantees from the US as a condition for normalization that could go as far as NATO's Article 5, which would mean Washington treating attacks on the kingdom as attacks on the US.
Tyler Durden
Mon, 08/28/2023 – 22:20