Trump Confirms Thursday Surrender In Georgia Case Over 2020 Election
Authored by Catherine Yang via The Epoch Times (emphasis ours),
Former President Donald Trump confirmed on Monday that he will be surrendering to authorities at Fulton County Jail in Georgia on Thursday, Aug. 24, over the charges he faces for contesting the state's 2020 election result.
"Can you believe it? I'll be going to Atlanta, Georgia, on Thursday to be ARRESTED by a Radical Left District Attorney, Fani Willis, who is overseeing one of the greatest Murder and Violent Crime DISASTERS in American History," he wrote on Truth Social.
"In my case, the trip to Atlanta is not for 'Murder,' but for making a PERFECT PHONE CALL! She campaigned, and is continuing to campaign, and raise money, on this WITCH HUNT. This is in strict coordination with Crooked Joe Biden's DOJ. It is all about ELECTION INTERFERENCE!"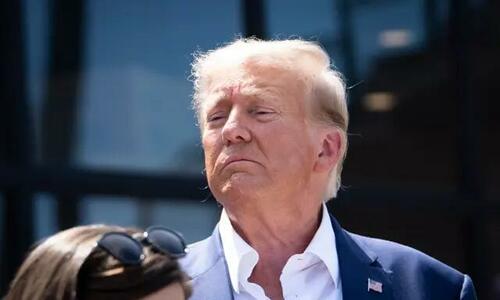 Fulton County District Attorney Fani Willis had brought charges against President Trump and 18 co-defendants, all of whom were charged under Georgia's Racketeer-Influenced and Corrupt Organizations (RICO) Act. In all, the 98-page indictment included 161 acts of racketeering and 41 total charges. President Trump was charged on 13 counts.
Bond Set at $200,000
Also on Monday, Judge Scott McAfee began setting bond and release conditions for the defendants.
According to newly posted court records (pdf), President Trump has agreed to have his bond set at $200,000.
Following negotiations with the prosecution, Attorney John Eastman's bond was set at $100,000; Scott Hall, a bail bondsman, had bond set at $10,000; Attorney Kenneth Chesebro's bond was set at $100,000; and attorney Ray Smith III's bond was set at $50,000.
All of the defendants have bond conditions that prohibit what they can say, but President Trump is the only one whose restrictions include specific details, including prohibiting him from making any "direct or indirect threat of any nature" against codefendants, victims, the community, including in his "posts on social media or reposts of posts made by another individual on social media.
Rising Poll Numbers
President Trump's polling has only trended upwards since his first indictment in April.
Amid a flurry of recent legal action—motions have been filed in both criminal and civil cases that President Trump is named in—the GOP frontrunner's polling has only improved.
On Aug. 21, new poll numbers released put President Trump well ahead his challengers, especially as runner-up Florida Gov. Ron DeSantis's numbers have been slipping.
The difference was 62-16 percent according to a CBS poll, 57-18 percent according to a Quinnipiac University poll, and 53-16 percent according to a Fox News poll.
In Iowa, a poll carried out by Des Moines Register, NBC News, and Mediacom put him at 42 percent of the vote that surveyed likely Republican caucus-goers. Mr. DeSantis came in at 19 percent, and Sen. Tim Scott (R-S.C.) placed third with 9 percent. When the former president was indicted for the first time earlier this year, he likewise saw a surge in the polls—and in fundraising.
Observers have noted that the increased legal action against him may only make his supporters dig their heels in, as the legal challenges might be viewed as political action on the behalf of his rival, the incumbent president.
President Joe Biden has stayed quiet on the matter, ignoring questions from the media about President Trump's indictments. President Trump and his legal team have repeatedly denounced the cases brought against him as "election interference" and a "witch hunt" given the timing of the cases.
Besides the Georgia case, President Trump is facing charges brought against him by the Department of Justice in both Washington, D.C., and Florida. Like the Georgia case, the Washington case concerns his challenge of the 2020 election results, but in federal instead of state court. The Florida case, also in federal court, regards his alleged mishandling of classified documents. Both cases are being overseen by special counsel Jack Smith.
The Republican favourite is also facing both criminal and civil suits in New York.
Janice Hisle contributed to this report.
Tyler Durden
Tue, 08/22/2023 – 22:05