Which Airports Move The Most Cargo Around The World?
From facilitating crucial international supply chains to ensuring the smooth delivery of personal Amazon packages, cargo shipping is an important part of the global economy.
Total air cargo shipped measured around 117 million metric tons in 2022.
In the following map, Visual Capitalist's Avery Koop and Athul Alexander, using data from Airports Council International (ACI), showcase the global airports that move the most goods.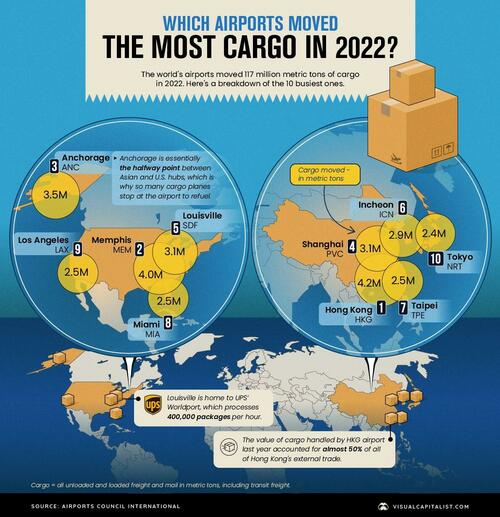 The Busiest Cargo Airports
The world's busiest airport in terms of cargo is Hong Kong's, which has held the number one spot for almost 28 years. Here's a look at the ranking:
Some of these busy airports are not well-known, and none of them, aside from LAX, rank as highly in terms of passenger traffic. For example, Anchorage ranks in the top 10 in cargo processed because it is cheaper for cargo carriers to stop over and refuel there, rather than flying nonstop from Asia to the United States.
The Memphis airport handles the most cargo in North America, largely because of FedEx's significant presence there. FedEx processes over 245,000 documents and 180,000 packages an hour at Memphis' airport.
On top of being home to UPS' Worldport, the world's biggest fully automated package processing facility, Louisville is also central to other transport routes in the United States. Packages come into this hub and then head out on the many highways and railways, as well as the Ohio River, which connects to the Mississippi River, one of the country's main waterways for barge transit.
Cargo Shipment
Nearly every airport has seen significant increases in the amount of cargo moved year-over-year, with numbers now rising above pre-pandemic benchmarks. Notably, however, Shanghai and Hong Kong have experienced decreases due to geopolitical tensions.
In Hong Kong, goods movement via air travel is integral to the economy. Around half of the entire region's external trade went through the airport in 2022.
Cargo transit is inherently important to the global economy. Around $6 trillion worth of goods move through airports annually, representing approximately 35% of world trade.
Tyler Durden
Sun, 08/20/2023 – 23:00