The Hits Just Keep On Coming: China Suffers Biggest FX Outflow Since July 2022
And the hits just keep on coming for China.
With its economy on the verge of a Japanification vicious loop, where record debts, lead to distressed selling, repayment of debt, contraction in the money supply, falling asset prices, a wave of bankruptcies, surging unemployment, a slowing economy, spiking unemployment and a crisis of confidence, which then leads to money hoarding and deflation…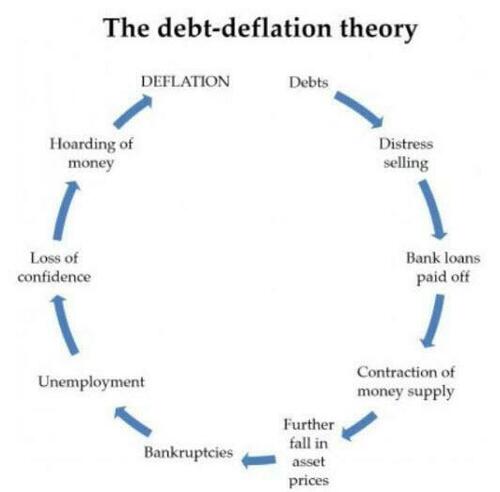 … not to mention a growing property crisis, shadow banking crisis, a youth unemployment crisis, a record collapse in foreign direct investment…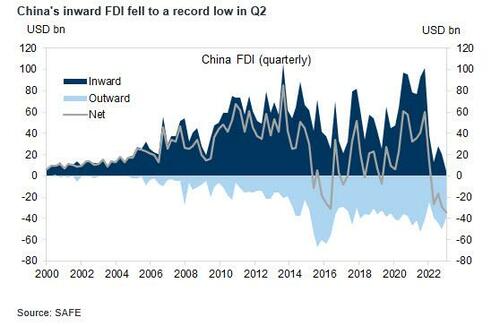 … China is now also facing a sudden surge in FX outflows: according to Goldman's preferred gauge of FX flows, China's net outflows were around $26bn in July, the fastest pace of outflows since September 2022, in contrast to US$6bn inflows in June. While there was net buying of equities in both Southbound and Northbound of the stock connect in July, and on net basis small inflows through the Stock Connect channel, the goods trade FX conversion ratio declined and related inflows slowed in July, while services trade deficit widened. In addition, cross-border RMB transfers showed net outflows in the month.
Here are the key points from the latest data:
1. In July, China experienced $25BN in net outflows via onshore outright spot transactions, and $14BN inflows via freshly entered and canceled forward transactions. Another SAFE dataset on "cross-border RMB flows" showed outflows of US$16bn in the month. Goldman's preferred FX flow measure therefore suggests a total US$26BN outflows in July, in comparison with US$6BN inflows in June. This was the biggest net outflow since Sept 22.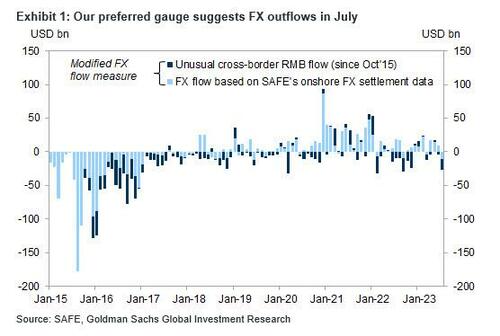 2. The current account showed broadly balanced flows as goods trade related inflows declined meanwhile services trade related outflows rose: There was a net inflow of $18BN related to goods trade in July, lower than the $36bn in June. Goods trade surplus conversion ratio declined to 22% in July vs 50% in June on the back of continued currency depreciation. The services trade deficit was $11BN, more negative than US$8bn in June as outbound tourism continued to recover. The income and transfers account showed outflows of $6BN in July, smaller than $8BN in June.
3. SAFE stated that foreigners continued to buy RMB assets on a net basis in July. Stock Connect flows showed net buying of $7BN of equities through northbound and $2BN net buying through southbound, which implies $5BN inflows through the Stock Connect channel, vs $3BN inflows in June. Foreigners' holding of RMB bonds data are not released yet though.
4. PBOC cut policy interest rates on August 15th, which added depreciation pressures on the currency. Promoting growth remains the priority, and the PBOC is expected to follow up with more measures to slow the depreciation trend in the next few weeks, such as more significant countercyclical factors in the daily CNY fixing, cutting FX deposit reserve requirement ratio, and/or adding FX forward sales reserve requirement.
With China's currency the weakest it has ever been, and with FX outflows accelerating sharply, one can't help but remember the panic observed after the August 2015 devaluation, which not only shocked global markets but woke bitcoin from its long slumber as billions in Chinese savings scrambled to the safety of offshore bank accounts via one of the few still open cracks in China's great monetary firewall. How long until we get a rerun?
More in the full Goldman note available to pro subs.
Tyler Durden
Thu, 08/17/2023 – 22:40