PBOC Cuts Rates In Surprise 'Easing' Ahead Of Dismal China Data Dump; Japanese Economy Surged In Q2
An Asian avalanche of data and headlines:
Japanese GDP surged in Q2 – doubling expectations on export-led growth

Japanese domestic spending weak

PBOC surprises with rate-cuts (biggest MLF cut since 2020)

MoF fix dramatically stronger than offshore yuan

Yuan tumbles below 2023 lows on rate-cuts

China 10Y yield drops to lowest since 2020

Chinese macro data missed across the board

China gold premium to London is soaring

China did not report its (record high) youth unemployment rate
*  *  *
The Japanese economy grew dramatically faster than expected in the second quarter, driven by strong exports data.
GDP grew at an annualized 6.0% in Q2 (the strongest growth since Q4 2020), more than double the 2.9% growth expected…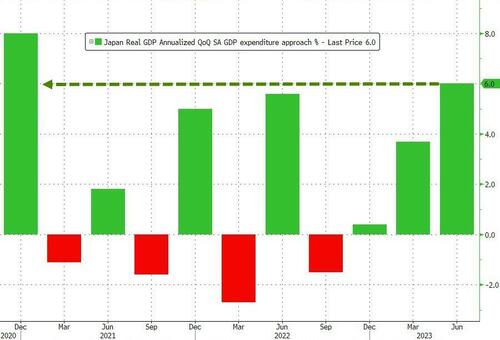 Source: Bloomberg
Outside of the post-COVID chaos, this is strongest annualized GDP growth for Japan since Q1 2015, even as economists see headwinds on the horizon in the US, China and Europe.
The export growth was helped by a plunge in the yen during Q2 (which, again outside of the COVID craziness, is the biggest quarterly drop in the Japanese currency since Q4 2016).
In fact, as Bloomberg reports, the yen has tumbled back toward a level that triggered the first yen-buying intervention since 1998 in September as yield differentials widened.
"We believe the Ministry of Finance will start pushing back in the 145-148 range," wrote Joey Chew, head of Asia FX research at HSBC Holdings Plc in a note.

"But, if it does not, short positions on yen will likely be rebuilt further."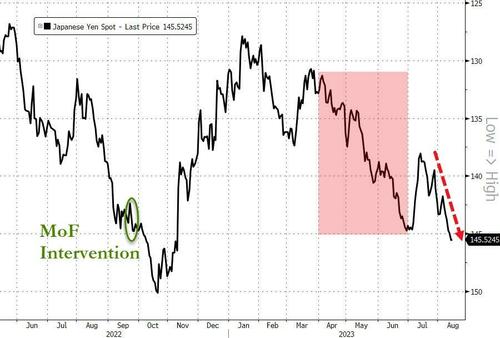 Source: Bloomberg
Perhaps the apparent strength of the Japanese economy will provide 'room' for the 'buying' intervention to stop the yen's freefall?
The anemic yen has been a double-edged sword for the economy, said Takahide Kiuchi, an economist at the Nomura Research Institute.
"It can be a positive for exporters, increasing competitiveness and revenue," he said.

"However, it could undermine consumption."
And sure enough, while strong external demand supported the growth, domestically things aren't so rosy as rising inflation made domestic households more hesitant to spend with private consumption dropping 0.5% QoQ – the weakest since Q1 2022…
"Compared with the January-March period, the improvement seen in consumption driven by increased activity has weakened," said Harumi Taguchi, principal economist at S&P Global Market Intelligence.

"Rising prices are increasingly causing consumers to hold off on buying items."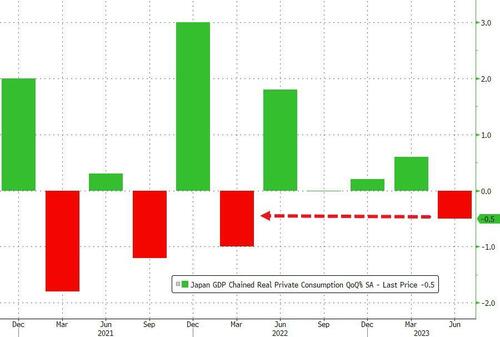 Source: Bloomberg
Additionally, the high reliance on exports makes the recent growth vulnerable to other countries' malaise. Recent softness in China, Japan's largest trade partner, is a particular source of worry.
"We see clear signs of slowing in China and Europe," Mr. Kiuchi, of the Nomura Research Institute, said.

That means "the stability of this high growth is unclear."
Japan is the world's third-largest economy, and the largest creditor by far… meaning its growth or fragility reverberates around the world…
"The only problem – it was all export driven and masked rocky conditions in domestic demand," Bloomberg economist Taro Kimura explains.

"The drop in consumption, despite a tailwind from this year's reopening, reflects the impact of wages lagging far behind cost-push inflation."
…but tonight we also get a data dump from the world's second largest economy – China.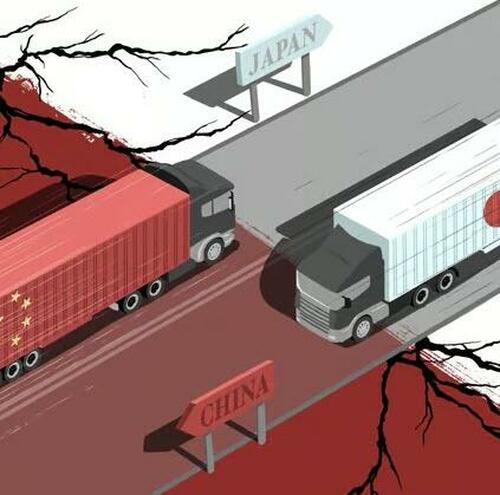 Amid a growing debt crisis, China's trade outlook looking similarly dire (with overseas shipments tumbling in July by the most in more than three years, and imports contracted for a fifth consecutive month), and China's banks having extended the smallest amount of monthly loans since 2009, and aggregate financing was less than half the level forecast by economists; the signals heading into tonight's data suggest that China's economy weakened further in July and  Beijing was slow to arrest the decline.
Ahead of the China data dump, there was much excitement as the PBOC surprised with more 'easing' – sooner than most expected:
PBOC conducts 401b yuan of 1-year medium-term lending facility at a yield of 2.5% vs 2.65% in the last operation, the central bank says in a statement.

PBOC also sells 204b yuan of 7-day reverse repo at a yield of 1.8% vs 1.9% in the last operation
Today's MLF operation is "totally out of expectation," says Becky Liu, head of China macro strategy of Standard Chartered Plc:
"The cut has been aggressive, indicating the urgency of stepping up measures to shore up credit growth," Liu notes that today's cut "will almost certainly" be followed by cuts to China's loan prime rates on August 20.
This was the second cut this year (the last one was in June)…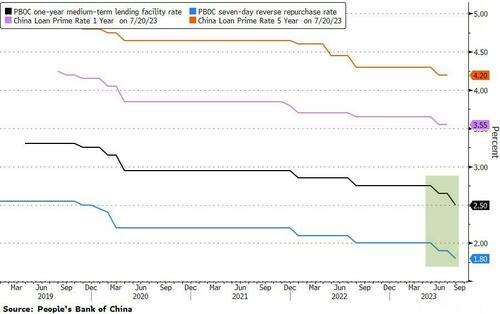 Source: Bloomberg
While the PBOC delivered a surprise rate cut, its net injection this month was merely one billion yuan, the smallest since December, when the central bank started to pumping in funds in the operation.
Given the slump in new yuan loans and aggregate financing last month, this is understandable – there's not much demand for credit at the moment.
Redmond Wong, market strategist at Saxo Capital Markets, makes the point that today's unexpected rate cuts follow incredibly weak loan data released late last week. Chinese banks extended the smallest amount of monthly loans since 2009 in July.
"The PBOC wants to get the banks to lend, but it seems it's not being successful as both loan demand from households and credit-worth corporations have been weak. Banks are reluctant to lend to property companies and other private enterprises with more uncertain repayment abilities. Cutting rates can help at the margins but it may not be very effective in boosting loan demand when confidence is still weak in the corporate and household sectors."
China fires a mini-bazooka…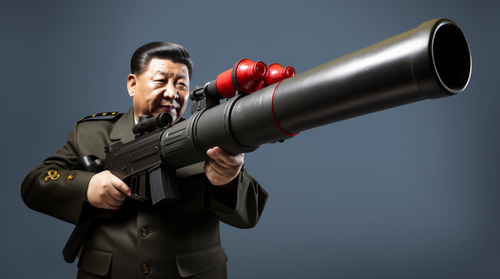 The surprise action weakened the offshore yuan further (below 2023 lows)…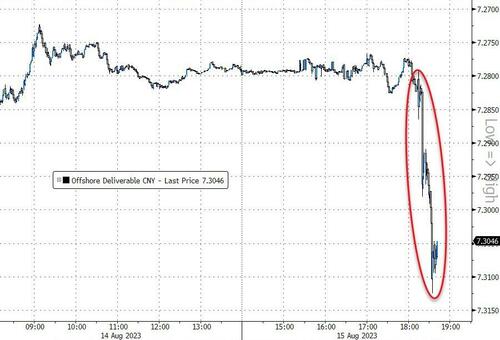 Source: Bloomberg
And China's 10-year government bond dropped 6bps to 2.56%, lowest since 2020…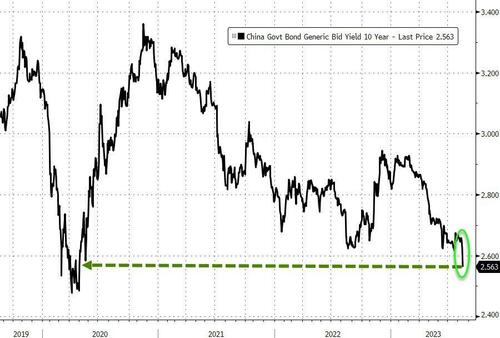 Source: Bloomberg
And as the yuan weakens, we note that China's gold price is rising against levels in London, a trend that local traders say is due to government curbs on imports of the precious metal.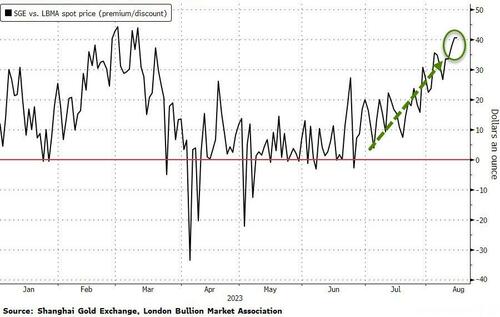 Source: Bloomberg
Gold's attractiveness as a potential capital outflow could be rising on the back of the weaker domestic currency, and authorities may potentially stymie that trade – lending some support to the yuan – by squeezing import quotas.
And an additional sign of support is the dramatically 'strong' fixing for the Yuan…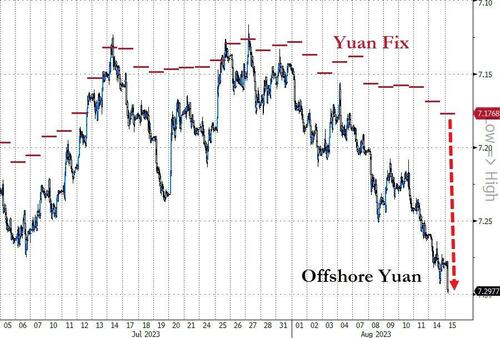 Source: Bloomberg
In context, that is a serious gap and we note that China has set a stronger-than-expected fixing everyday since late June (to little or no avail)…
Source: Bloomberg
And that was all before the deluge of data (suggesting Beijing knew exactly what was about to hit the wires).
Everything Missed
The July data was as follows:
China Industrial Production YTD YoY +3.7% vs +3.8% exp and +3.8% prior

China Retail Sales YTD YoY +7.3% vs +7.6% exp and +8.2% prior

China Fixed Asset Investment YTD YoY +3.5% vs +3.7% and +3.8% prior

China Property Investment YTD YoY -8.5% vs -8.1% exp and -7.9% prior

China Surveyed jobless rate rose to 5.3% vs 5.2% exp and 5.2% prior

China Youth (16-24) Unemployment Rate was not disclosed in this report (was at record high 321.3% last month)
Now that explains why they pre-emptively cut rates…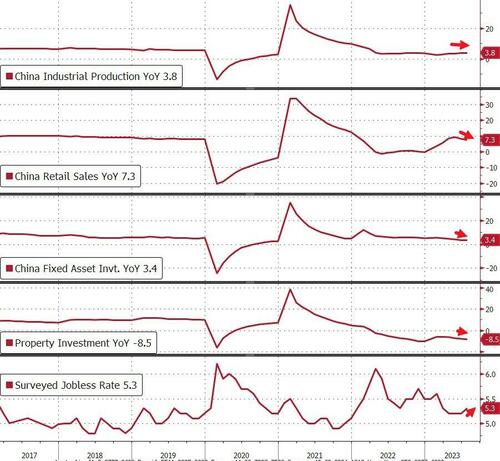 Perhaps the most notable is the fact that NBS' Fu says China will pause releasing the youth unemployment rate due to complexities in surveying.
The bureau will conduct more research on the data point, he adds.
In the US, bad data is just
"seasonally" massaged and birth/deathed until it is +300,000.

In China, they just stop reporting it.

*CHINA TO STOP PUBLISH DATA FOR YOUTH JOBLESS RATE pic.twitter.com/uNdAYho9wo

— zerohedge (@zerohedge) August 15, 2023
Raymond Yeung, chief economist for greater China at Australia & New Zealand Banking Group Ltd.:
"July's economic data are significantly below market consensus. The data turn out to have rationalized the surprising interest rate cut early in the morning.

In addition, the authorities are also aware of the recent financial events in the trust sector. There is a pressing need to revive market sentiment too."
Finally, we note that this all matters and the Biden administration knows it.
Treasury Secretary Janet Yellen called China's economic woes a "risk factor" for the US, but one that doesn't significantly dent her optimism for the American economy.
"China's slowdown will have the largest impact on its Asian neighbors, but there will be some spillovers to the United States," Yellen told reporters following a speech in Las Vegas, where she's touting the economic policy accomplishments of the Biden administration.
Yellen's comments come days after President Joe Biden blasted China's economic problems as a "ticking time bomb" and referred to Communist Party leaders as "bad folks."
Tyler Durden
Mon, 08/14/2023 – 22:05