For Hassan Nasir, a Pakistan without Islamic egalitarianism or leftist ideals would make the new nation nothing but a bulwark for imperialists against the Soviets
"I went to India, but after my exile I came back. My family's lands and riches could not keep me there. Neither could the party, my family had spoken to them that I should work there. Why did I not stay there? Not because I do not like India, after all I was born there and I was raised on what is produced from its soil, how can I hate such a place? But that is not where my struggle is, the laborers I have lived with, learnt from and taught socialism to, they are here, in Karachi. Not in India. Which is why I came back, because I will stay here, so will you. Our grave will be made in this land."
– Hassan Nasir, as quoted in 'Surkh Salam: Communist Politics and Class Activism in Pakistan 1947-1972'
In 1947, British India was divided into two independent nation-states, Hindu-majority India and Muslim-majority Pakistan. Hassan Nasir was a communist whose roots were in India but branched out into Pakistan. Besides the trauma of the partition of the former colony into two new nations – 15 million people migrated to one or the other (depending on their religion) and one million died due to inter-communal violence during this upheaval – opportunities available for the educated in newly-formed Pakistan also attracted many Muslim elites. Plum postings and evacuee property added to the appeal.
But not for Nasir.
Instead, he devoted his prime years to fighting for Pakistan's landless peasants, laborers, and other members of the working class. This did not endear him to the military government and the landed elite; when he turned 32, the rulers had had enough. This son of the Indian state of Telangana was thrown into the notorious Lahore Fort in Pakistan as a political prisoner, where he was tortured to death.
Nasir need not have died. He was externed from Pakistan for his role in the Communist Party of Pakistan (CPP) and returned to India. He could have remained there, for he was the scion of an affluent, well-connected family from the princely state of Hyderabad, which was incorporating the modern-day southern state of Telangana. The princely state was formally independent but under the paramountcy of the British crown —until August 15, 1947, when the British left. 
However, Nasir returned because he was devoted to unionization activism in Pakistan.
Read more

In the battle for the 'Global South', an ancient evil rears its head
A Budding Communist Amidst the Crème
Nasir was born on August 2, 1928, to parents from eclectic families. His father, Syed Alambardar, was a government official who served as private secretary to viziers for Hyderabad's princely rulers. Nasir's maternal family tree has numerous prominent figures. His grandfather, Mohsin-ul-Mulk, helped found the Muslim League, while his uncle, Abid Hasan Safrani, was an Indian National Army officer who coined the term 'Jai Hind (Victory to India)'. Nasir heeded the call of privilege by seeking a place at Oxford University in England, but his father instead opted to send him to Aligarh Muslim University and then Nizam College, Hyderabad.
He was a rebel from the start, protesting for the unconditional release of Indian National Army (INA) soldiers or heading a demonstration for the Hyderabad State Congress in 1947. "Alambardar Saahib blamed left-oriented lawyer and maternal uncle Kokab Durri for nudging Hassan Bhai towards Marxist literature and thereby the subversive ways that hindered his employment in government," Nasir's cousin, Sanjar Ali Khan, told RT in an interview about Hassan.
Nasir had another mentor in trade unionist and poet Makhdoom Mohiuddin, whose work instilled revolutionary fervor among factory workers in Hyderabad. Eventually, this revolt became an armed one in 1946. In this volatile climate, Nasir organized a student protest against the university police's violent procedures.
As a socio-political conflict gathered momentum in the princely state of Hyderabad, which along with the Telangana and Andhra regions was known as the 'Deccan'– a religious one helped create Pakistan in 1947. India's attempt to incorporate Hyderabad into a new union also aimed at eradicating the Telangana Peasants' Revolt. For Nasir, a Pakistan without the Islamic principles of egalitarianism – which overlapped with communist ideals – meant that the new country would be nothing but a bulwark for imperial powers against Soviet expansion.
Thus, it was time to take the lessons of the Telangana rebellion across the border.
Telangana Comes to Pakistan
Why did Nasir migrate? "He was in Bombay for a few months in 1948," Sanjar Ali Khan says. "Being in Pakistan would ensure that his father didn't end up paying the price for his activities."
Another reason was that Sajjad Zaheer, a member of the Communist Party of India who had migrated to Pakistan to found the Communist Party of Pakistan (CPP), needed young blood like Nasir's to help steer the CPP.
Upon meeting Nasir in Bombay, Sibt-e-Hassan, another communist who later migrated, thought this Hyderabadi's upper-class and privileged upbringing made Nasir's zeal a youthful phase that would eventually wither away.
Sibt-e-Hassan realized how wrong he was when Nasir introduced him to laborers in Karachi. Once of the elite, Nasir had clearly found his tribe among the workers. It was no surprise that, within a few months, he had become the secretary of the CPP's Karachi committee.
Thwarting Imperial Designs
With domestic land reform nowhere in sight in Pakistan – unlike in India, where the process began with the first five-year plan (1951-1956) – Nasir had to help the working class fight for their rights, against their exploitation at the hands of the elites and the military.
The Pakistani state also lined up against communism amid the Cold War. Nasir, leftist poet and commentator Faiz Ahmed Faiz (who was awarded the Lenin Peace Prize by the Soviet Union in 1962), Sajjad Zaheer, and many other leftists went to jail for an alleged coup attempt against then- prime minister Liaquat Ali Khan.
In spite of this, Nasir remained resolute. As he wrote in letters to his mother: "I've embarked on this special path for a reason. Even if I were to get the last five years back, I would still go down that road."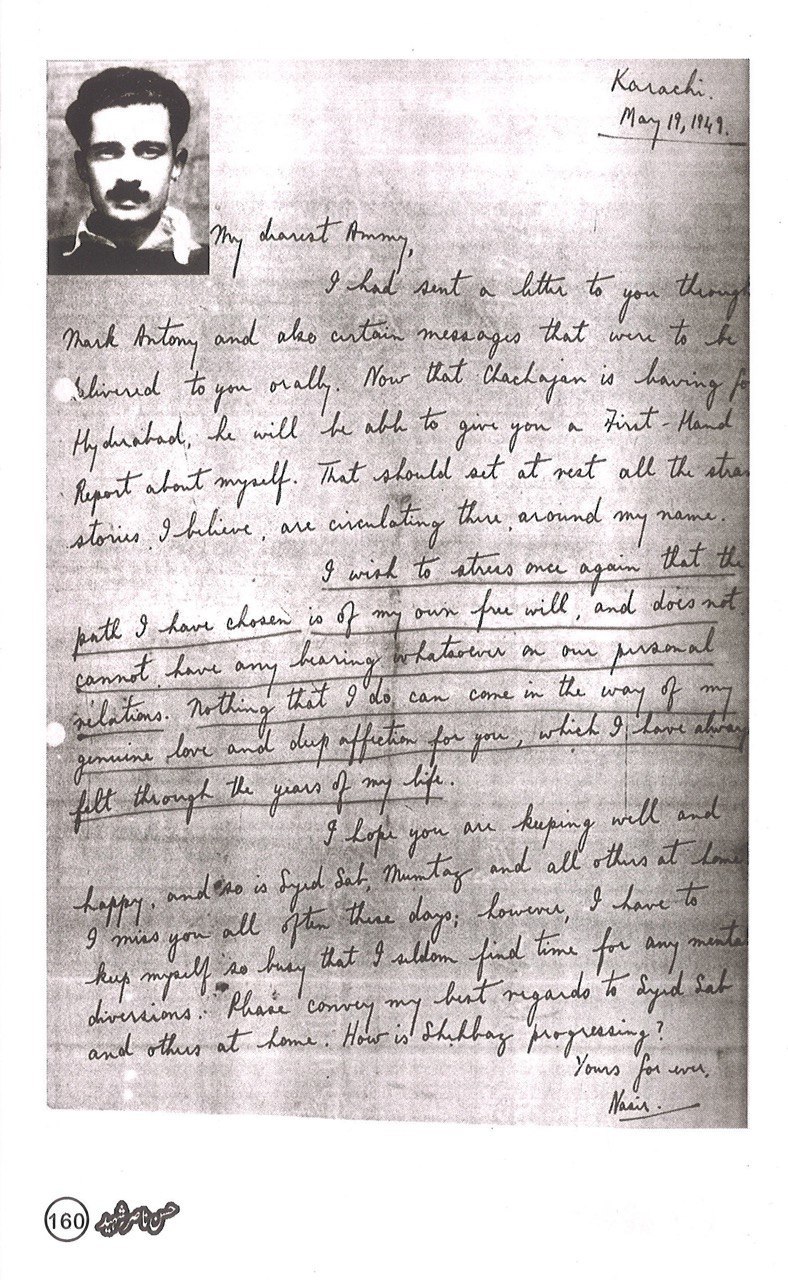 To preserve its new Cold War alliances like SEATO (South East Asia Treaty Organisation) and CENTO (Central Treaty Organization), Pakistan banned its communist party and banished Sajjad Zaheer and Nasir to India.
Nasir then spent two years back in Hyderabad, where he counted the days until he could return to Pakistan.
"Hassan Bhai mostly kept to himself while he was here," Khan reminisces. "For the most part, he was sedate, but he constantly interacted with nomadic tribes and introduced them to Marxism."
Khan also notes that both the Chief Minister of Hyderabad and then-prime minister Jawaharlal Nehru implored him to remain in India, though leftism was the need of the hour in a Pakistan where there wasn't only a red scare, but a purging of the left.
If he stayed put in India like comrade Sajjad Zaheer, a smoother, safer trajectory lay ahead. But Nasir simply couldn't let the Pakistani proletariat down.
Back to Pakistan
Read more

The Russian Civil War ended 100 years ago: Here's how Western powers played a significant part in the outcome
Back in Pakistan, he became a key member of the National Awami Party (NAP), which came about via a merger of the CPP, other leftist factions, and the Azad Pakistan Party (APP). When telegraph workers found every single Pakistani political party to be corrupt, they sought help from the NAP. Before interacting with those workers with his signature affability, Nasir did his due diligence learning their problems.
Three days of his guidance were enough for telegraph administrators to cave in to worker demands. Sindhi peasant leader Ghulam Mohammed Leghari commemorated the passion with which Nasir wanted to spread Telangana's revolutionary spirit in Sindh.
"It fills me with joy that a youngster from Makhdoom Mohiuddin's land is raising a revolutionary banner similar to Telangana's in the sandy deserts of Sindh," Leghari wrote in a tribute.
Naturally, those peasants were allotted land that once belonged to Hindus and Sikhs who had left for India.
But the government had had enough. General Iskander Mirza imposed martial law in 1957 and, a year later, his Chief Martial Law Administrator, Ayub Khan, who would become president and usher in a reign that further subverted democratic institutions in favor of landed elites and an all-powerful military.
The 32-year-old Hyderabadi posed a threat to this nexus.
Martyrdom
Soon, Nasir was caught engaging in subversive activities. Lawyer and NAP co-founder Mahmud Ali Qasuri petitioned Chief Justice MR Kayani to order that Nasir be presented to the court. But the government was clearly intent on hiding his corpse, as it carried imprints of torture.
Prominent women's rights activist and Democratic Women's Association (DWA) founder Tahira Mazhar Ali remembers when they greeted Nasir's mother, who had arrived to take her son's body back to Hyderabad for a funeral.
She wrote in a tribute, "When she got off the plane, our whole group began crying, whereas she didn't shed a single tear. She proudly proclaimed
'I'm proud that my son gave his life in the fight to uphold certain principles'. "
However, the body that was exhumed from a grave wasn't her son's. Where the body was remains a mystery to this day.
But Hassan Nasir's spirit lives on. Some 76 years after independence, he remains an icon for those spearheading the battle for equality, be they in India, Pakistan, or Bangladesh.