DeSantis Fires Another 'Soros' Prosecutor Over 'Needless Pain, Suffering, And Death'
Florida Governor Ron DeSantis on Wednesday suspended the top prosecutor in Orlando who refused to enforce the law against criminals which went on to commit more crimes, including murder.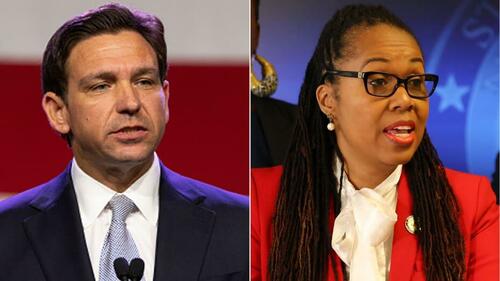 "Prosecutors have a duty to faithfully enforce the law. One's political agenda cannot trump this solemn duty. Refusing to faithfully enforce the laws of Florida puts our communities in danger and victimizes innocent Floridians," DeSantis said.
Monique Worrell, Florida state attorney for the 9th Judicial Circuit, failed to prosecute 43% of arrests – releasing 16,243 defendants without prosecution, according to state AG Ashley Moody.
"Ms. Worrell is dismissing during the same period nearly four times the number of defendants as are being dismissed or not charged in Palm Beach County," she said, adding "It is not normal for a prosecutor to come out repeatedly after we have seen tragedy strike and insinuate, 'It's not my fault.' I submit to you this was, in a way, to distract from where fault should have lay."
Even violent felonies were only prosecuted 41% of the time, according to Moody.
DOCUMENTS: Gov. Ron DeSantis' office lists rationale for suspending Soros-backed Democratic State Attorney Monique Worrell

"The practices and policies of her office have allowed murderers, other violent offenders, and dangerous drug traffickers to receive extremely reduced… pic.twitter.com/keJzzp4AGo

— Florida's Voice (@FLVoiceNews) August 9, 2023
"If she were allowed to continue in this office, her failure would continue to cause needless pain, suffering, and death," Moody said of Worrell – speaking in tones of 'intense but controlled anger,' according to the Epoch Times.
#BREAKING: Gov. Ron DeSantis suspends Democratic State Attorney Monique Worrell, effective immediately, citing lack of mandatory minimum sentencings for various crimes, neglect of duty, and abusing discretion pic.twitter.com/O0Pe1UbTVH

— Florida's Voice (@FLVoiceNews) August 9, 2023
In many cases, Ms. Worrell's choice not to prosecute turned lethal, Gov. DeSantis noted.

A 17-year-old in Ms. Worrell's circuit was arrested for criminal possession of a firearm, he said. She let him go, and he shot and killed his pregnant girlfriend.

Another criminal was arrested for sex abuse of a minor, the governor said. After getting let out on bond by Ms. Worrell, he shot and killed two police officers, he said. -Epoch Times
"I have no doubt that today's decision is not only consistent with the Constitution and laws of Florida, that we have a right to act. We had a duty to act to protect the public from this dereliction of duty," said DeSantis.
Responding to the removal, Florida Sheriff Grady Judd said that criminals are incentivized by their chances of success, and think "I'll just shoot them because, heck, after all, I probably won't go to jail."
"When it comes to law and order, Gov. @RonDeSantis is not playing…His actions today, without question, saved the lives of citizens in Central Florida."

— Brevard County Sheriff Wayne Ivey praises DeSantis' suspension of State Attorney Monique Worrell pic.twitter.com/Yn8xnF71Sw

— DeSantis War Room 🐊 (@DeSantisWarRoom) August 9, 2023
In response to her removal, Worrell defended her record by calling her approach "unconventional" and "doing things differently." 
JUST IN: Suspended State Attorney Monique Worrell calls Gov. Ron DeSantis a "dictator"

"This is an outrage […] There used to be a very high standard for the removal of elected officials."

"Under this tyranny, elected officials can be removed simply for political purposes."… pic.twitter.com/SuzrbreZpu

— Florida's Voice (@FLVoiceNews) August 9, 2023
Of note, Worrell received election funding from billionaire George Soros. 
Soros arbitraged politics. He figured out that spending small amounts of money in many obscure, but influential, races is far more effective than money spent on major contests.

The mistake people make is thinking that he did it for the good of humanity. He hates humanity.

— Elon Musk (@elonmusk) August 6, 2023
Sen. Rick Scott (R-FL), a former governor of Florida, supported DeSantis' decision.
"This is the right move," Scott posted to X. "Democrats' soft-on-crime policies are eroding our communities and families' ability to feel safe. In February, I called on SA Monique Worrell to deliver the justice and accountability needed for the families affected by shootings in her district and said her suspension would be fully justified. She failed to do her job. Families deserve better."
Worrell is the second Soros-funded state attorney removed by DeeSantis in the past 12 months, after suspending Hillsborough County State Attorney Andrew Warren for violating his oath of office and holding himself "above the law" in what DeSantis described as a "very very troubling record."
Tyler Durden
Thu, 08/10/2023 – 22:40