China Slides Into Deflation, Despite Jump In Core Print And Unexpected Rebound In Sequential CPI
China has found itself in a bit of a quandary: on one hand, as we reported moments ago, in its zeal to portray the economy as the second coming of that brilliant vision and magnificent execution of economic utopia that is "Bidenomics", Beijing barred not only all bearish commentary in financial and economic circles, but also any mention of "deflation"; on the other hand China is – well – deflating: stuck between a collapsing property sector, deleveraging consumers, crashing stock market, slumping exports, and accelerating deglobalization, the only place where Chinese prices can go up is the same imaginary socialist utopia where Bidenomics is actually something different than a drunken sailor's deficit-busting spending spree.
Then things got especially complicated because just days after China banned the use of deflation, it was set to report its latest July CPI and PPI… which it did moments ago.
And as a reminder, in our preview of today's CPI print we said that "odds are that CPI will come in just barely positive and all shall be well… or else we are about to see a whole lot of imprisoned Chinese economists, analysts and strategists."
Well, we can now say that we were half right. Yes, on one hand, China has no choice but to admit deflation, pardon disinflation (we don't want the Chinese secret police knocking on our door at 3am) had arrived, and sure enough the National Bureau of Statistics, the greatest congregation of goalseek scientists ever gathered, just announced that in July CPI dipped -0.3% Y/Y, down from June's unchanged print but just slightly stronger than the -0.4% Y/Y estimate. At the same time PPI also dropped for the 10th consecutive month, but it appears to have finally hit a bottom and after sliding -5.4% Y/Y in June it dropped ever so slightly less, or -4.4%.
In other words, this was the first time since Nov 2020 that both Chinese CPI and PPI printed negative.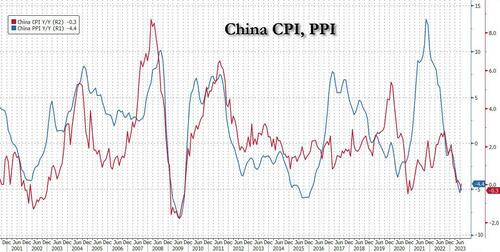 But wait, there's more. Because while China did indeed enter deflation, pardon, disinflation on an annual basis, the sequential number is where the real goalseeking action was: with consensus expecting a drop of -0.1% which would have marked the sixth consecutive monthly decline and the longest stretch on record, after last month's 0.2% decline, Beijing reported that for the first time since February, China experienced sequential inflation of 0.2%.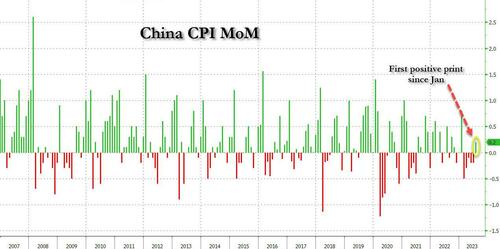 Still, that would hardly quiet the inflation hawks and Beijing had to engage in aggressive damage control; sure enough, statistics bureau attributed the decline in consumers prices to the high base of comparison with last year, saying the contraction is likely to be temporary and consumer demand continued to improve in July.
"With the impact of a high base from last year gradually fading, the CPI is likely to rebound gradually," Dong Lijuan, chief statistician at the NBS, said in rare additional comments to accompany the official data. Needless to say, he didn't use the dreaded D-word which would have bought him an immediate one way ticket to deflation-reeducation camp.
There was better news in the latest core inflation print, which excludes volatile food and energy costs, and which doubled to 0.8% from 0.4%, a sign of "underlying, although subdued, demand in the economy" according to Bloomberg.
Similar to the US, a breakdown of the consumer inflation figures showed prices for household goods, food and transport contracted, while prices of services spending, like recreation and education, climbing.
Of course, all of the above "data" is just theatrics as everyone knows the true plight of China's economy. Using the GDP deflator — a measure of economy-wide prices — China was in deflation in the first half of the year. The International Monetary Fund defines deflation as "a sustained decline in an aggregate measure of prices," such as the CPI or the GDP deflator.
And while deflation boosts the case for more monetary and fiscal stimulus, the central bank is facing several constraints that's making it cautious, including a weaker yuan and record debt levels in the economy. Analysts expect the PBOC to take moderate steps to ease monetary policy for the rest of this year. It is unclear what incremental fiscal stimulus measures Beijing will undertake, but one thing is clear: it has to do something or else that record youth unemployment rate will soon transform into the one thing every Chinese leader fears the most: a middle-class insurrection.
The Hang Seng China Enterprises Index trimmed an earlier loss of as much as 0.9% to trade 0.3% lower as of 9:50 a.m., while the onshore benchmark CSI 300 Index of stocks traded little changed.
Tyler Durden
Tue, 08/08/2023 – 22:24