Goldman: Rates Don't Matter Until They Do
By Matthieu Martal, Goldman FICC trader and director
Sharp rates moves triggered violent equity sell off, as short squeeze dynamics fade and selling pressure intensifies on long duration and credit sensitive assets.
Fading the chase: Bears are pressing shorts again. The short covering dynamics appear to have come to its natural end after two months of aggressive risk unwind. HF Net exposure has reset back to 5y median from 10th %ile in May, with Gross still at highs, speaking of the magnitude of bear capitulation. Equities entered the week with over 90% of SPX constituents trading above 50d moving average, the 2m return spread between HF VIP GSTHHVIP stocks and most shorted names GSXUMSAL at 5y highs, and our beta factor pair GSPUBETA rallied +25% since May (99th %ile) – all pointing at downside asymmetry. This week's reversal was sharp, with CTA thresholds getting hit and forecasted $32bn for sale on a flat tape in the next week and gamma positioning adding pressures on down moves.
Snapping rates: The sharp increase in US rates sparked a duration sell off as equities re-calibrate expensive valuations. Equity bond proxies GSXUBOND & GSXEBOND sold off aggressively alongside expensive software GSCBSF8X and renewables GSXURNEW. Rates vs equity dislocation has been well flagged but seemed not to matter until it does. The equity sensitivity to rising rates has picked up significantly over the past month as a result, with SPX vs US 10y yield 1m correlation close 20y lows. Also interesting to see the Cleveland Fed inflation pointing at an acceleration in August which could signal more room to go. Worth noting however that European equities are trading at an all-time 12m PE discount vs US equities in a sector adjusted basis and could be more resilient in a backdrop of duration recalibration.
Credit vs Consumer: Fitch unexpectedly cutting US credit grade accentuated the risk off move, adding pressure on low quality pockets of equities such as levered stocks GSXUDEBT & GSXEDEBT and weak balance sheet ones GSXUWBAL, GSXEWBAL. Not all pockets of equities are reflecting worsening consumer credit thought, with Big Ticket Items GSXUBIGT de-coupled from Lending Sensitive Stocks GSXULEND despite worsening consumer data. See charts below for more.
Cyclicals priced for perfection: Employment numbers continue to normalize slowly to more sustainable levels, supporting the soft landing trade. However, the soft landing narrative seems mostly priced in cyclical equities GSPUCYDE & GSPECYDE, with equities trading the normalization of costs from supply chain and strong pricing pent up demand despite fading tailwinds into 2H. Short covering have been a tailwind for cyclicals, especially in Europe where optimistic equity implied sentiment is most disconnected from PMIs. Timing the downturn remains difficult however, and the desk has seen investors favor expressions in most crowded long industries such as Autos GSXEAUTO, with EU Auto long short ratio reaching 2y highs and BMW earnings pointing at margin compression in the space.
Earnings jigsaw: European earnings have been underwhelming vs US beating more, however the reaction function has been poor. For instance, companies that beat tend to outperform SPX by 100bps, but in this reporting season, names beating consensus by >1std dev outperformed  by only 22bps. On the other hand earnings miss are lagging by 62bps vs historically underperforming -211bps. This echoes the terrible  performance of our sentiment Barra pair GSXUBFSL/ GSXUBFSS, with stocks with positive sentiment lagging the ones with negative sentiment the most in 10 years on a 3m window.
The 2m return spread between HF VIP stocks and Most Shorted stocks has reached some of the worst levels in the last five years.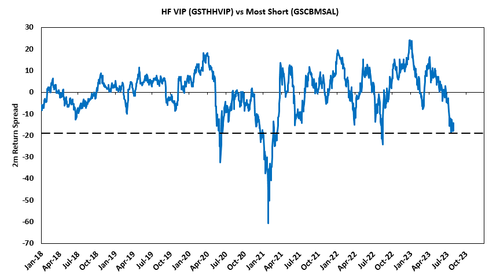 Stocks with the positive sentiment 3m performance vs negative sentiment name has been the worst in 10 years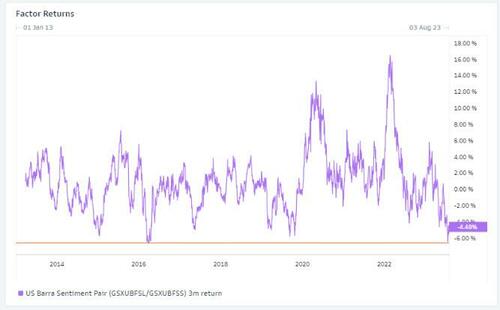 Earnings confusion, beats not rewarded, miss not punished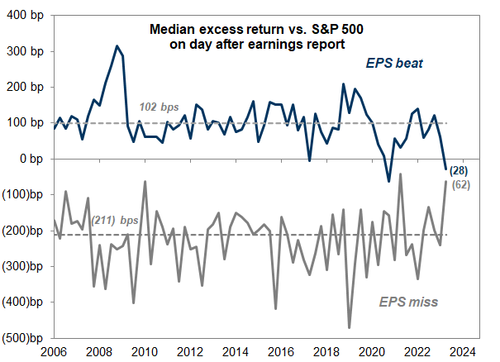 US Economic surprises remain very strong, supporting the pro-cyclical momentum in US and European equities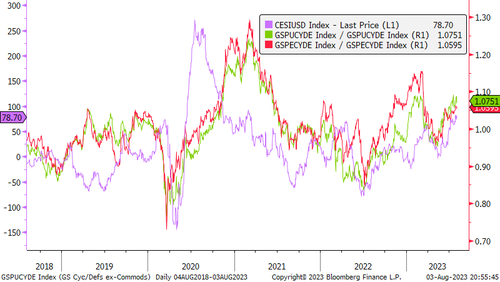 Bond Proxies sold off as US rates make new highs GSXUBOND & GSCB30YR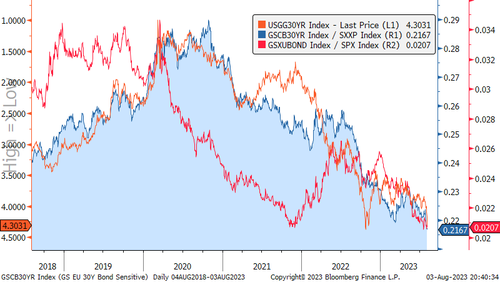 Big Ticket Items GSXUBIGT de-coupled from Lending Sensitive Stocks GSXULEND despite worsening consumer credit data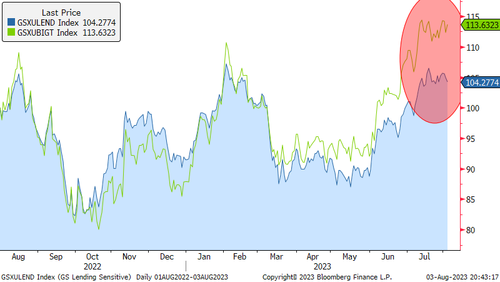 Momentum Net Sector Changes (US LHS, EU RHS)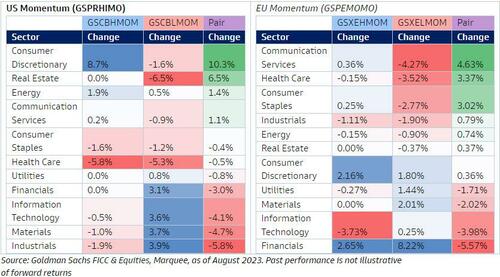 Tyler Durden
Sun, 08/06/2023 – 21:30