White House Rejects Australia's Call To Drop Assange Charges
Authored by Dave DeCamp via AntiWar.com,
Secretary of State Antony Blinken on Saturday rejected Australian concerns about WikiLeaks founder and Australian citizen Julian Assange, who faces up to 175 years in prison if extradited to the US and convicted for exposing US war crimes.
Blinken was in Australia with Secretary of Defense Lloyd Austin to discuss bolstering military ties between the US and Australia. At a press conference during the visit, Australian Foreign Minister Penny Wong said Canberra has made clear to Washington that it wants the US to drop its case against Assange.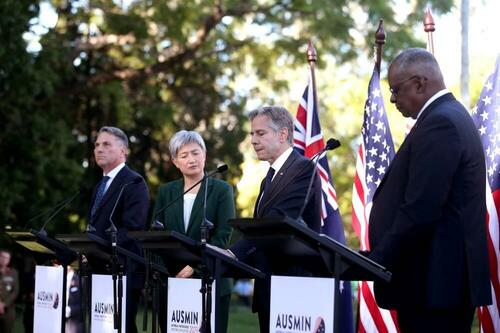 "We have made clear our view that Mr. Assange's case has dragged on for too long and our desire that it be brought to a conclusion. And we've said that publicly, and you would anticipate that that reflects also the position we articulate in private," Wong said.
Blinken confirmed that the issue has been discussed but rejected Australia's concerns. He said Australia must recognize the US's position on Assange, claiming the Wikileaks founder's alleged actions risked "very serious harm to our national security."
"Mr. Assange was charged with very serious criminal conduct in the United States in connection with his alleged role in one of the largest compromises of classified information in the history of our country," Blinken said. "So I say that only because just as we understand sensitivities here, it's important that our friends understand sensitivities in the United States."
Assange has been indicted under the Espionage Act by the US Justice Department related to documents WikiLeaks published that it obtained from former Army Private Chelsea Manning. But Assange obtained the material using standard journalistic practices, and if he is convicted in the US, it would set a grave precedent for press freedom.
Assange has been held in London's Belmarsh Prison since April 2019 and recently filed another appeal against the UK's decision to extradite him to the United States. "Mr. Assange has filed a renewal of appeal application in the UK," Wong said. "The Australian Government is not party to these legal proceedings, and nor can we intervene with them. Having said that, we will continue to offer him consular assistance and to convey our expectations about his treatment."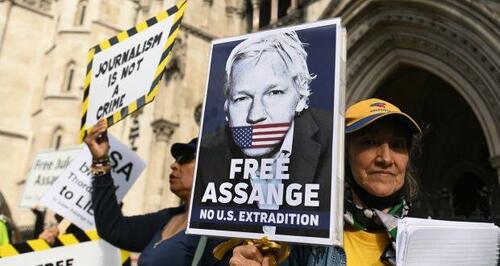 While Wong says the Australian government wants the case against Assange to be brought to an end, it has not impacted ties between the US-Australia. After signing the AUKUS military pact that will eventually allow Canberra to acquire nuclear-powered submarines, the US and Australia continue to increase military cooperation.
After two days of talks in Australia, the two sides announced the US would expand its military presence in the country by sending more submarines, adding regular rotations of US Army watercraft, and collaborating on joint missile production. The US expansion in Australia is part of its military buildup to prepare for a future war with China.
Tyler Durden
Mon, 07/31/2023 – 21:40