DOJ Denies Trying To Jail Hunter Biden Witness Before Tomorrow's Testimony
Update (2030ET): The DOJ has responded to allegations that they want Hunter Biden witness Devon Archer arrested before tomorrow's testimony, saying in a statement:
"To be clear, the Government does not request (and has never requested) that the defendant surrender before his Congressional testimony," reads a Sunday night filing. "For the avoidance of all doubt, the Government requests that any surrender date, should the Court order one, be scheduled to occur after the defendant's Congressional testimony is completed."
BREAKING: BIDEN DOJ BLINKS – FILES NEW LETTER ALLOWING DEVON ARCHER TO TESTIFY TOMORROW

They felt the pressure pic.twitter.com/op8BHgFKGd

— Jack Poso 🇺🇸 (@JackPosobiec) July 31, 2023
*  *  *
The Department of Justice is pushing a federal judge to jail former Hunter Biden witness Devon Archer just days ahead of his hotly anticipated congressional testimony, court documents reveal.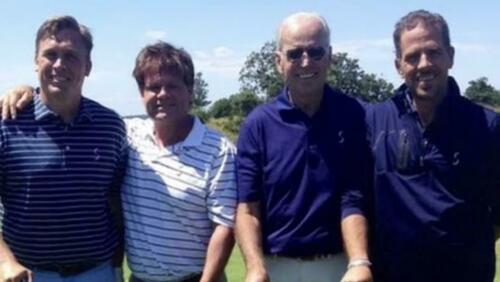 On Saturday, Manhattan federal prosecutors filed a letter asking a judge to set a date for Archer to begin his one-year sentence in a fraud case which is unrelated to Hunter's various scandals. The request came less than a week after the Second Court of Appeals upheld Archer's 2018 conviction on two felony charges for his role in a conspiracy to defraud a Native American tribe.
Archer is scheduled to testify on Monday in front of the House Oversight Committee.
Here's Oversight Committee Chairman James Comer on @MariaBartiromo #Sundaymorningfutures describing this letter as "obstruction of justice" and decrying "the lengths to which the Biden legal team has gone to try to intimidate our witnesses, to coordinate with the DOJ and… https://t.co/8a25tsSOAQ

— Miranda Devine (@mirandadevine) July 30, 2023
As the NY Post notes;
Archer — who is set to deliver closed-door testimony to the House Oversight Committee on Monday about Biden — had been challenging the conviction.

His attorney, Matthew Schwartz, said he would be filing a formal response to the request from the US Attorney's Office by Wednesday — and noted that his client would still testify as planned despite allegations the DOJ letter was an intimidation tactic.

…

Back in 2009, Archer, Biden, and Christopher Heinz co-founded investment and advisory firm Rosemont Seneca Partners, which the first son used as a vehicle for many of his overseas business endeavors.

Archer is expected to testify that Hunter Biden would dial-in his father, then-Vice President Joe Biden during various meetings with overseas partners, as The Post exclusively reported.
"We are aware of speculation that the Department of Justice's weekend request to have Mr. Archer report to prison is an attempt by the Biden administration to intimidate him in advance of his meeting with the House Oversight Committee," said Archer's attorney, Matthew Schwartz, adding that his client will testify as planned despite allegations that the DOJ letter was an intimidation tactic.
"To be clear, Mr. Archer does not agree with that speculation," Schwartz added. "In any case, Mr. Archer will do what he has planned to do all along, which is to show up on Monday and to honestly answer the questions that are put to him by the Congressional investigators."
Blatant obstruction of a congressional investigation by the DOJ but the media ignores it. pic.twitter.com/MzzGk51XEi

— RedVirgo🔥Stacy 🔥 (@stacy_redvirgo) July 30, 2023
Devon Archer has just been threatened 💥

"And I am receiving calls from the Southern District of New York from the U.S. Attorney himself.
My best friend in business Devon… has named me as a witness without telling me, in a Criminal case… and my Father without telling me." pic.twitter.com/GL0NxV3kbo

— Joni Job (@jj_talking) July 30, 2023
This shows how scared they are – which tells you they know they are in real trouble – which tells you he is guilty…. https://t.co/BzsXf7ZXrq

— Lara Logan (@laralogan) July 30, 2023
Tyler Durden
Sun, 07/30/2023 – 22:23