"Depart Haiti" Now: State Department's Dire Warning To Americans
Authored by Caden Pearson via The Epoch Times (emphasis ours)
U.S. citizens in Haiti are urged to leave the Caribbean country immediately due to the recent surge in armed clashes between gangs and police.
The U.S. Embassy in Haiti and the Department of State issued a "Level 4" travel advisory on Thursday, categorizing Haiti as a "Do Not Travel" destination.
"On July 27, 2023, the Department of State ordered the departure of family members of U.S. government employees and non-emergency U.S. government employees," the agency said in an updated travel advisory.
"U.S. citizens in Haiti should depart Haiti as soon as possible by commercial or other privately available transportation options, in light of the current security situation and infrastructure challenges," the travel advisory continues.
U.S. citizens in the capital Port-au-Prince should monitor local news and depart only when it is safe to do so, the warnings read.
Specific neighborhoods, including Vivy Michel, Tabarre, Torcel, Tapage, and Trutier, have been deeply affected by the violent clashes, posing significant risks to residents and visitors.
The ability of the U.S. government to provide emergency services to its citizens in Haiti is currently extremely limited, raising concerns about their safety and well-being.
US Embassy Sounds Alarm
Kidnapping has become widespread in Haiti, with U.S. citizens frequently falling victim. Kidnappers often use sophisticated measures or take advantage of unplanned opportunities, even attacking convoys.
Violent crimes involving firearms, such as armed robberies, carjackings, and kidnappings for ransom, are common and pose risks to both residents and visitors.
"Kidnapping cases often involve ransom negotiations and U.S. citizen victims have been physically harmed during kidnappings," the agency said, adding that victim's families have paid thousands of dollars to rescue their family members.
Protests, demonstrations, tire burning, and roadblocks frequently occur in Haiti and can turn violent unexpectedly.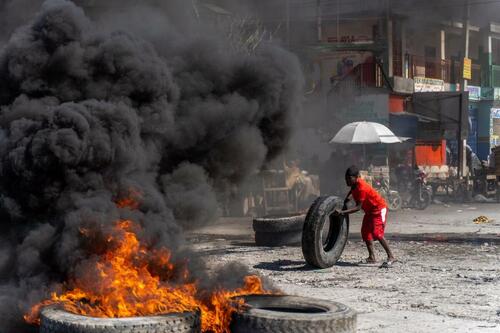 Critical shortages of gasoline, electricity, medicine, and medical supplies persist, further exacerbating the fragile situation in the country. Medical facilities lack qualified staff and basic resources.
Travelers have reported being followed and violently attacked shortly after leaving the Port-au-Prince international airport, while private vehicles stuck in heavy traffic congestion have been targeted by robbers and carjackers.
Read more here…
Tyler Durden
Sat, 07/29/2023 – 20:30