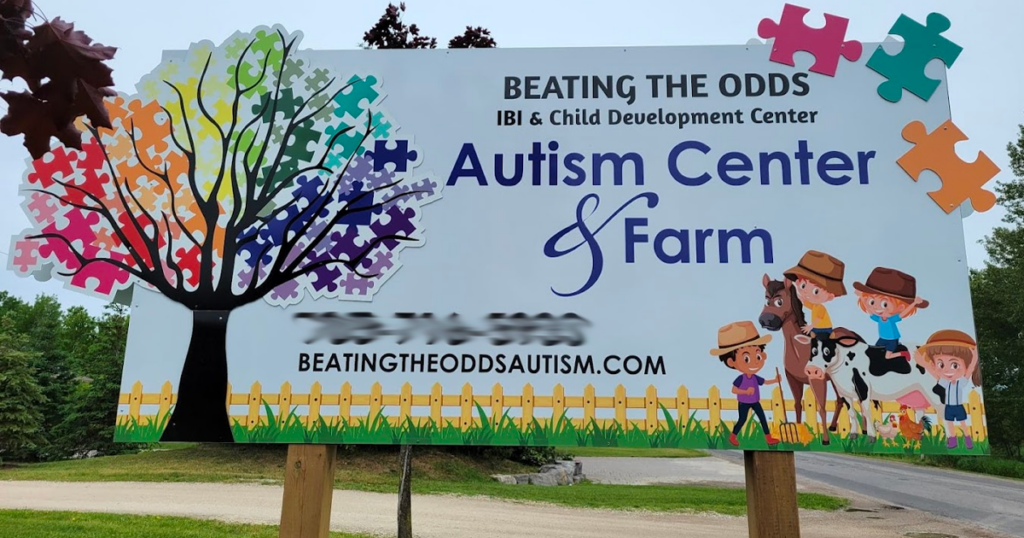 Parents who showed up to protest outside of the autism centre where convicted child sex offender Lauriston Charles Maloney lives are contradicting recent statements made by him to the media that he has "no interaction" with the kids. 
Beating the Odds child care is owned by his spouse Amber Maloney. The couple recently told the media that she and her staff were the only ones interacting with the children at the centre. 
Lauriston Maloney and Amber Maloney were arrested on Wednesday morning. The couple was charged with multiple offences relating to recruiting, exercising control, exploitation, assault, forcible confinement, and financial benefit from committing a crime.
Despite Maloney's arrest, many question why he was allowed to be near children, given his status as a registered sex offender.
In an interview with True North's Harrison Faulkner, parent Laureli Barrett claimed that Maloney, who has been convicted of 16 charges related to trafficking minors, offered to drive her son home from the facility one day. 
Barrett made similar claims on her social media profile. 
"(My son has) been here for a year and a half between therapy services, behavioral services and the camp," said Barrett. 
"U gave text messages from that man from June 25th. He was with my son, wanting to drop my son off at home. His father picked him up and his father saw him in the kitchen. I see him there three days a week, at least with the kids, he's a liar." 
Another emotional mother present at the scene named, Candice Williamson, claimed that the Maloneys attempted to invite her and another friend to their cottage. 
"The past couple of weeks, I was getting messages from the owner Amber asking me to hang out with her and her husband and go up to their cottage. They have a hot tub. I deserve to relax. They know what I go through. I don't know if that was trying to groom me," said Williamson. 
"I was supposed to go there yesterday, Tuesday and hang out with them until I found this out on Monday. Thank God." 
According to Williamson, her 8-year-old autistic son was beginning to act differently in recent weeks and she suspects that the therapists at the centre were not qualified. 
"My child has been acting very different. The past couple of week he was having super meltdowns before he would come here. He loved it in the beginning," said Williamson. 
"I don't think any of these therapists are qualified." 
True North reached out to the Maloneys to offer them an opportunity to comment on the allegations but did not receive a response by the deadline given. True North also attempted to contact Lauriston Maloney via his business email and phone number but could not reach him. None of these allegations have been proven in a court of law. 
"Yes, we share the same property address, but he does not work with these kids. He has his own job that brings him off-site and allows me to operate solely without him," Amber Maloney claimed in a CTV News interview on Tuesday. 
Earlier this week, the Ontario Provincial Police (OPP) were prompted to issue a community warning about Maloney's presence in the community. The Ontario solicitor general has also told parents to keep their children away from the centre. 
According to the OPP press release, Maloney "has regular access to" Beating the Odds child care. 
"Maloney is a convicted sex offender with several prior convictions, which include human trafficking of children," wrote the OPP.
Despite the past convictions, Maloney has no court orders which prevent him from accessing children.