Waiting For 'Buyers To Come': Unsold Electric Vehicles Piling Up In Car Dealerships, Says Report
Authored by Naveen Athrappully via The Epoch Times (emphasis ours),
The number of unsold electric vehicles at dealers in the second quarter tripled compared to the past year, signaling a weakened demand for the segment, said a recent report by leading auto-dealer data company Cox Automotive.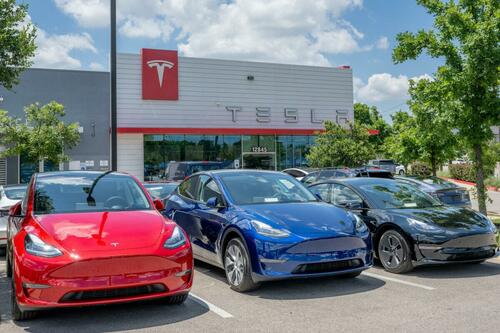 In second quarter 2023, the average inventory for electric vehicles (EVs) topped more than 92,000 units on the ground at dealer lots, according to the 2023 Cox Automotive Mid-Year Review presentation. This is up 342 percent compared to second quarter 2022. During this period, the new "EV days' supply," which refers to the average number of days a warehouse holds inventory before selling it, rose 166 percent, to 92 days from 38.5 days. While the pace of EV sales is up, it is "not rising as fast as inventory builds," said Jonathan Gregory, senior manager, Economic and Industry Insights.
Original equipment manufacturers (OEMs) are facing a "field of dreams moment," he stated. "They have built inventory, and now they wait for buyers to come. This is one of the hottest topics we've had this year."
Brands like Jaguar, Infiniti, and Lincoln had the highest days of supply, at over 100 days. The lowest numbers were seen among Toyota, Honda, Kia, and Lexus, with each brand having less than 30 days of supply.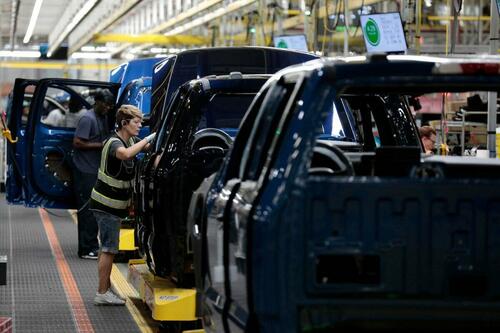 Tesla continued to dominate the luxury EV segment with a market share of 25.5 percent, followed by Mercedes at 12.5 percent, BMW at 12.2 percent, and Lexus at 11 percent. Among EVs priced above $50,000, Ford held the biggest share at 22.1 percent, followed by Chevrolet at 12.1 percent.
Unlike other parts of the world, U.S. citizens remain on the sidelines when considering an EV purchase.
According to an April 2023 report by consumer intelligence company JD Power, more Americans are unwilling to buy EVs. In March, 21 percent of new vehicle shoppers said they were "very unlikely" to consider an EV, up from 17.8 percent in January.
During this period, the proportion of people who said they were "very likely" to buy an EV remained flat at around 26 percent.
"Lack of public charging infrastructure and price have been the top two concerns for the past 10 months, along with related issues involving range anxiety, time required to charge, and power outage and grid concerns," the report said.
Dealer-Customer EV Expectations Diverge
While inventory is building up at dealer lots, a study by Cox Automotive found a wide gap between dealers and customers regarding future expectations of EV use.
According to Cox Automotive's 2023 Path to "EV Adoption: Consumer and Dealer Perspectives" study, even though 53 percent of consumers see EVs as a future and that such vehicles will replace gas engines over time, only 31 percent of dealers held such a view.
"Nearly half (45 percent) of dealers surveyed feel that EVs still need to prove themselves in the marketplace," said a press release on June 27.
In addition, the study also found that while customer interest in EVs is rapidly rising, sales continue to remain far lower in comparison. The research found that 51 percent of consumers were considering a new or used EV even though electric vehicles are only expected to make up less than 8 percent of total new vehicle sales this year.
Cox Automotive is expecting the sale of new EVs to surpass one million units for the first time in 2023. According to the firm's Dealer Sentiment Index, the biggest factor which held back EV dealers during the second quarter was the state of the economy. This was followed by interest rates, limited inventory, market conditions, and credit availability for consumers.
Tyler Durden
Wed, 07/12/2023 – 21:20