"This Is Not Sustainable": China's EV Market Set To Face Even More Competition, HSBC Says
With recent rallies in Tesla (and now Rivian), market participants are starting to mull whether or not EV stocks are about to be looked at favorably and outperform once again. 
But insane-valuation- and hot-money-history may not be ready to repeat itself just yet. The industry is facing headwinds that it hasn't before, with Tesla leading a charge of price cutting to start 2023 and now HSBC reporting that an already saturated and competitive market is going to become…even more saturated and competitive – especially in China.
In a note out early this week, Yuqian Ding, HSBC Head of China Auto Research said the growing competition is "not sustainable". He says there are "far too many" car models in China, Bloomberg wrote in a wrap up on Tuesday.
Ding predicts that "smaller, less advanced manufacturers will be squeezed out" as competition becomes more robust. Larger automakers account for 73% of the country's EV market, he writes, meaning that 57 other brands are left fighting for the remaining 27% of the market. 
Currently, there's about 400 to 600 ICE models available and Ding notes that 75% of 250 new models being launched over the next 12-18 months will be EVs. He predicts that the price war that's currently ongoing will come to a halt, writing: "The price war will eventually fizzle out as competition squeezes the smaller players, which are burning through cash, out of the market".
He predicts that up to 8.2 million EVs will be sold in 2023 and 12.6 million per year by 2025. By 2030, he is expecting 22.6 million EV sales per year and he has raised his forecast on higher volumes and increased supplies. 
He is bullish on BYD, Li Auto and Geely, maintaining his "buy" rating on those names while writing that: "Leaders will tighten their grip on the market. With the exception of Tesla, we think they will all be China EV brands."
And Tesla is definitely holding its own for now. We noted yesterday that despite price wars, Tesla was able to grow its sales in the country by 20.6% MOM. Tesla sold 74,212 vehicles and exported 19,468 units for the month of June, solidifying a 20.6% sequential rise for the EV maker, per Bloomberg's calculations.
Even more impressive for Tesla is that China's June Retail Passenger Vehicle sales were lower by -2.6 YOY, falling to 1.89 million units, according to the same data. For comparison on a sequential basis, Tesla's 20.6% month-over-month jump outpaced China's 8.7% month-over-month gain on sales.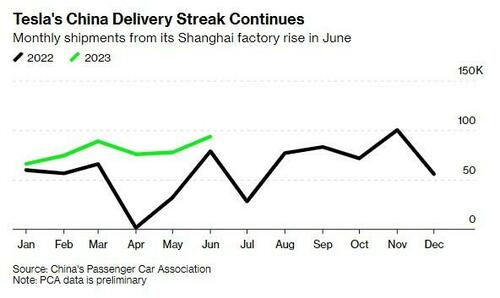 Bloomberg noted this weekend that total NEV sales in the country continue to be the driving force behind its sales growth. NEVs in China were up 25.2% YOY, totaling 665,000 units. Passenger vehicle output fell 0.5% YOY but was up 10.3% sequentially, coming in at 2.2 million units. 
The company's robust sales are still being helped along by price cuts it put into place at the beginning of the year, with Bloomberg noting that "after a price war leading into the Shanghai auto show in April, deliveries started to pick up again and the overall market for new-energy vehicles remained strong."
Now we'll see how it handles a larger field of EV entrants going forward…
Tyler Durden
Tue, 07/11/2023 – 21:05