Brown University Is Super Duper Gay
According to a new survey from Brown University's student newspaper, 38% of students say they don't identify as straight – in what the Washington Examiner suggests "provides further evidence that the increase in LGBT identification is driven by social pressures."
Between 2010 and 2023, those identifying as LGBTQ+ at Brown University has nearly tripled.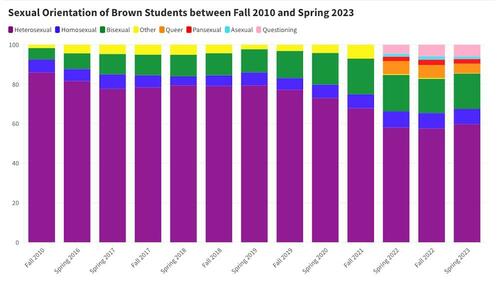 "The Herald's Spring 2023 poll found that 38% of students do not identify as straight — over five times the national rate," the Brown Daily Herald reported.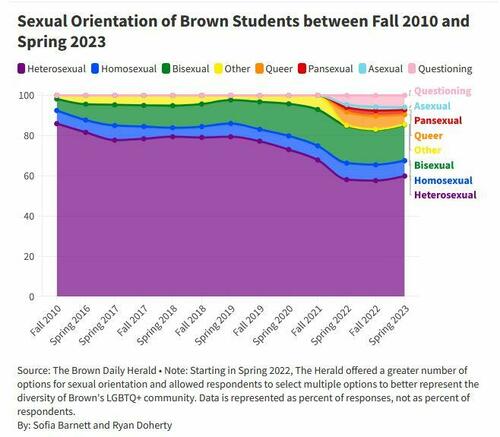 According to the Daily Herald:
Jacob Gelman '25 noticed "a rise in openly identifying queer individuals." 

Brown's queer community is much greater than the national average among adults. Gallup polls from 2022 found that only 7.2% of adults — and 19.7% of those aged 18 to 25 — identified as LGBTQ+. 

For Josephine Kovecses '25, the difference between national LGBTQ+ demographics and Brown LGBTQ+ demographics is not a challenging puzzle to solve.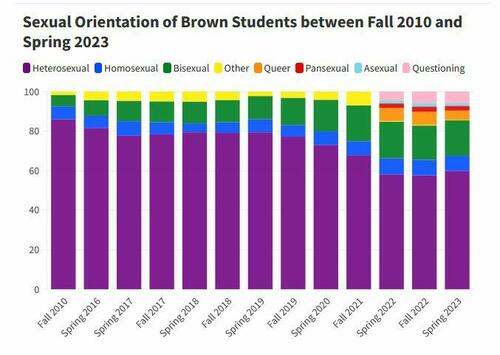 "Queer people haven't been able to be open in their identifications for that long," said Kovecses. "So it's exciting that the numbers are growing and that queer people are able to be open in particular at Brown."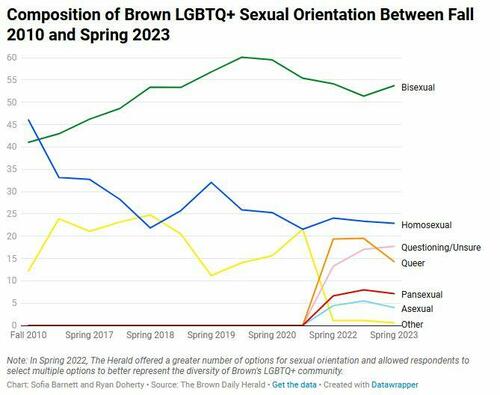 Of those who self-identified as LGBTQ+, only 22.9% described themselves as strictly gay or lesbian in the Herald Spring 2023 poll, down from 46% in the fall of 2010.
Tyler Durden
Mon, 07/10/2023 – 21:20