"Like A Cheesy Horror Movie" China's Property Market Woes Refuse To Stay Dead
By Ye Xie, Bloomberg markets live reporter and strategist
It is like a cheesy horror movie: Every time there's a glimpse of hope for a narrow escape, Chinese real estate developers are pulled back into the abyss. The turmoil at the state-backed Sino-Ocean Group underscores the renewed tensions in the market and that the current piecemeal policy easing isn't working.
Markets can sometimes defy "common sense." Despite skyrocketing mortgage rates, the US housing market, one of the most interest-rate sensitive sectors, somehow has roared back to life. Some Fed officials noted that "the effect of high interest rates on the housing sector appeared to be bottoming out," according to the minutes from the June meeting released Wednesday.
In China, the opposite is true. Even with ever lower interest rates, the slump in the property market resumed after the pent-up demand following the end of Covid Zero faded. Sales among the 100 largest developers tumbled 28% in June from a year earlier, when Covid restrictions were still in place, according to China Real Estate Information Corp. Bloomberg Intelligence analyst Kristy Hung expects a further decline of more than 10% for the remainder of the year.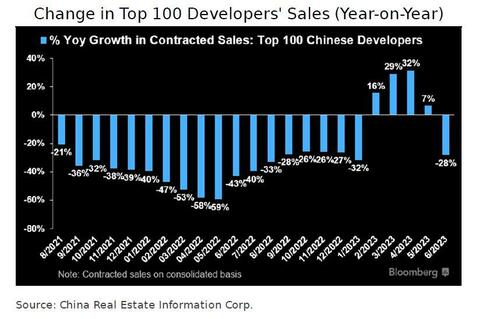 Without a sales revival, some troubled developers are struggling to repay debt. State-backed Sino-Ocean saw its bonds tumble in recent days amid concerns about its deteriorating cash positions. That's a significant development. Credit analysts Eric Ollom at Citigroup wrote in a note last week:
…unlike the property companies that have already defaulted in China, Sino-Ocean can be considered a quasi-sovereign.  Thus, any delay in debt servicing is likely to have wider repercussions for the SOEs, particularly in the real estate sector in China.

While we view a scenario of Sino-Ocean default as still unlikely, we believe the tail risks of such an event have expanded. Consequently, the pressure on property sector spreads is likely to persist and valuations are likely to get cheaper.
Where do we go from here? In their conversation with their clients, Goldman Sachs' economists noted that views are mixed (report available to professional subscribers). Pessimists pointed to structural imbalances between top-tier and lower-tier cities' property markets, while optimists noted recent property policy loosening in big cities as signs for hope, economists including Maggie Wei wrote in a note.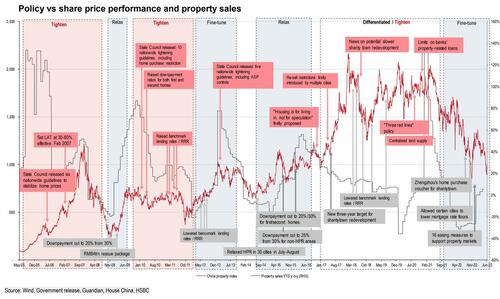 In any case, the Goldman clients don't expect any major policies regarding the housing market or local government financing to be rolled out soon as Beijing takes its time to explore different options.
Expect more twists and turns before the horror show comes to the finale.
Tyler Durden
Wed, 07/05/2023 – 22:00