Tourist Sub Vanishes At Titanic Wreck Site As Search Mission Underway
A search and rescue mission was launched Monday after a submersible went missing while maneuvering around the Titanic wreckage off the coast of Newfoundland, Canada. 
Rear Adm. John Mauger, US Coast Guard 1st District Commander, told Fox News the submersible belongs to deep sea exploring company OceanGate and was overdue in returning to the surface.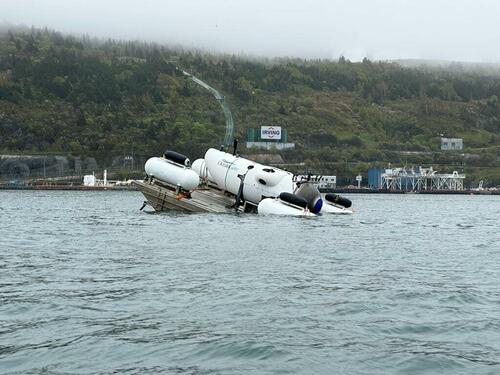 The vessel has enough oxygen for 96 hours, which "gives us some time to continue searching and continue to using all our means to try and locate the crew members," Mauger said.
"This is on the site of a wreckage, the wreckage of the Titanic, and so there's a lot of debris on the bottom, and locating an object on the bottom will be difficult.

"We have lives that are potentially at risk," he said.
OceanGate Expeditions, the submersible operator that charges $250k per seat, confirmed that it had lost radio communications with the submersible. It's noted on the company's website that it has five-person submersibles. There was no word on how many were onboard the vessel. 
"We are exploring and mobilizing all options to bring the crew back safely. Our entire focus is on the crewmembers in the submersible and their families.

"We are working toward the safe return of the crewmembers," OceanGate said in a statement. 
The New York Times said a military aircraft and a Coast Guard ship from Canada had been deployed. Vessel-tracking website Marine Traffic shows ships are headed to the Titanic wreck site. 
3 tugs seem headed to site of Titanic wreck, where a small submersible that takes paying tourists to view wreck has gone missing
AIS shows 3 tugs left 🇨🇦port St Johns, listing destination as Titanic wreck site & SAR.
3 vessels are Polar Prince, Kopit Hobson 1752, Horizon Arctic pic.twitter.com/TSO45EplMZ

— MarineTraffic (@MarineTraffic) June 19, 2023
The US Coast Guard tweeted it had sent a military search plane to the area. 
A @USCG C-130 crew is searching for an overdue Canadian research submarine approximately 900 miles off #CapeCod.

For more info and inquiries, please email d1publicaffairs@uscg.mil

— USCGNortheast (@USCGNortheast) June 19, 2023
One of the passengers was Hamish Harding, the chairman of a Dubai-based sales and air operations company, Action Aviation, according to his own Facebook page. 
It's still unclear how many people were on board and the condition of the crew and vessel. 
Tyler Durden
Mon, 06/19/2023 – 21:45