China Withholds Cremation Data From Late 2022 After Ditching "Zero Covid" Policy
China has halted the release of national data on how many cremations too place at the end of 2022, a figure which would allow the world to see the true impact on the wave of Covid-19 infections which were sweeping the country during that period.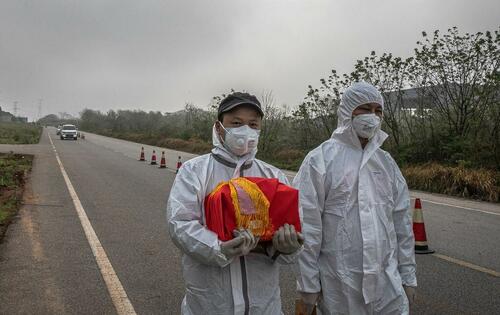 China's Ministry of Civil Affairs omitted the data from its quarterly report – a figure which was consistently included for the fourth quarter going back at least 10 years, the South China Morning Post reported Thursday.
According to experts, China's official data on deaths following the end of Beijing's "zero covid" policy has been significantly underestimated despite claiming to have scored a "major and decisive victory" over the virus.
Before 2020, fourth-quarter cremation data was typically released in the first two months of the following year, along with other civil affairs data such as social welfare and marriage registrations.

Though the time lag for data releases has increased slightly since 2020, when the country was first hit by Covid-19, the most recent release came after a longer-than-average delay of six months after the end of the quarter.

Several provincial-level regions also scrapped the release of cremation services data for the fourth quarter of last year.

On June 9, the same day the national numbers were released, Chongqing's civil affairs bureau published a notice that said it would suspend the release of civil affairs data indefinitely following an instruction from the Ministry of Civil Affairs. -SCMP
The bureau also said that 2023 data would be temporarily withheld, and would be "synchronised with the new provisions on data publication in the newly approved 'Statistical Survey System for Civil Affairs' by the National Bureau of Statistics."
An analysis by SCMP reveals that over a dozen provincial-level regions broke from tradition and dropped cremation figures from public releases.
Tyler Durden
Sun, 06/18/2023 – 21:00