AR & VR Adoption Is Still in Its Infancy
In its quest to making the metaverse the next big thing in tech, Facebook's parent company Meta unveiled a new virtual and mixed reality headset on Thursday.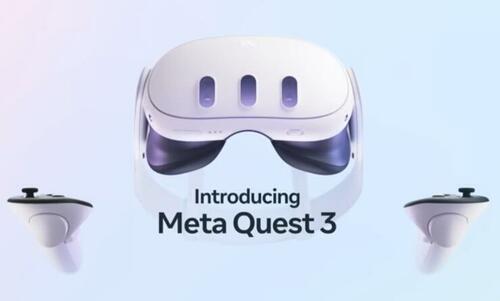 Starting at $499.99, the Quest 3 is much more affordable than the Quest Pro that was launched last fall, while offering performance that is far superior to its predecessor, the Meta Quest 2.
"Quest 3 is our first mass-market offering to deliver both cutting-edge VR and MR experiences in a single device, setting a new benchmark for future headsets," Meta said in its announcement, clearly nodding towards Apple, which is expected to unveil its own long-in-the-making VR/AR headset at its Worldwide Developers Conference next week.

"Ultimately, our vision is to enable you to move through all realities in a way that's intuitive and delightful," Mark Rabkin, vice president of VR at Meta said.

"Going beyond the rigid classifications of 'virtual reality' and 'mixed reality' to deliver truly next-gen experiences that let you effortlessly blend the physical and virtual worlds."
But, as Statista's Felix Richter notes, while Meta has already invested billions in that vision, so far it remains just that: a vision that has yet to come to life.
According to estimates from Statista Market Insights, users of AR and VR devices are still few and far between, with growth projections until 2027 nowhere near the scale that would make mixed reality "the next computing platform", at least for now.
You will find more infographics at Statista
Statista estimates that 98 million people will be using VR hardware this year, while 23 million will be dabbling with more advanced AR technology. By 2027, both AR and VR are expected to have surpassed 100 million users worldwide, but that's still a longshot from the billions of smartphone users across the planet.
Tyler Durden
Fri, 06/02/2023 – 22:00