Black Americans Embrace Florida
Authored by Jeffrey Anderson via American Greatness,
Governor Ron DeSantis is standing up for everyday Americans, which helps explain why people of all races are moving to Florida in droves…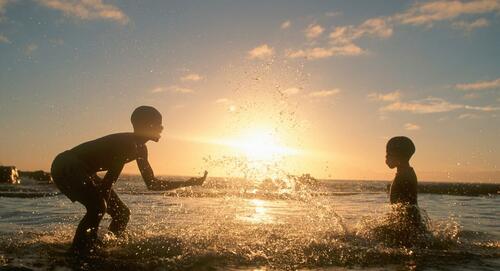 These days headlines read like parodies, which is certainly the case with the NAACP's recent announcement that it has issued "a formal travel advisory for the state of Florida." That's right: The NAACP isn't particularly worried about black people visiting North Korea, Iran, or inner-city neighborhoods in Chicago. It's worried about them heading to Florida's beaches or amusement parks. Why? Because Governor Ron DeSantis has led "unrelenting attacks on fundamental freedoms" such as the freedom to teach critical race theory and other divisive racial and transgender propaganda, in the state's public schools at taxpayer expense.
In truth, Florida has led the nation in ensuring Americans' freedoms, and black Americans have taken notice. During COVID, while 40 states issued mask mandates, DeSantis led the resistance against the public-health cabal and ensured Floridians could live their lives as freedom-loving citizens, rather than as masked subjects. As a result of this and other sensible and freedom-promoting policies, black Americans have not only traveled to Florida but have moved there in large numbers. 
Indeed, based on statistics from the Florida Department of Health, the number of black people who live in Florida rose 5.5 percent from 2018 (the year DeSantis was first elected as governor) to 2021 (the most recent figures available). That's even more than the 4.5 percent increase in the state's white population over that span. And it's more than three times the 1.6 percent increase in the overall U.S. population across that three-year period. 
Since DeSantis was elected, roughly a quarter of a million black Americans have freely chosen to move to the Sunshine State.
The disconnect between the views of most black Americans and the views of the modern-day NAACP could hardly be more pronounced. 
The NAACP has chosen to ally itself with LGBT activists, decreeing that "Florida is openly hostile toward African Americans, people of color and LGBTQ+ individuals."
This "hostility," the NAACP reports, is evidenced by DeSantis' opposition to "diversity, equity, and inclusion" (DEI) programs. The Human Rights Campaign, an LGBT advocacy group, issued a parallel travel advisory, claiming that Florida is "hostile" to gay and trans people, while also objecting to Florida's newly passed pro-life legislation, which protects developing children in the womb against the abortion lobby. 
Another LGBT group, Equality Florida, suggests Florida's duly passed laws pose too much of a "risk" for gay travelers to brave the Sunshine State.
It writes, "Taken in their totality, Florida's slate of laws and policies targeting basic freedoms and rights pose a serious risk to the health and safety of those traveling to the state."
Amazingly, the NAACP accuses DeSantis of trying to "appeal to a dangerous, extremist minority" in opposing critical-race theory (CRT) and DEI programs. In truth, CRT and DEI are pushed by aggressive, well-funded leftist activists who are themselves a dangerous, extremist minority. In opposing their efforts, DeSantis is standing up for everyday Americans. Indeed, he has been a model for doing so, which helps explain why people of all races are moving to Florida in droves.
Based on statistics from the U.S. Census Bureau, from July 1, 2020 to July 1, 2022, Florida led the nation in net domestic migration (which measures how many people moved to a given state from other states, minus the number who moved the other direction). Over that span, Florida added 563,000 residents in net domestic migration—more than the population of Miami. And it can't just be the weather. Over that same span, California lost 802,000 residents in net domestic migration—nearly equal to the size of San Francisco. 
The NAACP also preposterously claims that DeSantis is trying to "erase [b]lack history." Perhaps the NAACP should limit its travel advisory to Walt Disney World, where a beloved ride based on slave folktales—Splash Mountain—was just canceled in an example of just the sort of wokeness that DeSantis is committed to fighting.
Tyler Durden
Sat, 05/27/2023 – 21:30