NYC Mayor Eric Adams Asks To Suspend 'Right To Shelter' Rule, Citing Illegal Immigrant Influx
Authored by Ryan Morgan via The Epoch Times (emphasis ours),
Democrat New York City Mayor Eric Adams is arguing in court for the suspension of the city's "Right to Shelter" requirement, citing the ongoing influx of illegal immigrants and asylum seekers in the city.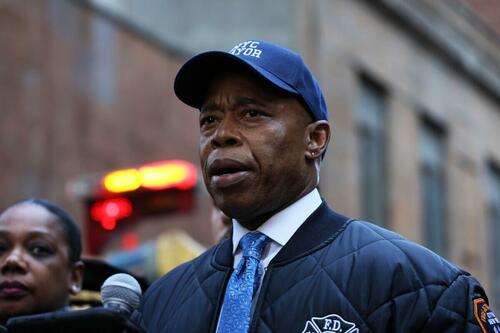 Following a 1984 court decision known as the "Callahan consent decree," New York City has had to provide shelter for virtually all homeless people who apply. Adams has been seeking a suspension or modification of this "Right to Shelter" rule and on Tuesday his office formally requested (pdf) that a New York City judge pause the shelter rule.
The Adams administration has been feeling a strain on its shelter capacity as a result of a prolonged influx of illegal immigrants and asylum seekers. The Mayor's office has estimated more than 65,000 illegal immigrants and asylum have arrived in New York City since last year and more than 44,000 continue to use city shelters. In total, New York City is currently supporting 93,000 individuals in its shelter program; a number that "far exceeds the City's previous highest-ever-recorded population of 61,000 individuals."
Adams is seeking to modify the shelter rule by adding a provision that states: "The obligations to provide shelter to both homeless adults and to adult families shall be stayed when the City of New York acting through the New York City Department of Homeless Services ('DHS') lacks the resources and capacity to establish and maintain sufficient shelter sites, staffing, and security to provide safe and appropriate shelter."
Adams defended his calls to suspend the "Right to Shelter" requirements in a Tuesday press statement.
"We are in no way seeking to end the right to shelter. Today's action will allow us to get clarity from the court and preserve the right to shelter for the tens of thousands in our care—both previously unhoused individuals and asylum seekers," Adams said. "Given that we're unable to provide care for an unlimited number of people and are already overextended, it is in the best interest of everyone, including those seeking to come to the United States, to be upfront that New York City cannot single-handedly provide care to everyone crossing our border."
Illegal Immigrant Bussing Straining NYC Shelters
In his petition to the court to suspend the shelter rule, the Adams administration noted much of the strain on the city's shelter system is a result of other states deliberately bussing illegal border crossers to New York City.
"The main driver of this increase was an influx of asylum-seekers arriving here from the southern border of the United States, in large part orchestrated by out-of-State actors seeking to score political points by exporting the responsibility and attendant fiscal burdens of caring for this population out of their state and, by political calculation, to the City of New York," the court petition states.
Last year, Republican Texas Gov. Greg Abbott began bussing people who illegally crossed the U.S. southern border into Texas over to other states. Abbott's bussing strategy has primarily targeted so-called "sanctuary cities," which do not cooperate with federal immigration authorities that might arrest or deport illegal immigrants. New York City is one such "sanctuary city."
Read more here…
Tyler Durden
Thu, 05/25/2023 – 21:00