Alabama Lawmakers Advance 'What Is A Woman' Bill Defining Male, Female Sex
Authored by Katabella Roberts via The Epoch Times (emphasis ours),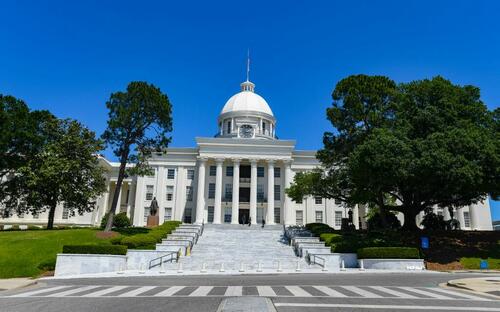 Alabama lawmakers advanced legislation on May 24 that seeks to define an individual's sex based on their reproductive systems under state law.
HB405 (pdf), known as the "What is a Woman" Act, was introduced by Republican state Rep. Susan DuBose.
The House Health Committee voted along party lines to approve the bill, which now heads to the House floor for a vote.
Under the legislation, a "female" is defined as an individual whose biological reproductive system is designed to produce ova, and a "male" is defined as an individual whose biological reproductive system is designed to fertilize the ova of a female.
The legislation also defines "woman" and "girl" as human females, while the terms "man" and "boy" refer to human males.
Elsewhere, the term "mother" is defined as a parent that is of the female sex under state law, while the term "father" is defined as a parent that is of the male sex.
"When it comes to sex, 'equal' does not mean 'same' or 'identical,'" the legislation states. "When it comes to sex, 'separate' is not inherently unequal."
The legislation includes an exception in the case of individuals who are born with a medically verifiable diagnosis of a "disorder or difference in sex development," and such individuals will be provided legal protections and accommodations afforded under the federal Americans with Disabilities Act, according to the measure.
Bill Protects Women, Lawmakers say
"Notwithstanding any state law to the contrary, there are legitimate reasons to distinguish between the sexes with respect to athletics, prisons or other detention facilities, domestic violence shelters, rape crisis centers, locker rooms, bathrooms, and other areas where biology, safety, or privacy are implicated," the measure states.
"Policies and laws that distinguish between the sexes are subject to intermediate constitutional scrutiny, which forbids unfair discrimination against similarly-situated males and females but allows the law to distinguish between the sexes where such distinctions are substantially related to important governmental objectives," it adds.
The measure would also require any state department, school district, or public school to include an individual's biological sex in all reporting of health, crime, economic, or other data.
DuBose has argued that the bill is needed to prevent violence from occurring in "women's spaces," telling AL.com that such incidents are occurring in places "throughout our nation" that are open to transgender women, who are biological males.
The Republican lawmaker stressed that the bill "is in no way trying to deny their existence, or their rights or their relevance or their importance," referring to transgender women, adding that she believes the legislation will "affect a few women that are in these very specific situations," and not the majority of people.
Read more here…
Tyler Durden
Thu, 05/25/2023 – 21:20