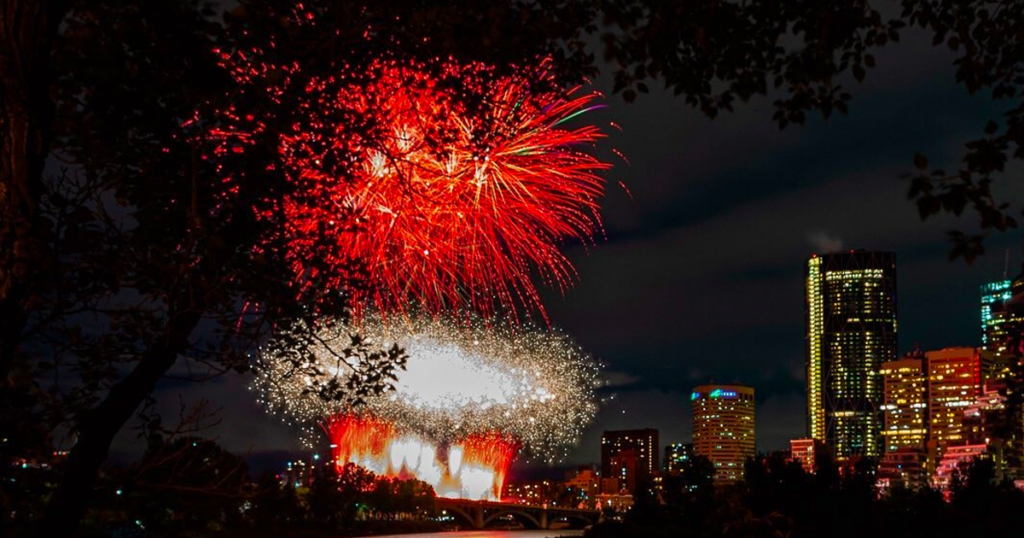 The City of Calgary is reinstating its Canada Day fireworks display after widespread outrage over its decision to axe the show over apparent racist and climate impacts. 
The backlash included a letter from Calgary Nose Hill MP Michelle Rempel Garner and a petition launched by Common Sense Calgary. 
"We have heard from many Calgarians as well as members of City Council that while the pilot program is valued, they would also appreciate an aerial fireworks display to celebrate on July 1," said Calgary City Manager David Duckworth. 
"We are working with partners to confirm an appropriate site and will share details as they become available."
The cancellation was pitched as a pilot to address cultural, community, and environmental issues experienced with traditional Canada Day fireworks, city staff said. 
The city also said there are cultural sensitivities around fireworks displays in relation to Truth and Reconciliation and with July 1 marking the 100th anniversary of the Chinese Immigration Act. 
A petition launched by Common Sense Calgary over the weekend calling for the fireworks to be reinstated has garnered almost 12,500 signatures. 
2/ Council didn't make this decision and if we were to reverse it, it would do nothing more than discredit the voices who asked for a different kind of celebration. Reversing this decision would be upholding colonialism and racism. #yyccc

— Kourtney Penner (@kourtpenner) May 22, 2023
In response to the petition, Calgary city councillor Kourtney Penner said having a fireworks show on Canada Day would be "upholding colonialism and racism." 
"This isn't nonsense," she wrote on Twitter. "It's being actively anti-racist, working at truth and reconciliation, and being responsive to the diverse community Calgary is."
"Nonsense is ignoring that Canada Day can be more than what you think you're entitled to."
Rempel Garner said Calgarians can still celebrate Canada while acknowledging and addressing "reconciliation and the longstanding impacts of colonialism and racism."
"When our leaders make this choice a binary one, that as a people we can only do one at the expense of the other, we further divide our country instead of solving its problems. Suggesting that Canada Day shouldn't be a day for any celebration does just that, and I won't allow my community to be pushed into that corner," she said in a statement. 
At a UCP campaign announcement on Thursday morning, candidate Rebecca Schulz says she's been hearing at the door while campaigning that Albertans like the opportunity to come together and celebrate Canada Day.
UCP candidate Rebecca Schulz responds to the City of Calgary's decision to axe Canada Day fireworks over climate and cultural impacts.

Schulz says she's been hearing at the door that Albertans like the opportunity to come together and celebrate Canada Day. #abpoli pic.twitter.com/NkoiktL7Rk

— Rachel Emmanuel (@Emmanuel_Rach) May 25, 2023
With the fireworks show back on, Calgary says it "remains committed to considering cultural sensitivities while respecting the diverse make-up of Calgary."
"These and other considerations, such as concerns about late-night traffic, noise, over-crowding, wildlife, and the environment will be factored into the decision on a final location for the aerial fireworks display."
The city will also offer diverse, educational and inclusive programming. Plans to feature an enhanced pyrotechnic show at Fort Calgary will move forward, including a display of lights and sounds that will be launched from the main stage at Fort Calgary during the headliner act. 
"Programming will be a mix of participatory, celebratory, and reflective experiences," said Jeff Chase, Director of Partnerships with the city. "Calgarians will have a variety of options to observe July 1 in a way most meaningful to them."