Pro-Life Display-Destroying CUNY Prof Fired After Threatening Reporter With Machete
The Hunter College (part of the City University of New York) art adjunct who earlier this month trashed a student group's pro-life table has now threatened a journalist by putting a machete to his neck.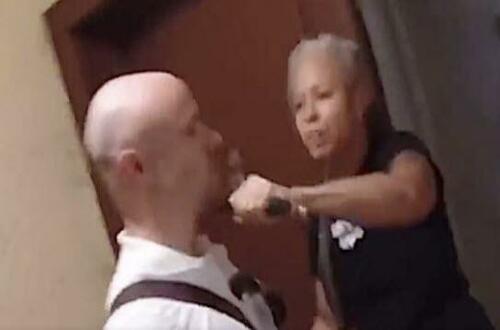 When New York Post reporter Reuven Fenton showed up at Shellyne Rodriguez's apartment in an attempt to ask her some questions, she responded in much the same way she did with the Hunter College Students for Life earlier in the month.
According to the Post, Fenton was greeted with "Get the f**k away from my door, or I'm gonna chop you up with this machete!" (Pictured)
She reiterated: "Get the f–k away from my door! Get the f–k away from my door!"
Fenton and his accompanying photographer left after the encounter, but Rodriguez followed them out of the building, threatening them further while still wielding the blade: "If I see you on this block one more f–king time, you're gonna … Get the f–k off the block! Get the f–k out of here, yo!"
Rodriguez ended up kicking the Post photographer in the shins before going back inside her apartment building, according to the report.
Hunter College spokesman Vince DiMiceli told the Post that Rodriguez "has been relieved of her duties at Hunter College effective immediately, and will not be returning to teach at the school."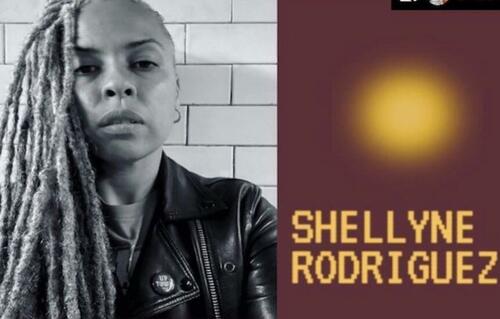 In the process of wrecking the Students for Life display on May 2, Rodriguez had claimed the exhibit was "violent" and was "triggering" her students. She told the male student manning the table that "you can't even have a f—ing baby. So you don't even know what that is. Get this sh** the f*** out of here."
PROFESSOR GONE WILD: Pro-abortion professor Shellyne Rodriquez curses at pro-life students and vandalizes table at Hunter College. pic.twitter.com/QNspuXB4KK

— Students for Life of America (@StudentsforLife) May 17, 2023
The group CUNY For Abortion Rights stood by Rodriguez, claiming she "constructively critiqued" the exhibit and "correctly assessed the damage" it was doing to Hunter's "learning environment."
A petition created in Rodriguez's defense said the adjunct's actions "to shut down the tabling were fully justified, and are part of a long and celebrated CUNY legacy of confronting groups such as military recruiters who disseminate misleading information."
It also said that Students for Life "and other far-right groups are not welcome on our campuses. Anti-abortion propaganda actually endangers people's lives, and incites other far-right views and actions to emerge."
Hunter College is a public institution.
Tyler Durden
Wed, 05/24/2023 – 13:00