5Y Auction 2nd Best On Record Thanks To Painful Short Squeeze, Near Record Foreign Bid
Ahead of today's 5Y auction, we pointed out the massive short overhang in the tenor which would most likely lead to a painful squeeze.
squeeze pic.twitter.com/FeX7VA1NTM

— zerohedge (@zerohedge) May 24, 2023
That's precisely what happened, because while some cluelessly warned that "real money demand was lacking," demand for today's auction was off the charts, with stellar metrics driven not just by a powerful short squeeze but also by near-record foreign demand.
Starting at the top, the high yield of 3.749% up from 3.500% last month and the highest since February (when we saw a 4%-handle for the last time) but 1.4bps stop through the When Issued, which was the 3rd consecutive stop through in a row.
While the Bid to Cover jumped from 2.54 to 2.58, and above the 2.50 six-auction average, it was relatively "middle of the road" for the auction.
The internals were much stronger, however, with Indirects surging to 72.7%, the second highest on record, and only January's 75.7% was higher (in this regard it was similar to yesterday's 2Y auction which also saw the 2nd highest Indirects on record). And with Directs taking down 18.0%, or just on top of the recent average of 17.9%, Dealers were left holding just 9.3% the second lowest on record.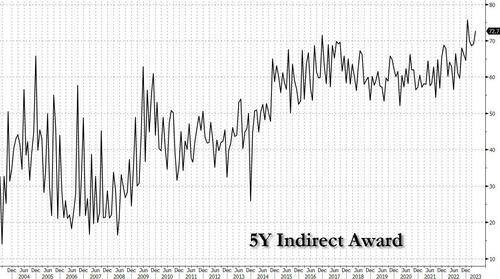 In summary, this was a stellar, blowout 5Y auction, the second strongest in history, and lagging only to the record demand for 5Y paper in January 5Y.
Tyler Durden
Wed, 05/24/2023 – 13:21