US-China Tensions Thawing As Washington Fears Allies Will View Policies As Too Aggressive
Authored by Connor Freeman via AntiWar.com,
Renewed meetings between senior American and Chinese officials may suggest the fragile relations between the world's two largest economies could begin to thaw with increased communication and diplomacy, the Washington Post reported on Friday.
National Security Adviser Jake Sullivan met with China's top diplomat Wang Yi in Vienna last week. Wang, the director of China's Central Foreign Affairs Commission, spoke with Sullivan for eight hours over the course of two days. The meeting was pulled together quickly, US and Chinese officials told the Post, and marked the highest level dialogue between the two sides since President Joe Biden met with his Chinese counterpart Xi Jinping in Bali last November. The leader-level meeting helped ease tensions after former House Speaker Nancy Pelosi's provocative visit to Taipei last August, paving the way for further diplomacy, eyeing a visit to Beijing by Secretary of State Antony Blinken.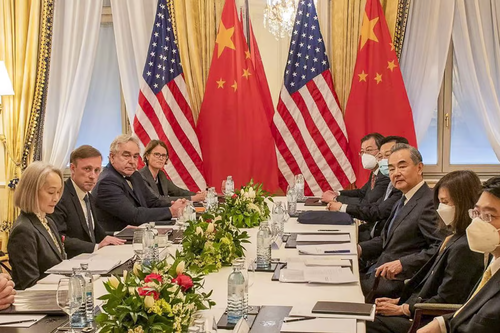 Though Washington's top diplomat would have met with Wang, and likely President Xi, earlier this year, the long planned visit was canceled by Blinken on the eve of his departure last February amid concerns over a Chinese meteorological balloon traversing the continental US as a result of unexpected weather . The balloon was shot down by an American F-22 off of South Carolina's coast.
Later that month, Blinken stoked tensions further and confronted Wang on the sidelines of the Munich Security Conference. Blinken claimed, without evidence, that China "sent a surveillance balloon over our territory, violating our sovereignty." In response, during the following months, Beijing effectively froze the US out of high level, bilateral talks.
A senior US official speaking to the Post described the meeting this week between Sullivan and Wang as "candid" and "constructive." Sullivan was said to have "raised the cases of detained American citizens in China and counternarcotics operations as well as regional security issues," namely Taiwan.
Under Biden, the US has been expanding a massive buildup in the Indo-Pacific targeting Beijing and concurrently increasing military as well as diplomatic ties with Taipei. In recent weeks and months, President Tsai Ing-wen was hosted by House Speaker Kevin McCarthy for talks in California, making McCarthy the highest level US official to host a Taiwanese leader on US soil since Washington severed diplomatic ties with Taipei, and recognized Beijing, almost 50 years ago.
In the 2023 NDAA bill, signed by Biden, Washington committed billions of dollars in military aid to Taiwan, and deployed an unprecedented 200 troops to the island, training the breakaway province's forces for war with the mainland. China views Washington's Taiwan policy as consistently violating the One-China principle , which Xi told Biden is the "first red line that must not be crossed."
Lack of communication between both sides combined with Washington's confrontational posture and significantlyexpanded military presence in the South China Sea, for instance, raises the chances that an accident, miscalculation, or standoff will be impossible to solve diplomatically and potentially lead to a major conflict.
Sullivan also reportedly discussed the war in Ukraine with Wang and "shared concerns" about Beijing possibly arming Moscow – echoing a months-old propaganda claim originally made by Blinken, without evidence, during his meeting with Wang in February. China denies Washington's accusation, which is based on "scant intelligence," according to an official from a G7 country speaking to Reuters.
According to the Post, after the Vienna meeting, both sides "expressed a willingness to de-escalate tensions and said they intend to maintain a strategic communication channel." These latest talks closely followed a tense exchange between Nicholas Burns, the US ambassador to China, and Chinese Foreign Minister Qin Gang.
A Chinese Foreign Ministry readout, said Qin made clear that the US must "respect China's bottom line and red line, and stop undermining China's sovereignty, security, and development interests. In particular, we must correctly handle the Taiwan issue, stop hollowing out the one-China principle, and stop supporting and condoning 'Taiwan independence' separatist forces."
Burns also recently met with Chinese Commerce Minister Wang Wentao for what the US envoy described as an "open and detailed discussion on the bilateral trade relationship." Treasury Secretary Janet Yellen, Commerce Secretary Gina Raimondo, and special climate envoy John Kerry all plan to soon make trips to Beijing. Last week, Kerry said he was invited to visit Beijing in the "near term."
The Post report also said the tentatively improving conditions may boost the likelihood that Blinken could visit Beijing later this year. One Chinese official, speaking on the condition of anonymity, said there were "barriers" to overcome before any visit could take place. Beijing "has always been willing. … It's now the responsibility of the US side to ensure their actions match their words."
The same official emphasized there are areas where the two sides could make "meaningful progress," such as climate change, but added that Taiwan and trade policy continues to "cloud discussions." In addition to increasing sanctions and decoupling withparts of China, the White House seeks to significantly limit US investments in the country as well as cripple China's semiconductor industry.
It remains to be seen what, if any, meaningful concessions Washington is willing to make with respect to its provocative China policies. On Thursday, Bloomberg reported the US is demanding "a flurry of meetings and phone calls" with Chinese counterparts from the lowest to the highest levels for public relations reasons. Sources say the administration is concerned that their allies in Europe and Asia think the US is growing too hostile and unwilling to ease tensions with Beijing. Their hope is that if Xi refuses to engage, then Washington can paint China as recalcitrant.
Connor Freeman is the assistant editor and a writer at theLibertarian Institute, primarily covering foreign policy. He is a co-host on the Conflicts of Interest podcast. His writing has been featured in media outlets such as Antiwar.com, Counterpunch, and the Ron Paul Institute for Peace and Prosperity. He has also appeared on Liberty Weekly, Around the Empire, and Parallax Views. You can follow him on Twitter@FreemansMind96 .
Tyler Durden
Sun, 05/14/2023 – 21:30