Haiti's Escalating Gang Violence
Violence in Haiti claimed the lives of at least 846 people in the first three months of 2023, according to a report released by the UN Human Rights Office.
As Statista's Anna Fleck reports, outbreaks have increased in frequency and intensity in the metropolitan area of Port-au-Prince, with armed gangs having expanded into areas previously deemed safe, such as Kenscoff and Pétion Ville.
You will find more infographics at Statista
In the same quarter, an estimated 13,490 people are believed to have fled their homes due to the violence and socio-economic situation. Several schools and healthcare facilities have had to shut in Port-au-Prince, while the escalations have led to a restriction of movement, impeding access to basic services, including food and water.
The country has been facing a particularly intensive period of political and social crisis since the assassination of President Jovenel Moïse in July 2021. Following his death, the ensuing power vacuum has been filled by rival gangs, while Moïse's successor, Prime Minister Ariel Henry, has faced challenges over his legitimacy within the country.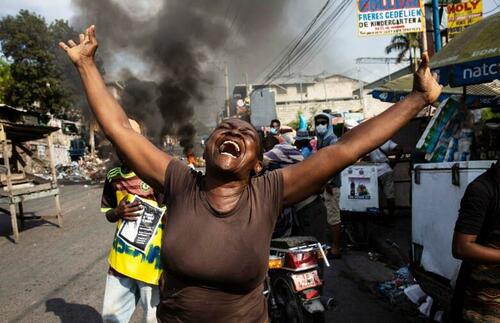 Tom Phillips of The Guardian draws attention to the complexity of the situation, highlighting how the country's overlapping crises are rooted also in a history of international interventions, including the U.S. occupation from 1915-1934, as well as the impacts of "reparations" to France, and the devastating earthquake of 2010 that killed up to 300,000 people.
Both Prime Minister Henry and the UN High Commissioner Volker Türk have called on the international community to deploy a time-bound "specialized support force" to assist the country's authorities. However, some Haitians reject the proposal of international intervention based on past experiences of foreign forces in the country.
Tyler Durden
Sun, 05/14/2023 – 22:00