Thai Rice Crop In Crosshairs Of El Nino As Farmers Are Warned About Water Shortages
A disruptive El Nino pattern might impact rice production in Thailand, the world's second-biggest exporter of the grain that feeds half the world's population. 
Bangkok Post reported farmers are being asked by the Office of the National Water Resources "to grow only one rice crop this coming season as rainfall will be below average because of the El Nino weather pattern." 
Surasee Kittimonthon, the ONWR secretary-general, said the rainy season, which usually begins in late May, will be delayed with periods of intermittent rain in June. 
Kittimonthon said ONWR had devised a plan for increased water preservation within the country's reservoir system. 
"We can provide water to farmers for the first rice crop, starting in the rainy season.

"But for the second or third crops, we would like farmers' cooperation to grow other plants that need less water to help limit the water shortage," he said.
Rice production requires substantial amounts of water and relies heavily on irrigation systems and sufficient rainfall. It's an early warning sign of how El Nino is set to wreak havoc on the global food system this year.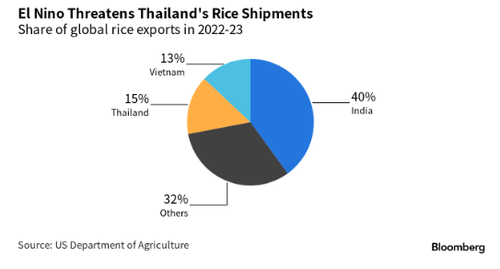 We told readers last month the weather-altering phenomenon had a high probability of forming. We said, "If El Niño does form, it could result in heavy rainfall and heatwaves in specific regions across the globe, potentially causing disruptions in the agricultural industry." 
And days ago, we informed readers about record-breaking heatwaves in Asia and Europe in a note titled "Is El Nino Supercharging Heatwave Across Asia?" 
Separately, earlier this month, Fitch Solutions published a report that forecasts this year's global rice production will log its biggest shortfall in two decades. 
"At the global level, the most evident impact of the global rice deficit has been, and still is, decade-high rice prices," Fitch Solutions' commodities analyst Charles Hart told CNBC. 
Sliding rice production causes grain prices to increase for 3.5 billion people, particularly in the Asia-Pacific region — this region of the world accounts for 90% of the world's rice consumption. 
"Given that rice is the staple food commodity across multiple markets in Asia, prices are a major determinant of food price inflation and food security, particularly for the poorest households," Hart said.
He said this year's global shortfall would be around 8.7 million tons, the largest global rice deficit since 2003/2004 of 18.6 million. 
As a result of tightening global supplies, rough rice futures trading on the CBoT have soared above $18 per cwt, the highest level since September 2008. Cwt is a unit of measurement for certain commodities such as rice.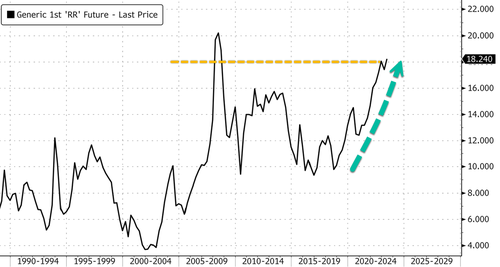 Recall in the late summer of 2022. We told readers:
… and just recently. 
El Nino appears set to decrease precipitation levels, potentially causing disruptions in the global food industry. Persistently high food inflation could increase the likelihood of societal unrest in developing economies. 
Tyler Durden
Fri, 05/12/2023 – 21:20