Migrants Reveal Plans To Sneak Into US Since Title 42 Has Expired
Authored by Joe Gomez via The Epoch Times (emphasis ours),
The COVID-19 pandemic-era immigration policy Title 42 came to an end just before midnight on May 11 and thousands of illegal immigrants are anticipated to surge to the U.S. border when that happens, according to migrants and Mexican charity workers who spoke with The Epoch Times.
"We all want to reach the United States as quickly as we can," Anna Maria Estrada told The Epoch Times in Mexico City. Estrada traveled from Guatemala into Mexico illegally with a group of dozens of other migrants.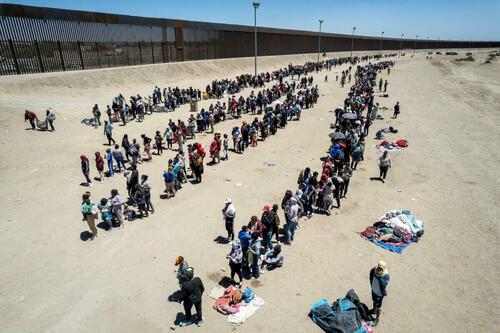 They've been given visas by the Mexican government called Forma Migratoria Multiple, which translates as Multiple Immigration Forms, so they can travel freely through the country.
Estrada said that she and others are trying to get to the United States while there is still "time" to possibly take advantage of the chaos in the change of immigration regulations.
This idea has been spread widely by transnational criminal organizations to induce migrants to pay to smuggle them into the United States.
"DHS expects that encounters at the Southwest Border will increase as smugglers spread disinformation, which will place a strain on our immigration system, our communities, and our dedicated workforce," the Department of Homeland Security said in a statement in early May.
Estrada says her group and others are willing to risk everything to get to the United States even if it means taking the dangerous train called "la bestia," which translates as "the beast" or the "train of death." The train travels from Guatemala to the outskirts of Mexico City and then up to various parts of the U.S.–Mexico border. Hundreds die every day by falling off the train onto the rails below, with the hope of making it to the border.
"We are going to the train to see if we can make it if there is still time," Estrada said.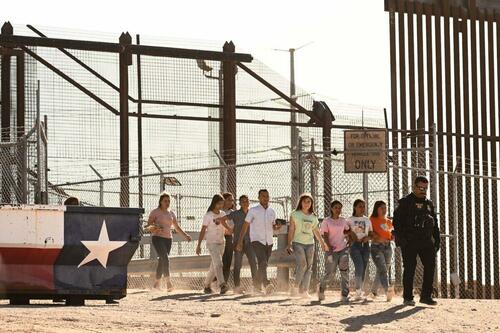 Mexico City has provided shelter and aid to migrants traveling through, as have local churches like the Basilica of Guadalupe.
"Mainly the migrants are devoted to the Virgin of Guadalupe so they will come here to pray for them and their families," Arturo Duran, who works at the church, told The Epoch Times. "They have always gathered here as their safe place."
Duran said the migrants are mostly peaceful as they head to the border, wanting only to seek a better life, but some have other intentions.
"Some brothers are very angry about what happened in the Juarez prison [a migration center that burned to the ground, killing at least 40 people in March] and are seeking revenge."
Estrada's group is part of thousands of other migrants trying to cross into the United States illegally.
10,000 illegal immigrants have been captured daily on Monday and Tuesday of this week, according to Reuters.
End of Title 42
Title 42 allowed border authorities to quickly expel certain immigrants who illegally crossed into the United States seeking asylum, but it did not prevent them from doing so again.
Now that it has ended, a stricter rule entitled Title 8 will be enforced, which would ban illegal immigrants who are captured crossing the border for up to five years.
The new rule would encourage illegal immigrants who are traveling to the United States from Central America to first seek asylum in other countries.
"We've gotten overwhelming cooperation from Mexico. We also are in the process of setting up offices in Colombia and other places where someone seeking asylum can go first," President Joe Biden said at a White House press conference on May 9. "But it remains to be seen. It's going to be chaotic for a while."
Read more here…
Tyler Durden
Fri, 05/12/2023 – 22:20