Pakistan May Lose Support From IMF – Risks Debt Default As Civil Unrest Continues
Almost exactly a year ago we covered Pakistan's efforts to secure economic aid through the IMF in order to defuse its growing inflationary crisis.  In May 2022, Pakistan's core inflation rate was around 13% – Today, their core inflation rate is at 19.5%.  The situation keeps getting uglier.
Pakistan has sought relief from foreign debt obligations and an IMF bailout deal. Initial arrangements for a three year deal with the IMF began in 2019, but Pakistan said that deal, originally for $6 billion USD, was 'outdated due to the pandemic' and new global financial pressures. The nation is in 'dire need' of at least $36 billion in order to stay afloat.  However, it appears that any chance of an agreement with the IMF is about to falter.
A spokesperson for the International Monetary Fund in an interview with Bloomberg states that they are in talks with Pakistan on a multi-billion loan program, which is going to conclude in June.  But, the spokesperson also said that the IMF "wants an assurance on a coordinated mechanism for debt recovery from Pakistan" as well as an assurance on implementation of the economic policy.  The IMF has reportedly rejected a recent Pakistan government claim that it has met all the conditions to reach an agreement with the global financial body to release funds.
Without IMF support Pakistan risks default in the near term, according to Moodys Investor Service.
"We consider that Pakistan will meet its external payments for the remainder of this fiscal year ending in June," says Grace Lim, a sovereign analyst with Moodys in Singapore.  "However, Pakistan's financing options beyond June are highly uncertain.  Without an IMF program, Pakistan could default given its very weak reserves." 
The reason for the IMF pullback is obvious – Mass civil unrest has exploded in response to the arrest of former prime minister Imran Khan on corruption charges.  Pakistan's Supreme Court has ruled that Khan's dramatic arrest this week was illegal and has ordered his immediate release. His lawyers had argued that his detention from court premises in Islamabad on Tuesday was unlawful.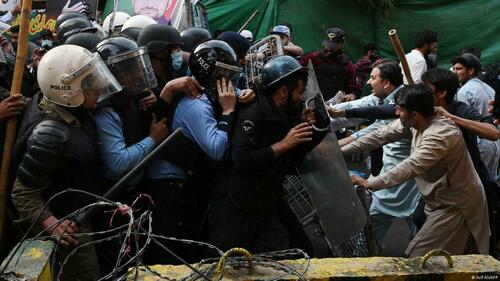 Mr. Khan stood surrounded by his lawyers in front of the three Supreme Court judges as they told him that because of the way he had been arrested on Tuesday – inside a court complex, conducting biometric tests – the arrest was invalid.  This does not necessarily end the instability within Pakistan, though.  Charges are still being brought against Khan and the likelihood of continued riots is high.  
What does this mean?
Pakistan is a nuclear armed nation with over 165 warheads from short to medium range.  The country also has ongoing border disputes with India and strong military ties to China.  A destabilization of the region could lead to a much larger geopolitical crisis as well as send shockwaves through the global economy.  An IMF refusal at this time could trigger chaos that reverberates through the east and the west.     
Tyler Durden
Thu, 05/11/2023 – 21:20