America's Largest Transit Systems Reeling As Revenues Continue To Crater
Public transit systems across the country are reeling from a dramatic decline in ridership which has left some of the largest cities with less than 70% of their pre-pandemic traffic – causing a financial rut that's led to transit CEOs pressing city and state officials for more funding streams and taxes, Politico reports.
Despite being rescued with $55 billion in federal Covid relief money in 2020 and 2021 after watching their farebox revenue evaporate, 10 of the nation's largest transit systems will soon need to find billions of dollars a year to stay afloat. Public transportation executives from Los Angeles to New Jersey are warning of a fiscal cliff in just a few years that risks raising ticket prices and cutting service on workers who can least afford it. And even though New York lawmakers struck a deal last week to fill a transit budget gap, it's not enough to avoid a fare hike.
"It's a new day for transit in terms of ridership, the people delivering the services — from drivers to mechanics," former Transportation Secretary Ray LaHood told the outlet.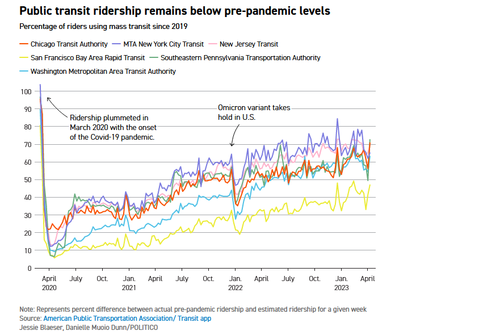 According to the report, pleas to Congress for another round of relief have been met with lukewarm reception. At the state level, the issue is creating a divide between rural and urban state lawmakers.
"It would be nice to continue to support the regeneration of nightlife and theater and everything with even more frequent service," said Janno Lieber, head of New York's Metropolitan Transportation Authority. "But in fairness… it's really not time to focus excessively on it until you're confident that we're filling the bucket."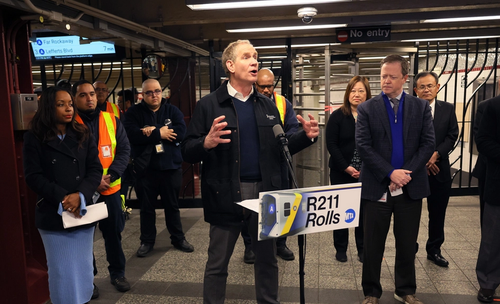 According to Lieber, who runs the nation's largest system of its kind, the agency has struggled to provide "basic, pretty good services" to commuters – to the point where they were able to convince state lawmakers to provide recurring revenue in the state budget.
Transportation Secretary Pete Buttigieg has chimed in, deflecting on the issue with a wait-and-see approach.
"Even three years since the shutdowns began, we have not yet landed at our new normal," he told Politico. "We're not going back to 2019. But I also think today's norm is not where all of this ends, in terms of commuting patterns."
In San Francisco, BART ridership is down 60% compared to pre-pandemic levels. In order to turn things around, the transit system is contemplating boosting service on nights and weekends – however the system's budget constraints means that it would need to reduce less-popular services elsewhere.
"You have to take from something, and it's very difficult to take service away from riders," said spokeswoman Alicia Trost. "But we think there are things we can do."
Federal money typically accounts for about 15 percent of transit budgets. And the federal infrastructure package Congress passed in 2021 committed $39 billion in new funding for mass transit, but much of it is earmarked for major capital work instead of operations.

That's put pressure on statehouses, where fights for cash have gotten partisan as well as geographic as rural lawmakers from both parties question why their constituents should pony up to make life easier in cities that already seem to have it all.

…

In classic California fashion, the interconnected transit agencies in nine Bay Area counties are planning to put the funding question to voters by way of a ballot measure, said Rebecca Long, director of legislation and public affairs at the Metropolitan Transportation Commission, which represents the group. It would establish a tax increase to cover all or a portion of their financial shortfall — but since it won't get a vote until 2026, the commission is asking the state for funding to keep the agencies afloat until then. -Politico
According to Peter Rogoff, former FTA head who also served as CEO for Seattle's Sound Transit, agencies can't just abandon transit-dependent commuters.
"Folks should avoid sweeping assumptions and turning deaf ears to the needs of the transit industry based on what could be a temporary predicament, he said.
Tyler Durden
Mon, 05/08/2023 – 22:00