Binance Closes Withdrawals Amid Congestion On Bitcoin Network
Authored by Ana Paula Pereira via CoinTelegraph,
Crypto exchange Binance closed Bitcoin withdrawals on May 7 due to an alleged overflow of transactions on the Bitcoin network.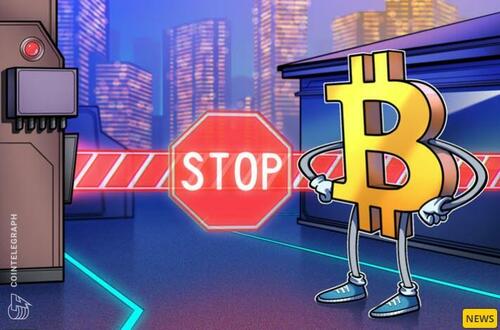 Bitcoin mempool was clogged with over 400,000 transactions waiting to be processed at the time of writing. The mempool is known as the "waiting area" for incoming transactions before they are verified independently by each node on the network.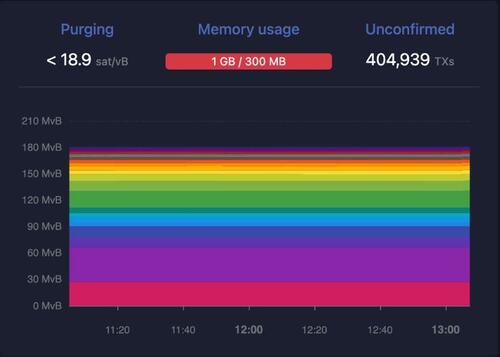 Bitcoin mempool at 16:42 UTC on May 7. Source: mempool.space
Binance tweeted that BTC withdrawals had resumed after nearly an hour of halting. Outflows on the crypto exchange peaked on Sunday, rising to $187 million, according to data from CryptoQuant.
Behind the congestion is believed to be a surge in BRC-20 transactions in the last few days due to memecoins like Pepe (PEPE). The memecoin trading hype drove Bitcoin transaction fees to their highest point in two years. On May 3, the total amount of fees paid on the Bitcoin blockchain reached $3.5 million, jumping nearly 400% from late April, Cointelegraph reported.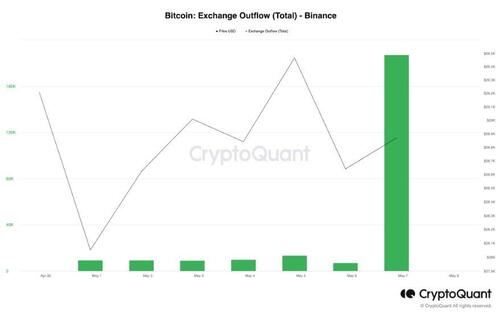 Bitcoin outflow on Binance over the past seven days. Source: CryptoQuant. 
Developed after Ethereum's ERC-20 token standard, BRC-20 is an experimental token standard recently introduced that allows users to create and transfer fungible tokens on the Bitcoin blockchain. It is currently becoming a hot spot for meme tokens. 
CoinMarketCap's data shows that PEPE's price has climbed over 263% in the last week. As of writing, however, the memecoin is down over 7% following a 30% drop on May 6 as whales profited from Binance's recent listing. Crypto exchanges MEXC Global, Bitget, Gate.io, and Huobi listed PEPE trading pairs two weeks ago, kicking off the token hype.
Since the introduction of Dogecoin in 2013, memecoins have become a major part of the cryptocurrency world, making and ruining fortunes alike. Investopedia defines a memecoin as a cryptocurrency represented "with comical or animated memes, that are supported by enthusiastic online traders and followers."
Tyler Durden
Sun, 05/07/2023 – 21:30