Biden "Punishes Responsibility" As New Mortgage Equity Program Begins
Starting today, the Federal Housing Finance Agency's mortgage pricing adjustments will increase fees for borrowers with high credit scores while reducing costs for those with subpar credit scores. This upside-down policy is blatantly socialism, and one can't help but wonder if anyone in the Biden administration learned anything from the subprime mortgage meltdown that occurred more than a decade ago. 
As part of the Biden administration's plan to make housing affordable for everyone (we've seen this story before), upfront fees for loans backed by Fannie Mae and Freddie Mac will be adjusted based on the borrower's credit score. Borrowers with high credit scores will pay more in fees, while those with lower credit scores will pay less. 
The Wall Street Journal cited data from Evercore ISI that shows borrowers with credit scores between 720-759 who make around 15-20% down payments will see loan-level pricing adjustment (LLPA) costs rise by .750%. Inversely, under the new adjustments, risky borrowers with a credit score below 639 and who put down only 5% of the value of their home will only have to pay 1.750%, compared with 3.750% under old rules.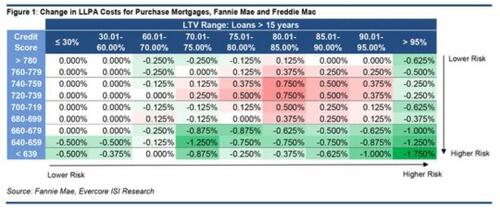 Backlash over LLPA changes prompted the FHFA to publish a statement last week, calling such concerns "a fundamental misunderstanding." The Biden administration ensures the new changes are meant to help those with poor credit scores obtain homes amid the worst housing affordability in a generation. 
According to the FHFA, the new adjustments will redistribute funds to reduce the interest rate costs paid by risky borrowers. This sounds like socializing home buying to us. 
Even more alarming is data from the American Enterprise Institute found that default rates of Fannie/Freddie owner-occupied 30-year fixed-rate purchase loans acquired in 2006-2007 were between 39.3% and 56.2% for borrowers with credit scores between 620 and 639 and less than 4% down payments. Those with credit scores between 720 and 769 and 20% down payments had default rates between 4.2% and 8.8%. 
The Biden administration is subsidizing irresponsibility, rewarding failure, and discriminating against people with high credit scores.
Meanwhile, 27 states revolted against Biden's mortgage redistribution rule to subsidize risky borrowers… 
BREAKING: 34 state financial officers from 27 states have signed-on to a letter to the Biden Administration demanding that they end their new mortgage equity program, which forces buyers with good credit to pay higher rates to subsidize loans for riskier borrowers. pic.twitter.com/P8RHbj0zzf

— Will Hild (@WillHild) May 1, 2023
Sen. Tim Scott (R-SC) blasted Biden. 
.@SenatorTimScott slams new federal mortgage rules punishing Americans with good credit scores and urges voters to 'reverse the curse' of the Biden administration.https://t.co/15mnVVO7F8 pic.twitter.com/8gXOuQANcq

— Fox News (@FoxNews) May 1, 2023
"Punishing responsibility—that's the Biden way," tweeted Sen. Tom Cotton (R-AR). 
Biden's mortgage scheme will cost homeowners an extra ~$30k for having a high credit score.

Punishing responsibility—that's the Biden way.

— Tom Cotton (@TomCottonAR) May 1, 2023
"While the changes may not be as bad as some headlines suggest, it still seems illogical to essentially penalize fiscally responsible borrowers in an effort to assist less qualified borrowers," Federal Savings Bank loan officer Lewis Sogge told us. 
There's no logic here, just progressive bureaucrats enacting policies that may ultimately lead to another future crisis. 
Tyler Durden
Mon, 05/01/2023 – 22:20