First Republic Rout Extends On Imminent FDIC Receivership Report
Update (1640ET): As many expected given the intraday collapse of FRC, Reuters reports after the bell that The FDIC will imminently the bank into receivership.
First Republic most likely headed for FDIC receivership – CNBC https://t.co/9HT5s9Yoqj pic.twitter.com/FRenLK8juh

— Reuters (@Reuters) April 28, 2023
Shares collapsed to a $1 handle in the after hours trading, down 70% on the day…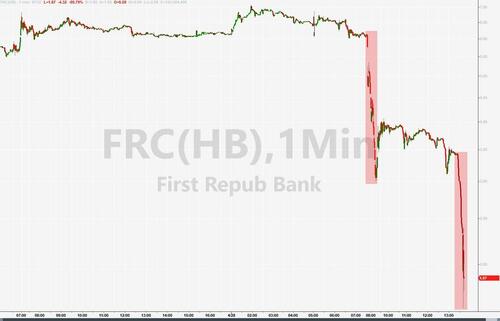 FRC was trading at $120 at the start of March… and now it's trading close to $1.20…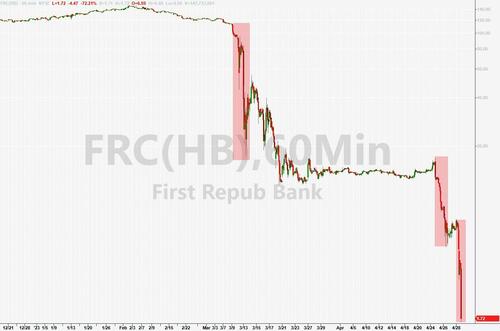 …Aaaaand it's gone…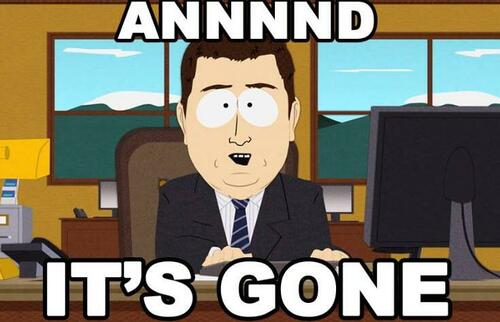 *  *  *
Update (1045ET): First Republic Bank shares are halted for volatility having collapsed 50% back to record lows as hopes of a 'private' deal fade…
Former Treasury Secretary Lawrence Summers criticized Washington regulators and US banking giants for not having already figured out a solution for the beleaguered lender First Republic Bank.
"I'm surprised and disappointed that this situation has continued to linger as long as it has, with the bank's stock down 95%" and credit gauges deteriorating, Summers said on Bloomberg Television's "Wall Street Week" with David Westin.

"I hope that between the banks, the FDIC, the other public authorities, that the best way forward will be found within the next week or 10 days."
"These are things like forest fires, it is much easier to prevent them than it is to contain them after they start to spread," Summers said.
He didn't offer a preference for either an FDIC takeover or "some private sector oriented" workout.
"But we need to figure out the answer to that question as quickly as possible and move on."
Imagine the deposit outflows occurring today!
'The question now is simple – will they make it to the close without the FDIC stepping in?
*  *  *
The First Republic farce rolls on…
After reporting dramatically worse deposit outflows (and aggregate banking system flows suggesting things are getting worse, not better in April), The FT reports that there had been a shift in tone among the First Republic Bank's advisers compared with Tuesday and Wednesday when First Republic's shares fell 65 per cent and fears grew that it was close to being taken over by the FDIC.
The conversations about the bank reportedly remain fraught, and the people cautioned that it was not clear that a solution would be found.
The banks are reluctant to put their shareholders at risk of losses without some sort of government participation.
Which is notable since Reuters reports that, according to three sources familiar with the situation, US officials are coordinating urgent talks to rescue the beleaguered regional bank as private-sector efforts led by the bank's advisers have yet to reach a deal.
The government's involvement (and presumably some hope of backstopping commitments) is reportedly helping bring more parties, including banks and private equity firms, to the negotiating table, one of the sources added.
Reuters adds though that it is unclear whether the U.S. government is considering participating in a private-sector rescue of First Republic.
However, the government's engagement, however, has emboldened First Republic executives as they scramble to put together a deal that would avoid a takeover by U.S. regulators.
Specifically, The FT reports that one proposal that may be part of an eventual solution is for some of the banks to buy some of First Republic's long-dated assets for more than their current market price, allowing the lender to shrink its losses.
But people familiar with the situation say that this would probably not be enough to stabilize First Republic on its own.
Bear in mind that the 'Big Banks' have $30 billion in deposits at the embattled bank… so the FDIC has a problem already.
FRC Bonds ain't buying it at all…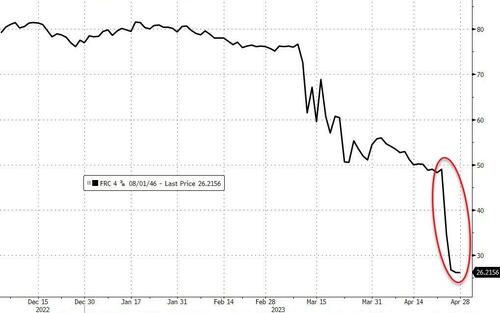 First Republic shares were up around 5% in the pre-market, but have already erased the earlier stronger gains…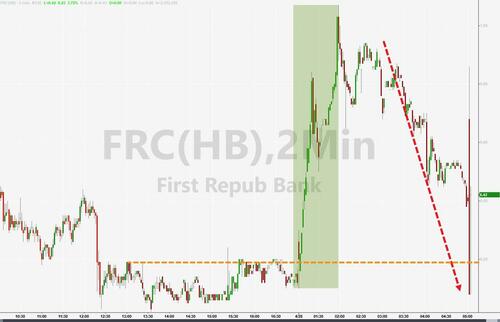 Just to put that into context, here's FRC this week…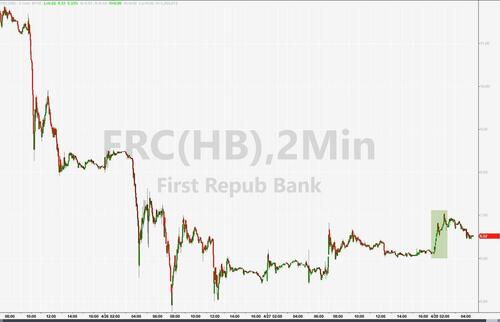 Finally, First Republic Bank's membership in the S&P 500 Index could be in jeopardy after the troubled bank's stock set a new all-time low on Wednesday that briefly pushed its market capitalization below $1 billion.
At roughly $1.2 billion, FRC has by far the smallest market cap in the S&P 500 after wiping out more than $21 billion in market value. As Bloomberg notes, this is a problem because companies must have a market cap of at least $12.7 billion to be considered for inclusion in the S&P 500.
Tyler Durden
Fri, 04/28/2023 – 21:35