Hamptons Luxury-Home Prices Soar On "Very Strong" Demand, Limited Inventory
Despite the slowest growth in US home prices in ten years and significant price drops in numerous West Coast cities, luxury property values in New York's Hamptons marched higher in the first quarter. 
As per a Bloomberg report, citing appraiser Miller Samuel Inc. and brokerage Douglas Elliman Real Estate, luxury property transactions in the top 10% of the Hamptons housing market reached a median price of $8.54 million, an 11% increase compared to the previous year. The average price of the highest-end homes in the seaside playground for Wall Street's billionaires jumped 33% to a record of $16.1 million.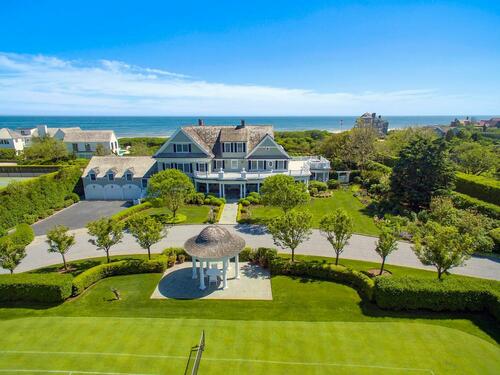 Todd Bourgard, Elliman's chief executive officer for Long Island, explained mansion demand is "very strong." He added prices are soaring because of low inventory:
"We have more buyers in that market right now than we do inventory. So when something comes on that is priced reasonably for the luxury market, we're getting great interest." 
Limited inventory and strong buying pressure could suggest that prices are on an upward trajectory — unless macroeconomic headwinds continue to mount and a deep recession unfolds later this year. 
Meanwhile, the combination of low inventory and rising prices sent luxury sales tumbling in the quarter to 18 from 40 in the same quarter a year ago. Overall, sales in the Hamptons plummeted by 57% to 171. This marked the second-lowest total since the firms started monitoring the area's sales in 2005. 
At the end of the quarter, there were only 894 homes on the market, still 33% higher than the first quarter of 2022 but significantly lower than pre-pandemic levels.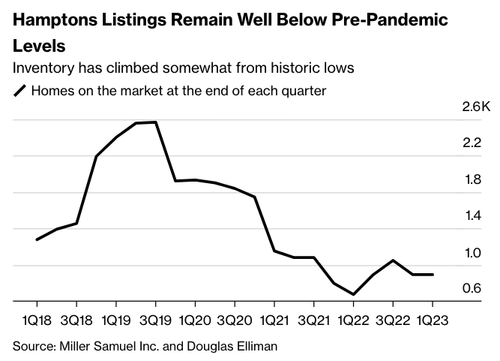 Some wealthy buyers seem unphased by high mortgage rates and threats of recession as low supply drives luxury home prices higher in one of the top vacation spots for wealthy New Yorkers. 
Inventory is so scarce that even tiny homes in the beach community are selling for $3.75 million.
Tyler Durden
Thu, 04/27/2023 – 21:20