Montana Transgender Lawmaker Censured For 'Hateful' Comments
Authored by Naveen Athrappully via The Epoch Times (emphasis ours),
A transgender lawmaker from Montana has been censured in the House after the individual made "hateful rhetoric" while debating a bill ending transgender procedures for minors.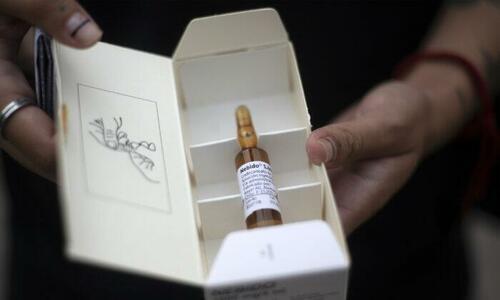 The SB 99 bill, also known as the "Youth Health Protection Act," bans minors in the state from receiving surgical procedures, puberty blockers, and hormones.
"The only thing I will say is if you vote yes on this bill and yes on these amendments I hope the next time there's an invocation when you bow your heads in prayer, you see the blood on your hands," state Rep. Zooey Zephyr, a Democrat, said during the House debate on Tuesday, referring to the chamber's opening prayer. Zephyr is the first transgender lawmaker in the history of the Montana Legislature.
House Majority Leader Sue Vinton called Zephyr's comments disrespectful. In the evening, the Montana Freedom Caucus, a group of conservative lawmakers, demanded that Zephyr be censured for "attempting to shame the Montana legislative body and by using inappropriate and uncalled-for language during a floor debate."
"This kind of hateful rhetoric from an elected official is exactly why tragedies such as the Covenant Christian School shooting in Nashville occurred," the caucus said in an April 18 press release.
"Combined with former Montana Supreme Court Justice Jim Nelson's recent calls for 'jihad' and a 'fight to the death', there is unmistakable evidence of a desire for some to engage in violence over political beliefs. This must stop."
On Thursday, Speaker Matt Regier did not allow Zephyr to speak against a bill that sought to define male and female in binary terms in the state code. On Friday, Zephyr was once more prevented from speaking on a bill that sought to block minors from seeing porn online.
Regier's decision to prohibit Zephyr from speaking was taken after consultation with other lawmakers, according to The Associated Press. Though Democrats raised objections, the decision was eventually upheld in party-line votes.
Protecting Minors
SB 99 seeks to "prohibit certain medical and surgical treatments to treat minors with gender dysphoria." A person is prohibited from "knowingly" offering medical treatments to a minor to address the child's perception that their gender or sex is different from their birth gender or sex. Such treatments include surgical procedures, puberty blockers, and doses of testosterone or other androgens.
Physicians or health care professionals who violate these rules will be deemed as having engaged in "unprofessional conduct."
Read more here…
Tyler Durden
Mon, 04/24/2023 – 22:20