David's Bridal Files For Second Bankruptcy In 5 Years, To Lay Off 9,200 Workers
Bridal retailer David's Bridal is going to be laying off more than 9,200 workers nationwide but plans on staying open after filing for bankruptcy for the second time in just five years. 
As the chain gets ready to deal with a busy prom and wedding season, a notification of the layoffs was filed with the Department of Labor in Pennsylvania, according to NJ.com. 
Layoffs started in Pennsylvania on Friday and its unclear when additional, out of state layoffs would take place, the report notes. The company currently has 300 stores across the United States.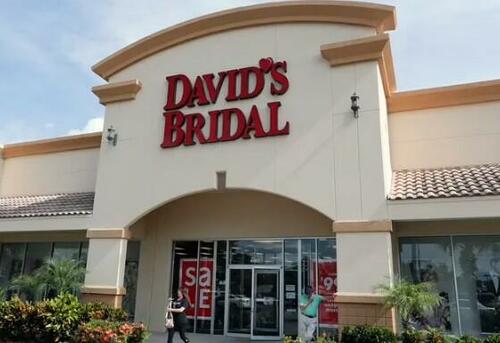 "David's Bridal has commenced a financial restructuring process to facilitate a potential sale of our company," the company said in a statement. It is reportedly trying to sell itself, but stores should continue to take orders. 
Nationwide, the Conshokocken, Pennsylvania-based chain has over 11,000 employees. Previously, it filed for bankruptcy in 2018 and also operated normally through the process. 
Recall, days ago we noted that small businesses were filing for bankruptcy at a record pace, even surpassing the Covid crash:
The note from UBS Evidence Lab shows private bankruptcy filings in 2023 have exceeded the highest point recorded during the early stages of the COVID pandemic by a considerable amount. The four-week moving average for private filings in late February was 73 percent higher than in June 2020.

"[We] believe one of the more underappreciated signs of distress in U.S. corporate credit is already emanating from the small- and mid-size enterprises sector," Matthew Mish, head of credit strategy at UBS, wrote in a recently published research note. "[The] smallest of firms [are] facing the most severe pressure from rising rates, persistent inflation and slowing growth."

Industries hit hardest by the wave of bankruptcies include real estate, health care, chemicals, and retail outlets, according to the Swiss Bank's report.
Tyler Durden
Mon, 04/17/2023 – 22:30