Twitter has identified the Canadian Broadcasting Corporation's primary Twitter account as "Government-funded Media."
The label was applied to the @CBC account Sunday afternoon around the same time it also appeared on the accounts of Australia's and New Zealand's public broadcasters, ABC News and RNZ.
The tag is different from the "state-affiliated media" designation applied to outlets such as Russia Today and Iran's Press TV.
Earlier this month, Twitter put the government-funded media label on several BBC accounts in the United Kingdom as well as PBS and NPR in the United States. PBS and NPR opted to quit Twitter in retaliation.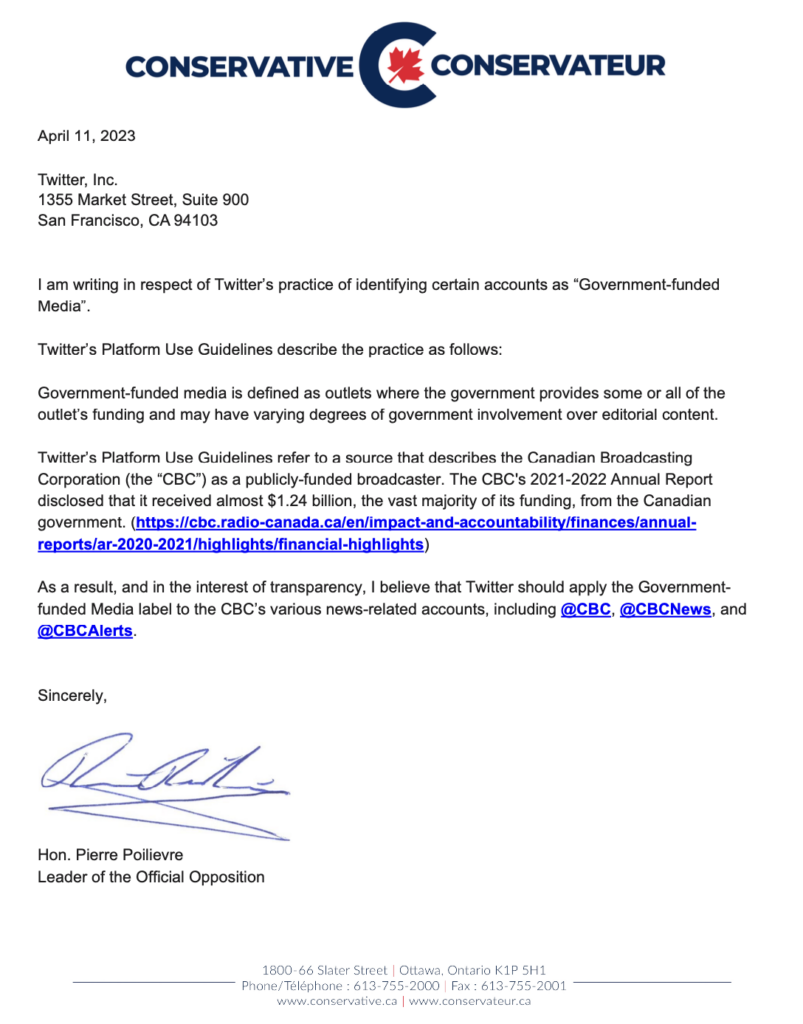 On Tuesday, Conservative leader Pierre Poilievre sent a letter to Twitter calling on the tech giant to identify CBC as a government-funded media company.
"Government-funded media is defined as outlets where the government provides some or all of the outlet's funding and may have varying degrees of government involvement over editorial content," Poilievre wrote. "As a result, and in the interest of transparency, I believe that Twitter should apply the Government-funded Media label to the CBC's various news-related accounts, including @CBC, @CBCNews, and @CBCAlerts.
In response to Poilievre's letter, a CBC spokesperson said it was "clearly not the case" that the government has involvement over editorial content.
"As every Canadian knows, CBC/Radio-Canada is publicly funded. Its editorial independence is protected in law in the Broadcasting Act," the CBC spokesperson told CBC.
CBC's affiliated accounts, such as @CBCPolitics and @CBCNews, did not have the government-funded media label displayed as of Sunday evening, though it's not clear if this will change.
The label was also not visible on the Twitter account for CBC's French language arm, Radio-Canada.
A message to Twitter's media relations inbox received a poop emoji in reply, as is the new convention.