Toxic Indiana Fire Will Spew Smoke, Soot, And Ash For Days; Officials Say
Authored by Caden Pearson via The Epoch Times,
A "serious, large-scale" industrial fire spewing toxic smoke that forced the evacuation of more than 2,000 residents of Richmond, Indiana, on Tuesday will burn for several days, authorities say.
As of late Tuesday night, the blaze was under control and not expected to spread.
However, the Wayne County Emergency Management Agency (EMA) said in an update that the fire will keep burning and producing smoke, soot, and ash for several more days. This is due to the nature of the fire and the fuel it was burning.
The fire was located at the former Hoffco factory, located 70 miles east of Indianapolis and near the Ohio border. Plastics and other materials were being stored for recycling or resale at the factory, which ceased operations in 2009.
Individuals within 0.5 miles of the fire were required to evacuate, while those outside the zone sheltering in place were urged to turn off their HVAC units, keep all windows and doors closed, and bring their pets inside.
The Wayne County EMA urged residents to follow these instructions as soon as possible to ensure their safety, as it was unclear how long it would take to contain the blaze.
Some residents from nearby areas have been sharing photos on social media of debris. Authorities have cautioned against disturbing or touching any debris, as it was unknown what chemicals may or may not be on the debris.
Videos of a giant, black plume were also circulating on social media. The exact health impacts of the fire and smoke were unknown as of late Tuesday since officials were unsure of what had burned.
The Wayne County EMA's alert noted that the primary concerns were for respiratory issues, including shortness of breath, irritated skin, and burning or irritated eyes. Those with respiratory issues were advised to be especially cautious and seek medical advice or evaluation if breathing troubles arise.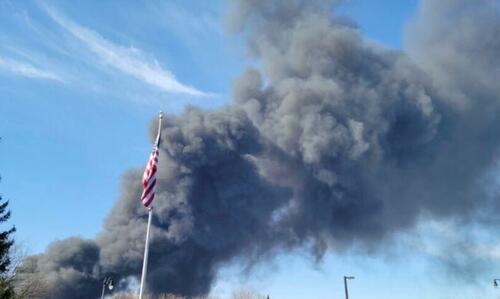 Smoke rises from an industrial fire at 358 NW F Street, in Richmond, Ind., on April 11, 2023. (Zach Piatt/The Palladium-Item via AP)
Evacuation
At the scene, the Indiana State Fire Marshall warned that the smoke was "definitely toxic." However, no injuries have yet been reported.
"This fire is going to burn for a few days," the state's fire marshall added, Fox 59 reported.
Late Tuesday night, Richmond Mayor Dave Snow took to Twitter to say that operations would continue overnight, and a bus would remain on hand to assist with evacuation needs.
He also said he is in constant communication with the Fire Department, Police Department, and Wayne County Emergency Management Agency, and will continue to provide updates as they become available.
Earlier, the mayor cautioned residents to avoid the area if possible while first responders attempt to get the blaze under control, describing it as "dangerous."
Snow shared an evacuation map on Twitter.
Please see attached map of evacuation zone. pic.twitter.com/mnDbZtu8ox

— Dave Snow (@mayordavesnow) April 11, 2023
Snow said the facility was ordered to clean up and remediate the site due to the fire hazard posed by the way the materials were being stored.
The fire started in a tractor-trailer parked on the site and quickly spread. The cause is not yet known. Numerous units are present at the scene to contain the fire.
Wind from the west blew black smoke across the state border into Ohio. Bethesda Worship Center in Richmond offered temporary shelter for people forced out of their homes while other agencies were trying to arrange hotel rooms as needed.
State and federal regulators were present at the scene to assess air quality and other environmental impacts.
The mayor of Richmond, which has a population of 35,000, also said Tuesday that the fire had been contained on the city's northwest side, with efforts being made to prevent it from spreading to the East side.
The Wayne County EMA said the investigation surrounding the fire would take several weeks and span multiple agencies.
Tyler Durden
Wed, 04/12/2023 – 21:40