Mayor Adams And NYPD Unveil Dystopian Robot Dog To Fight Crime
Mayor Eric Adams and the New York City Police Department have reintroduced the controversial robotic dog for surveillance patrols, and there's another surprise this time: an R2-D2-style robot. These robots are set to debut in Times Square, making this already bustling area of the city appear even more than dystopian ever. 
According to local news ABC 7, Mayor Adams said Tuesday he is modernizing the NYPD with the latest technology to fight crime. 
"We are scanning the globe to find technology that will assure this city is safe," the mayor said. 
The return of the $74,000 Boston Dynamics' four-legged robotic dog called "Digidog" is set to assist the NYPD in investigating high-risk or hazardous incidents. Digidog first appeared on the streets in 2020 and was shelved months later after civil rights advocates called the technology 'aggressive policing.'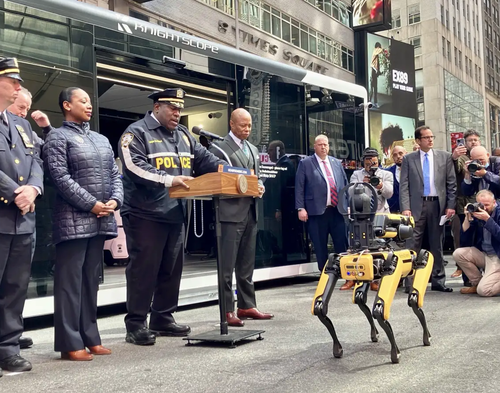 Besides the robotic canine, the NYPD will add a K5 Autonomous Security Robot to its force and the StarChase GPS system. 
Think of the K5 robot as Robocop; Its R2-D2 style with real-time situational awareness and cameras will allow the NYPD to monitor streets. There's yet to be a word if the police will be operating facial tracking software from the robot's cameras… 
"This K5 robot provides real-time situational awareness and actionable intelligence to first responders and also provides a physical crime deterrence," Chief of Department Jeffrey Maddrey said. 
The NYPD is unveiling some new technology today pic.twitter.com/xoRwM7K0JR

— Dana Rubinstein (@danarubinstein) April 11, 2023
And then there's the StarChase GPS system, which allows police, in a hand-held or vehicle-mounted launcher, to track a tagged vehicle remotely. 
"We want the public to know that the use of these technologies will be transparent, consistent, and always done in collaboration with the people that we serve.

"And as with every NYPD initiative, we will continuously evaluate their use and impact on our city. Our job is to fight crime and keep people safe. And these tools are significant steps forward in that vital mission," Police Commissioner Keechant Sewell.
If you're curious about how the StarChase GPS system works. Watch this:
The introduction of these new technologies coincides with a rise in crime in New York City amid a worsening police shortage.
Tyler Durden
Wed, 04/12/2023 – 21:20